Take a Shortcut to the Smart Factory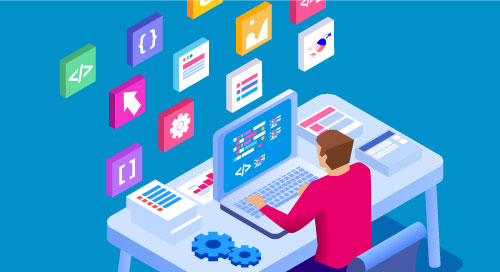 Want to build a smarter factory? The journey doesn't have to be as long as you might think.
For many manufacturers, the disconnect between developers and the operational team can turn digital upgrades into a protracted effort.
"Developers are not always involved on the operation side of companies," explained Rogério Boleta, MindSphere Partner Marketing Director in EMEA, at Siemens AG. "At the same time, people that know the machines and sensors don't always know about programming."
Then there is the mismatch between new technologies and legacy equipment. Manufacturers are rightly hesitant to try unproven technology when their business depends on uptime. Much better to stick with what you know, the thinking goes.
But what if there were a shortcut to the smart factory? A new approach that leverages dependable technology while reducing time to revenue? One where industrial organizations can develop, deploy, and test applications on preconfigured solutions?
Many Paths to One Destiny
That's the idea behind MindSphere, the cloud-based, open IoT operating system from Siemens. MindSphere gives manufacturers an efficient, economical path to addressing their unique business challenges while supporting their existing operating environment.
And with the Intel® and Siemens MindSphere RFP Ready Kit (RRK), partners can benefit from scalable, repeatable solutions designed to solve the key market challenges they and their customers are facing. Partners can now gain a competitive edge with proven solutions built for IoT.
Intel and Siemens work closely with IoT ecosystem partners to deliver integrated solutions that reduce time to market, operational costs, and deployment risks. This means your business can make and save money, faster—and without the guesswork.
The key is allowing each stakeholder to take its own journey. "Whether it's a new service model, or whether they want to increase bottom-line efficiency, manufacturers should focus on their core competency," said Manoj Patil, Global Alliances Director at Siemens Digital Industry Software. "They know the assets best, they know their products best, and if there is anything they can optimize."
Meanwhile, developers and systems integrators can leverage Siemens' decades of industry experience to deliver value quickly. "By turning this rich history into IoT services and solutions, it makes their life easier," stated Boleta. "In comparison to alternatives, they get a lot of ready-made tools based on this industrial know-how."
The bottom line? The MindSphere solution enables insights as rapidly as within seconds—from the moment assets are connected—fueling intelligence at every point in the infrastructure.
What MindSphere Can Do for You
MindSphere provides an open connectivity framework for integration with new and existing hardware, software, and cloud platforms.
Connects IoT-ready assets from Siemens and other manufacturers
Works with numerous protocols right out of the box
Supports multiple data systems such as ERP, MES, and SCADA
Includes APIs for programming customer or use-case-specific connectivity agents
"You can define MindSphere in the context of three layers," said Patil. "Fundamentally, each one addresses the challenges that customers face: from connectivity, to analytics, and applications." (Figure 1)

At the edge, MindSphere solutions can include the right hardware for the right job—or many different jobs. For example, the Intel-powered MindConnect Nano and MindConnect IoT 2040 offer sophisticated edge compute options, with zero-touch, secure onboarding. Both provide device connectivity, data collection, storage, and transmission through a secure internet connection to MindSphere.
Using an analytics algorithm as the data is streamed enables preprocessing of high-frequency data. From there, MindSphere simplifies developing and running cloud-based applications and services.
MindSphere also offers an application environment, where developers, integrators, and end-customers can create, test, and run their existing applications. On top of that, they can add these applications to the MindSphere app store, making them available to a broader ecosystem. This can even offer new revenue opportunities by licensing software and services that serve new customers and markets.
And it's a two-way street. The store also includes a wide range of Siemens and third-party developed applications—making it possible to build solutions using easy-to-integrate, ready-made apps.
Mendix, the @siemensindustry low-code dev platform, can significantly reduce development time. And you don't need a full-stack developer—almost anyone can create an IoT application.
Quick, Efficient Application Development
"It's really about using visual tools to build your app based on templates, building blocks, and out-of-the-box connectors," said Patil. "So a lot of the effort you would typically have in coding and native application is taken away by the tools Mendix is providing."
And even for a fully integrated shop floor application, development efforts can be up to 10X faster than traditional coding approaches.
Product Quality and Safety
One example of enabling compelling cloud solutions is the collaboration with Mentor Embedded Software for intelligent valve control for process automation. The solution, based on Intel technologies, facilitates the full potential of AI and computer vision across multiple Intel architectures. It provides instrumentation of analog gauges—reading multiple gauges with a single camera, as well as access control and monitoring process adherence to assist and guide workers on-site.
All of this is enabled with intelligence and inferencing at the edge in combination with orchestration through MindSphere.
Integration in Action
Partners like Arrow Electronics are taking this model even further. Building MindSphere-based applications into an edge-to-cloud solution, the aggregator is providing predictive maintenance systems for its industrial customers.
For example, by integrating its iCOMOX Intelligent Condition Monitoring system, Arrow offers a platform that combines the strengths of a multi-sensor device, the edge AI capabilities of the MindConnect gateway, and MindSphere as the IoT operating system.
"Arrow developed the multi-sensor device with 3Xs vibration analysis, meta noise sound, temperature, and so forth," explained Patil. "So you have all relevant sensors in order to monitor and connect an industrial asset—typically anything that vibrates—a pump, well, compressor, motor, or gear. And based on the capabilities of the MindSphere PaaS, Intel-based IPCs, and iCOMOX, you can then do predictive maintenance in the cloud."
Arrow benefits from an extensible development kit, an open service platform, and edge computers, for a big head start in taking edge-to-cloud solutions to its customers.
And Siemens benefits from its relationship with Intel in ways that go well beyond technology integration and development tools. "In addition to the value of Intel technology, whether it's the components in the IPCs or the Intel® OpenVINO™ Toolkit, for example, the partner ecosystem helps us bring end-to-end solutions to market in a scalable way," said Patil. In the end, together we bring clear customer benefits.
The pressures of the global competitive landscape mean industrial operations need to be much more efficient—today, not tomorrow. You need a path that makes sense and IoT solutions that fit your needs. MindSphere can make this happen with the least investment and the most bang for the buck.