Systems Integrators Profit From IIoT Tech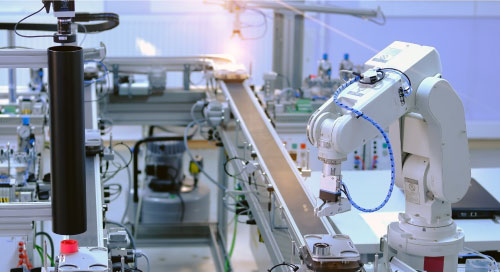 The latest smart factory technologies, such as artificial intelligence and machine vision, are somewhat new to manufacturers in Indonesia. But when the pandemic made remote operations and automatic monitoring more important, requests for IIoT capabilities started pouring in.
Implementation is always a challenge, though. This isn't plug-and-play technology, and industrial operations engineers often lack the skills to successfully deploy it themselves. Instead, they rely on systems integrators (SIs) who know to install the hardware, software, and networks required to maintain factory operations.
Significant new revenue opportunities await SIs who can provide industrial organizations with the cost savings and end-to-end smart factory solutions they need. But to do that, SIs need specialized skills themselves. That's where solution aggregators come in.
A Crash Course in IIoT and AI Technology
Synnex Metrodata Indonesia (SMI), an IoT solutions aggregator, offers end-to-end solutions and training programs to deploy them that help SIs get up to speed fast. Herianto, Director of IoT and Cloud Business Development at SMI, says there are two types of SIs in Indonesia who need the company's experience and expertise: Operational technology (OT) experts and IT service providers.
But those who deploy OT systems aren't familiar with the IT integration required for the digital transformation projects their customers need. And SIs specializing in IT may lack a detailed understanding of the manufacturing side of business operations.
"To deliver true end-to-end solutions, the OT and IT skillsets need to be combined," explains Herianto. So SMI helps upgrade OT SIs' IT skills, enabling them to implement sophisticated smart factory solutions. And the company teaches IT-focused SIs about OT.
SMI's trainings are delivered via targeted workshops that explain how to use technologies such as the Intel® OpenVINO™ Toolkit for AI and machine vision applications. In these courses, SIs gain the skills to develop and customize solutions for each customer—or even build products themselves.
Workshops help SIs learn how to use AI and MV technologies and gain the skills to develop and customize solutions for each customer—or even build products themselves.
Local Support for IoT Projects
In addition to up-leveling their skills, SIs who work with aggregators benefit from access to logistics, services, and support. "Even for pre-built, application-ready solutions, you need an engineer to prepare and tailor a proof-of-concept deployment," notes Herianto. "Manufacturers don't trust what they see in a video. They want to see the product operating in their own environment."
That's why SMI makes sure to have the right partners on the ground for every POC and deployment. If the SI doesn't have its own engineers, SMI will send theirs.
Herianto also stresses the importance of local support. "Without in-country logistics and personnel, the customer could wait two or three days for a response," he says. In the digital age, manufacturers can't afford to wait that long.
The Best IoT Tools
Another key to IIoT success is streamlined implementation. SMI offers edge-to-cloud solutions like ADLINK Vizi-AI—an industrial machine vision starter development kit. The solution has an intuitive user interface and comes with a range of pre-built common OpenVINO AI models, so SIs don't have to start from zero when they want to deploy and improve computer vision applications. "Adoption complexity is reduced with this solution," says Herianto.
Vizi-AI is a scalable starting point for edge AI industrial applications, combining all the hardware and software necessary for SIs to get started fast. It allows data to flow freely and securely and can be quickly connected to different image capture devices.
And rather than making SIs source and acquire a bunch of separate hardware components, Vizi-AI includes everything they need in the box. So the only thing left to do is develop and customize the software, and manufacturers can start collecting training data and build a scalable AI model right away.
ADLINK Edge software also enables remote management, so SMI can connect manufacturers to various cloud services with a dedicated support team.
Industrial IoT in Action
In one example, SMI worked with an SI partner to develop machine vision and AI-based automated quality control for a customer in the agriculture industry. Instead of waiting until the end of production to do manual inspections, the customer was able to remove poor-quality products before they entered the production line, cutting operation costs and improving efficiency.
With solutions aggregators like SMI, SIs can bring manufacturers cutting-edge technologies and the skills to deploy smart factory solutions. In the process, they transform their own businesses as much as their customers'.