Fill form to unlock content
Error - something went wrong!
Your content is just a step away. Please submit below.
Software-Defined Processes: The Future of Manufacturing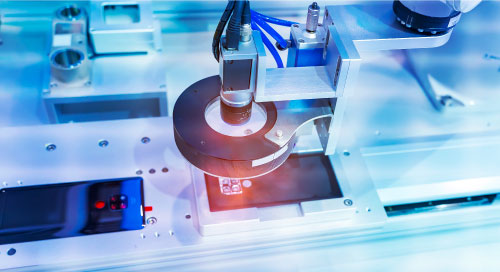 Industry 4.0 is on a fast path to power manufacturing through open software-defined processes—unlocking previously siloed data and enabling more agile operations.
Technologies help this transformation—key among them is industrial-edge AI—designed to solve specific problems and optimize manufacturing outcomes. AI at the edge leads to "incredible opportunities to transform manufacturing for the better," says Steen Graham, CEO of Scalers.ai, a company that delivers such solutions to a variety of industries.
The technology is a boon to manufacturing in many ways: AI is a data-heavy enterprise, so conducting AI inference at the edge allows manufacturers to discard a lot of irrelevant data. "Not sending that data to the cloud is a huge value from an economic perspective," Graham says. In addition, manufacturers can exploit the near real-time aspect of edge AI for a variety of use cases—from defect detection to monitoring production line numbers in real time.
While Scalers.ai takes care of the custom AI software for various manufacturing efficiencies, a partnership with Dell Technologies gives it the performance it needs for reliable and rapid edge AI deployments. The ruggedized Power Edge XR platform checks off all the specifications needed, says Manya Rastogi, Technical Marketing Engineer at Dell Technologies. The Power Edge XR has a short-depth form factor and has passed rigorous tests for shock, vibration, and dust. "It can tolerate harsh manufacturing conditions," Rastogi points out.
Increasing the Velocity of Edge Deployments
Tolerating a wide range of manufacturing conditions is great, but for edge AI to be effective, the industry cannot afford to reinvent the wheel with bespoke AI models for every use case. Instead, transfer learning or applied AI helps developers add to existing recipes.
Using robust machine learning models that have already been trained on hundreds of millions—if not billions—of parameters is not always practical. Much like the meal line at a pick-your-toppings fast casual restaurant, manufacturers can start with a baseline "rice and beans" program and add custom layers "and conduct a transfer learning workflow or retraining exercise to add just that custom capability," Graham says. "We're building on the incredible foundation of models that exist today and users can customize these models to their domain, their use case, and their implementation."
Such a shortcut not only saves engineering and developer resources, it also helps enterprises deploy edge AI models faster. When hungry customers knock at the door, fast turnarounds for new edge AI deployments can make a big difference.
Software-defined manufacturing gives enterprises "the ability to change their environment on the go to meet customers' ever-evolving tastes," Graham says.
Using #EdgeAI also helps decrease #manufacturing downtime through telemetry #data and through machine-to-machine protocols like OPC-Unified Architecture (OPC-UA). @DellTech via @insightdottech
The Future of Manufacturing: Near Real-Time Monitoring
Enterprises not only increase revenue by being the first to meet consumer demand, they also do so with optimized expenditure of time, money, and raw materials.
Here, too, rugged edge AI computing delivers, Rastogi says. Take the manufacturing of impellers, a rotating component used in many industrial processes. Layering on computer vision allows for defect detection in near real-time at the edge, a process that can work at any stage of the part's manufacturing process. Adding AI-driven defect detection at the molding stage, for example, helps catch defects early before any additional materials or resources are wasted on a faulty end product. Because the program catches problems in real time, corrective action can be taken immediately, decreasing time-consuming and expensive postproduction autopsies.
Using edge AI also helps decrease manufacturing downtime through telemetry data and through machine-to-machine protocols like OPC-Unified Architecture (OPC-UA). OPC-UA helps by relaying what machines on the production line are actually doing, using unlocked data versus human intervention to gain critical insights. Edge AI workloads applied to such data communicated from existing machines is a great example of how manufacturers can squeeze more transparency from previously opaque machines and production lines.
For example, if the tower lights on a production line blink to red consistently, it can signal a problem that needs to be checked right away. And because edge AI can tell there's a problem as it unfolds, floor managers have a better chance of fixing problems and meeting daily production quotas.
Dell's Power Edge XR platform incorporates 4th Gen Intel® Xeon® Scalable processors, which allows CPU inference without the need for additional accelerators, Rastogi says. "What's really unique about the Intel 4th Gen Xeon processor is that it includes instruction set optimizations for AI that you don't see readily available in an off-the-shelf, general-purpose processor," Graham says.
"In recent years, the ability to implement deep learning via applied AI has made deep learning more achievable for developers to deploy in manufacturing and even with small data sets," Graham says. "That has been a game changer. Getting the hardware needed to run these models in a rugged small form factor is also a step forward in making the deployments easier," he adds. It's paving the way for a custom AI-driven future of manufacturing.
Which is good news for manufacturers—and their demanding consumers.

Edited by Georganne Benesch, Associate Editorial Director for insight.tech.