Fill form to unlock content
Error - something went wrong!
Your content is just a step away. Please submit below.
Smart Classroom Tech Transforms Learning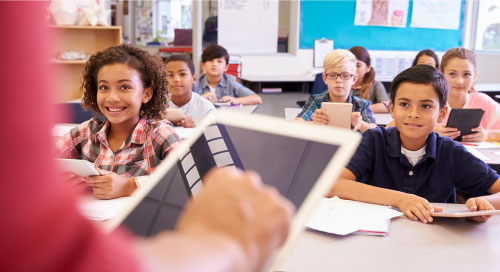 The shift to remote learning pushed the fast-forward button on the digitization of education. Innovative and engaging new ways of teaching, such as interactive blackboards, touch displays, and computer-aided learning, are improving the student experience and preparing students for the requirements of the world of work in the Fourth Industrial Revolution.
There's just one little catch. Today's educators, who are tasked with leading kids into the future, are learning as well. Performing a juggling act of their own, they must master the new tools that administrators roll out and meet curriculum standards—all in real time. Administrators are being challenged, as well, trying to connect multiple and different systems to save important funds.
"Educational tools like digital blackboards are meant to help teachers simplify their everyday life in schools," says Daniel Kruger, Digital Learning Expert for DELO, a German distributor of large-format digital display screens and signage solutions. He adds, "But they often bring questions and requirements that need to be clarified. This can be a challenge that educators must address."
Simplifying Digital Display Screens
To close this digital gap, educational systems are leaning on the expertise of technology distributors and their partners who can help ease their transformation by providing not only the end devices but the support needed to use them. For example, DELO offers school administrators the step series Kassandra 4.0, a reliable, end-to-end system customized to foster learning in a modern educational environment. The bundle integrates hardware and software elements from DELO partners such as Intel, LG, and Microsoft.
Kassandra 4.0 runs on Intel-based Open Pluggable Specification (OPS) PCs, which standardize the system architecture between displays and media players. Its cost-effective design connects hardware, and pre-installed Android and Windows systems, which helps speed deployment. In addition, the solution offers advanced functionality, such as interactivity and anonymous audience analytics.
The solution, which can be customized depending on the needs of the teacher and students, consists of a variety of hardware and software components, which include:
Pre-installed Android 8.0 (display) and Windows 10 Pro (PC)
WPS Office and ScreenShare Pro—compatible with Android, Windows, and iOS
Ultra HD for best image quality with all-round metal housing and hygienic glass pane
Air Class, which connects up to 30 students, and allows voting of all mobile devices on the same network
IR touch with more than 20 touchpoints
Writing software for precise font recognition
Web browser
Including two pens (usable with commercially available pens)
OPS PC powered by Intel® Core™ processor
The centerpiece is a digital blackboard available in three sizes. In addition to performing traditional blackboard functions, like writing and erasing, the interactive display offers a wide range of digital teaching options. Students can view a variety of content, including charts, videos, and more, on the screen as well as on connected laptops and tablets that can be placed on their desks. Learning comes to life with touch displays that help engage all styles of learning.
"The evolution of the modern classroom will continue to focus on flexibility, allowing #students to participate on any #device to further enhance the #UserExperience." – Daniel Kruger, Delo Computer GmbH via @insightdottech
Teachers Get a Lesson on Smart Classrooms
DELO furthers its value proposition by offering expertise, service, and support to make the transition and use seamless. To get teachers up to speed on the capabilities and functions of digital blackboards, DELO teamed up with Intel to help educators acquire the skills they need to become a "teacher 4.0," preparing their students for the requirements of "Industry 4.0."
Intel® Skills for Innovation (Intel® SFI) envisions a world that empowers students to become innovators. To achieve this vision, today's youth need to learn skills they'll need for the jobs of tomorrow. That means teachers must introduce technology, skill building, and higher-level thinking in their classrooms.
With student-centered training that helps educators focus on 21st-century-relevant skills, Intel SFI allows them to focus on teaching instead of worrying about technology. Participating teachers go at their own pace, with on-demand content that is relevant to their individual interests and needs. Since it was launched, Intel SFI has reached more than 15 million teachers in 70 countries.
"Intel Skills for Innovation is very important for our solution," says Kruger. "Educators can make the most of our system to provide the best education for their students. Our partnership with Intel also brings us the newest up-to-date solution knowledge and trust to the end customers."
The Future of Learning Is Digital
Innovative teaching tools like digital blackboards are just the start. Kruger says he believes the evolution of the modern classroom will continue to focus on flexibility, allowing students to participate on any device to further enhance the user experience. Connectivity also creates virtual classrooms when students are learning remotely.
"We think that the future of learning will be more flexible," says Kruger. "Students will be able to connect, using any device. And teachers will have the ability to incorporate more videos, podcasts, and 3D augmented reality."
In fact, students may just find that going to school is the most exciting part of their day.