Fill form to unlock content
Error - something went wrong!
Your content is just a step away. Please submit below.
Smart Classroom Solutions Advance Learning Outcomes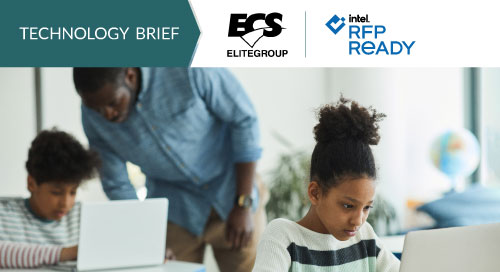 Schools everywhere are looking for ways to boost student engagement, enhance teaching quality, and improve learning outcomes. Smart classrooms—suites of networked digital devices, collaboration tools, and learning software—are powerful tools for reaching these goals.
But despite its efficacy, smart classroom technology can be challenging to implement. "For many schools, existing digital learning systems are prohibitively expensive—and their complexity means there's a steep technological learning curve for teachers," says Amanda Lin, Marketing Manager at Elitegroup Computer Systems, a hardware designer and manufacturer. "In areas with limited internet connectivity, it's also difficult to maintain a stable network to operate such solutions."
But a new wave of smart classroom technology can help overcome these obstacles. Based on performant low-power processors and edge-based design principles, simple, cost-effective smart classroom kits deliver the benefits of digital learning in almost any setting.
Smart Classroom Solutions at Work
The Elitegroup deployment in Kenya is a case in point.
The government of Kenya was launching a digital literacy program that aimed to put information and communications technology (ICT) in every public primary school in the nation. It was a vast undertaking—complicated by the fact that many schools in Kenya are in rural areas with limited network connectivity and nonexistent IT resources.
Elitegroup was selected as a technology partner to help digitize classrooms in a large number of schools—in part because the company's ECS Smart Classroom kit provides a turnkey solution that can work with or without an internet connection.
The heart of the Elitegroup solution includes a hardware device called a "content management access point" (CMAP), which acts as wireless access point and fileserver that stores educational content and connects digital devices in the classroom. With the ability to network up to 50 devices, the CMAP can be used to share the wireless internet connection or set up a local classroom intranet if a connection is unavailable (Video 1).
Working with the Kenyan government and local partners, Elitegroup helped equip 13,500 classrooms with #SmartClassroom #technology, facilitated training for 30,000 teachers, and impacted 695,000 students. @ECS_GlobalHQ via @insightdottech
Working with the Kenyan government and local partners, Elitegroup helped equip 13,500 classrooms with smart classroom technology, facilitated training for 30,000 teachers, and impacted 695,000 students. During the main implementation phase of the project, Elitegroup and its partners set up an average of 500 classrooms per week.
This was clearly a team effort, but the work was also simplified by the kit's technology stack—designed to enable plug-and-play setup, and stable, no-fuss classroom networks. Lin credits Elitegroup's technology partnership with Intel as a significant factor in making the kit so user-friendly: "Intel processors and Wi-Fi modules provide cost-effective computing power and stable connectivity. And the Intel CPU in the CMAP provides the high-efficiency, low-power processing that's needed to get through an entire school day."
Bridging Digital and Economic Divides
The most readily apparent benefits of low-cost, easy-to-deploy smart classroom kits are the educational ones. Students gain familiarity with technologies they need to master to compete in a 21st-century global economy. Teachers get help improving the quality of their lessons through engaging educational software and digital classroom management tools. Those are important outcomes in any school system. In developing nations they're especially impactful, as they help to bridge the digital divide between local students and their peers in developed economies.
But the socioeconomic benefits of smart classrooms to a community can also go well beyond the sphere of education. In the Kenya deployment, for example, Elitegroup worked with their technology partners and other stakeholders to set up a local hardware assembly plant as well as a service call center at Kenya's Moi University.
"Smart classroom technology offers opportunities for truly transformational partnerships," says Lin. "Our goal in Kenya was not only to work closely with teachers and students on technology training—but also to increase business and job opportunities in the local economy."
Smart Classroom Solutions and the Future of Education
In the future, expect more school systems to take advantage of opportunities provided by all-in-one smart classroom kits—and not just in emerging markets. The same benefits that make this technology such a game changer in remote and underserved regions is equally attractive in San Francisco, London, and Tokyo. Cost-effective, easy-to-manage smart education capabilities—bolstered by a rich ecosystem of educational software—should grab the attention of teachers and administrators concerned with budgets, student engagement, and educator empowerment.
And in the longer term, smart classrooms will become even more potent as they leverage technological advancements to deliver better educational experiences. "We're already thinking about how to enhance our smart classroom solution by incorporating AI functionality and offering support for hybrid learning," says Lin. "And the proliferation of AR/VR technology and 5G connectivity will drive new smart learning features in the future."
For schools, parents, and students, that's an A+ technology trend, because smart classrooms will help make quality education affordable and accessible for all.

Edited by Georganne Benesch, Associate Editorial Director for insight.tech.