Fill form to unlock content
Error - something went wrong!
Stay up-to-date with the latest IoT news.
Self-Service POS for Touch-Free Checkout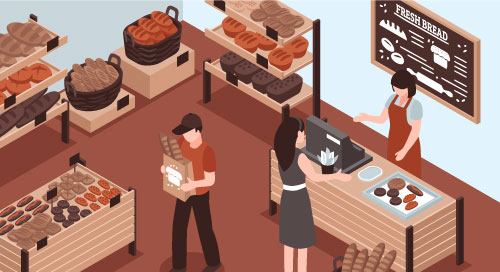 In our ever-changing retail environment, businesses are facing more challenges than ever. Protecting the health and safety of customers and staff is a chief priority. This means reducing face-to-face interaction, eliminating long waits, and providing zero-touch checkout.
Self-service POS is common—but traditional systems aren't always a good match for retailers' changing needs. The process of weighing and scanning items can be painstakingly slow for the customer, and with hundreds of shoppers using terminals every day, cleanliness is a big problem.
One task that slows down the checkout process is scanning or weighing items like produce or bakery products. Traditionally, customers have to scan a barcode, enter a SKU number, or tap the correct product on the screen. Then they scratch their heads as they try to remember whether they picked up regular or organic apples.
And for bakeries, the challenge can be greater if employees need to recognize and remember hundreds of baked goods. A busy bakery may require counter staff to touch every item, look up prices, and ring up each one individually. All while customers wait in long lines.
Enter the combination of compact POS designs, AI, and computer vision. These technologies can make self-checkouts faster, touch-free, and convenient. Self-checkout systems like the smart Selfpos60V from Qingdao Wintec System Co. are a win-win for bakeries, cafés, convenience shops, supermarkets, and other stores—for owners and customers alike.
AI-enabled POS systems with computer vision can be trained to recognize the subtle differences between items, such as a plain croissant or one with chocolate—often better than the human eye (Video 1).
Video 1. With AI technology and computer vision, bakeries and cafés can distinguish between similar products.
AI-enabled POS systems with computer vision can be trained to recognize the subtle differences between items, like a plain or chocolate croissant—often better than the human eye.
@Wintec_China
Computer Vision + AI = Smart POS
To achieve this accuracy starts with taking hundreds of photos of each product from different angles. Wintec's team uses the images to train the machine learning model to recognize each item. The AI is self-learning, meaning that it increases in accuracy over time.
"The Intel® OpenVINO™ Toolkit makes it easier to integrate the recognition module into actual applications," said Ivy Zuo, VIP Business Manager at Wintec. "This accelerates the processing of the products to be installed on-site. And it ensures that products are recognized very quickly and accurately."
Meeting customer demands is even more critical today, but old-school traditional self-checkout terminals aren't rising to the challenge. "The main payment methods for these terminals are card or cash," said Zuo. "They require many operation steps from the customer, like finding their card, inserting their card, inputting their password, or putting in cash. All of these increase the time of the checkout process."
Wintec's Selfpos60V is fitted with two cameras—one for security monitoring, the other for facial recognition. Facial recognition offers touchless checkout through e-wallet accounts such as WeChat and Alipay. And customers' e-wallet data is protected by law, and can't be released to a third party without the customer's approval.
Computer vision also helps retailers gather customer demographics such as their gender and age range. This gives them insights into shopping trends that can be used to develop more-effective promotions.
Shrink the Footprint, Expand the Benefits
Bulky self-checkout terminals are not a good choice for retailers with limited floor space. The new AI-enabled systems have a smaller footprint—thanks to Intel® NUCs, which let Wintec design terminals that are compact, sleek, and modern-looking as shown in Figure 1. "The self-checkout system becomes a part of the décor, which attracts more customers to use it instead of standing in line for the cashier," said Zuo.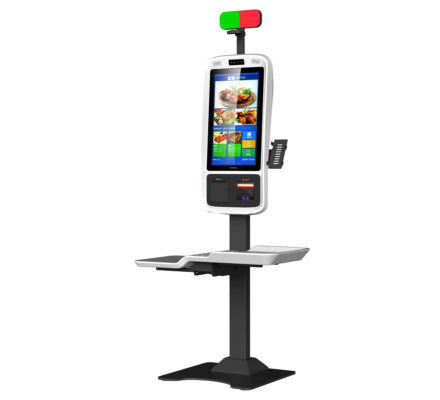 The Wintec solution goes well beyond self-service in bakeries, produce markets, and convenience stores. A whole range of retail applications benefit from the SelfPoS system. Pharmacies are a good example as customers and cashiers may be especially concerned about human interactions.
In China it is common for people to use their social security card to make purchases. Using facial recognition enables an automatic link between customers and their social security accounts. This means that even if they forget their social security card, they can still purchase medicines with touchless checkout. And if a shopper needs approval for a medication, the Selfpos60 can even connect the customer to a doctor via a video call using the embedded camera.
In any retail environment—where health and safety are essential—the benefits of computer vision and AI are clear. When you can leave your wallet at home, facial recognition is seen as a convenience. And compact, no-touch POS terminals are making touchless checkout a real possibility.