Fill form to unlock content
Error - something went wrong!
Stay up-to-date with the latest IoT news.
Retail Data Puts the "Convenience" in Convenience Stores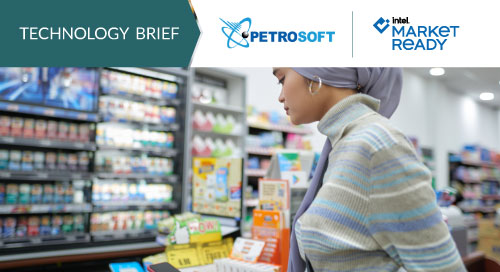 Successfully managing convenience stores is anything but convenient when you lack insight into key retail data. Many store owners struggle to accurately track inventory, manage cash flow, and spot pricing errors and signs of theft—especially when they manage multiple locations. And often, their store technology lags that of other industries. When owners open new stores, they typically replicate the same existing IT model, which limits their ability to scale.
Today's edge-to-cloud technologies can help. Allowing managers to see and solve problems as they occur makes inventory management and scaling easier—increasing productivity and profitability.
Gaining Access to Retail Data
Retailers who have trouble keeping up with operations can gain better control with a management system such as Petrosoft CStoreOffice, a cloud-based solution that allows convenience store owners to stay competitive while managing costs. "We help operators simplify their business by automating a variety of operational procedures and reducing risks," Petrosoft CEO Sergei Gorloff explains.
CStoreOffice was born of the frustrations Gorloff experienced as an owner of 21 convenience stores. Overseeing them required driving more than 100,000 miles a year. He began to look for technology that could ease the load and keep the company's overhead at a minimum.
"Given the competitive landscape, it was critical to get retail data as fast as possible, and without any additional workload for store employees, in order to track inventory and adjust prices in a format that was easy for the whole team to understand," he says. After coming up empty in his search for a solution that would accommodate existing IT systems, he designed his own.
Using service-oriented, cloud-based architecture in its software and Intel® processor-powered computing at the edge, the solution provides a central portal accessible from any device with a browser. This allows store owners to manage operations remotely, minimize errors, provide inventory loss control, streamline procedures, and secure data.
For example, during Hurricane Irma in Florida, one customer had three stores destroyed but was still able to access all its data in the cloud or from a mobile device and take action in real time. "During that very challenging time, one thing they didn't have to worry about was having visibility into their operations. The information was safe, available, and uninterrupted," Gorloff says.
"We help operators simplify their business by automating a variety of operational procedures and reducing risks." @petrosoft_inc via @insightdottech
No two retailers use data in the same way, and CStoreOffice can be customized to each customer's needs, depending on their business drivers and approach to management. For some, that means relying on basic operational uses, like cash reconciliation or fuel inventory management. Others expand it to include all back-office workflows, integrated point-of-sale technology, and even food service ordering.
"The application allows operators to cherry-pick the solutions that meet their needs. While we have customers that may use 95% of our total functionality, others might use just 5% of the capacity and still benefit from it," Gorloff says.
Optimizing Inventory with Retail Analytics
The average convenience store carries 6,000 distinct stock keeping units (SKUs), making inventory management challenging. And operators often hold excessive inventory, which hurts cash flow, as their money sits on the shelf rather than working for them in the bank.
Advanced analytics allow stores to optimize inventory levels, easing cash flow worries and boosting profits. For example, one Petrosoft customer lost control over his cash flow during a rapid expansion. "He told me his primary objective was to sleep at night; he worried every day that he lacked sufficient cash in the bank to cover his payroll and bills," Gorloff says. Within six weeks of installing the system, the customer was able to reduce inventory by 40%. That freed up about $1 million, increasing his cash flow and bank balance.
Petrosoft's cloud-based architecture also allowed the retailer to implement the solution quickly. Like 90% of customers, he didn't require on-site help from an IT specialist, Gorloff says. In contrast, a different software vendor said it could take 18 months to achieve full functionality.
New Analytic Capabilities
For the future, Petrosoft is currently developing AI and ML capabilities that will allow stores to offer the personalized promotions and inventory selection today's customers increasingly expect. "What may fly off the shelves in one neighborhood will be dead inventory elsewhere, so this will allow stores to choose an assortment of goods based on diverse demographics," says Gorloff.
The pandemic has taught retailers how important it is to provide the right goods at the right time. Gorloff was able to quickly adapt his stores' inventory as traffic skyrocketed and customer demands changed dramatically.
"Customizing inventory is a game changer. We turned our operation on a dime to adapt to new demand for products such as toilet paper, cleaning supplies, and food," he says, adding that some of his stores saw a triple-digit increase in sales of those items.
Leveling the Playing Field
CStoreOffice was designed to meet the challenges Gorloff saw in his own operations, and he continues that ethos by hiring industry insiders—former convenience store managers and regional supervisors—who can bring real-world experience to train and support customers.
"With Petrosoft, I can continue to successfully oversee my convenience store operations while also running a corporation," Gorloff says. "What used to be labor-intensive, routine work is now much more creative and rewarding."