Real-Time Analytics Power the Roadway of the Future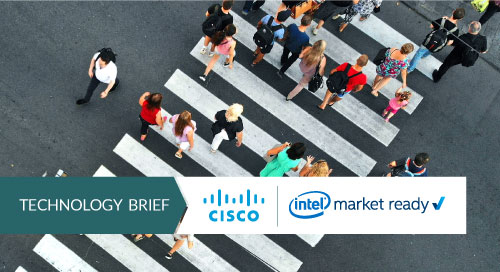 The complexities of citywide traffic are pushing the limits of existing transportation management systems. Outdated infrastructure is based on proprietary, single-purpose subsystems, making it costly to acquire, operate, and maintain. And current roadways are simply not prepared for the future of autonomous vehicles.
Enter the SPaT Challenge, an initiative encouraging cities and states to invest in new traffic management technologies to reduce roadway incidents, improve safety, and help manage autonomous vehicles. A means to this end requires that deployments use standard messaging and communications protocols.
Florida is one state that has stepped up to the challenge. Florida DOT and Orange County teamed with Cisco to develop a Pedestrian Collision Avoidance System, which supports the initiative requirements, and much more. Currently the system is successfully deployed at busy roadway intersections where vehicular congestion and pedestrian safety have been significant issues.
The system also updates digital roadway signage and provides weather condition warnings. Critical information can be sent to first responders if an incident does occur. The overall design reduces operational costs by incorporating advanced technologies into the existing roadway infrastructure. It also preserves compatibility with automated lights, gates, and other traditional roadside devices.
The Orange County SPaT deployment is based on the Cisco Roadway solution—designed to secure and connect intelligent transportation systems. It enables vehicles, roadways, travelers, and traffic management centers to all communicate with one another in real time. Cities and transportation agencies can simplify operations without having to replace existing infrastructure.
Roadside Real-Time Analytics
The heart of the Cisco solution is its Industrial Compute 3000, a high-performance edge computer deployed in the intersection traffic cabinet. Powered by Intel® processors and the Cisco Kinetic application platform, the system bridges the gap between legacy and modern traffic control devices (Figure 1).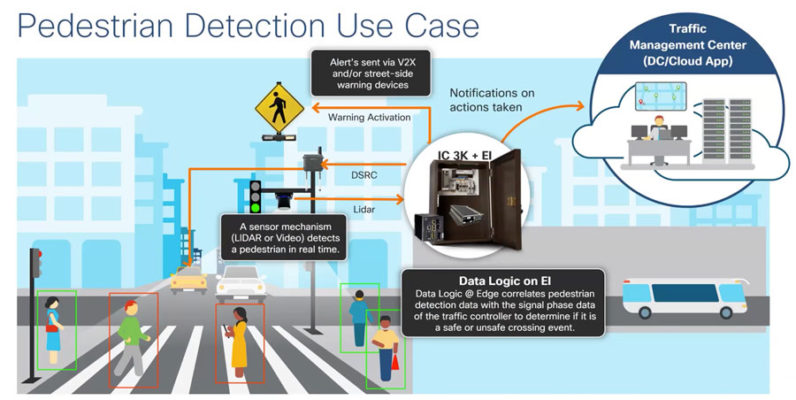 "The data we're encompassing is everything from traffic lights, controller, weather, to connected vehicles," said Mark Knellinger, Cisco Transportation Architect. "Think of it as fusing these things together into a new application. This integration helps our customers deliver the next generation of infrastructure-to-vehicle communications solutions."
A unique aspect of the solution is how it advertises object positions as fast as if they were physically connected devices. With the use of LiDAR (Light Detection and Ranging) and video, pedestrian movement is followed across the roadway intersection. A "personal safety message" is created and delivered 10 times a second for every pedestrian that is tracked.
This allows a vehicle to understand where pedestrians are without its sensors having to pick them up. If, for example, a vehicle is too far away from the intersection, or blocked by other vehicles, it still understands the position of those pedestrians.
"We're delivering pedestrian protection by interfacing with traffic controllers and legacy devices like lights and signs," said Knellinger. "We're also delivering on the next generation of connectivity by giving autonomous vehicles data that they can't get on their own."
But this real-time analytics can't be done without high-performance computing at the edge. For example, LiDAR systems alone draw 300 megabytes per second, and if that data is not processed in the traffic cabinet, the system cannot respond in real time. In fact, Cisco meets the national criteria for safety applications, which require the time from detection to notification to happen in 20 milliseconds or less.
"We're delivering the next generation of connectivity by giving autonomous vehicles data that they can't get on their own."
—@markknellinger, @Cisco
The Building Blocks of Real-Time Analytics
The Kinetic software can acquire, filter, and normalize data from hundreds of protocols and different interface types. It provides theability to run applications all the way at the edge, regardless of the sensors deployed (Figure 2).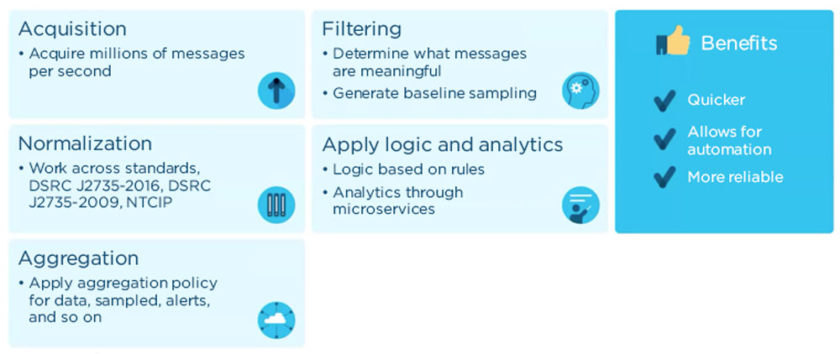 A significant challenge for intelligent roadway systems is that almost every IoT sensor puts out information in a different format, leading to fractured data. The Kinetic software normalizes that data on acquisition, which means a customer's model is enforced at the edge of the network.
"We can distribute one edge application like pedestrian detection by normalizing video analytics for the pedestrian location, or different LiDAR system types, regardless of vendor," said Knellinger. "And this is where Intel technology comes in—solving the unique requirements of high data velocity."
Another challenging data management function is the acquisition of millions of messages every second. Filtering policies allow for tailored data models that fit application needs. Knellinger cites one example: "About 80 percent of connected vehicle data received by a roadway infrastructure operator is duplicate packets. We deduplicate and filter those packets at the edge with our software."
The IoT of Connected Vehicles
The Connected Roadways solution goes well beyond addressing the challenges of pedestrian safety. It can help transportation organizations set the stage for a wide range of improvements—from reducing roadway congestion to improving air quality regulation compliance. And looking forward to even more advanced applications, it establishes a foundation for the arrival of connected, autonomous vehicles.