Fill form to unlock content
Error - something went wrong!
Your content is just a step away. Please submit below.
Phygital Experiences Help Fashion Retail Shine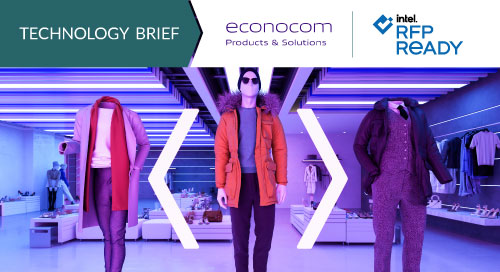 Retailers are reimagining what it means to go shopping: Blending physical and digital elements to create "phygital" experiences for customers. The trend has been underway for a while, and was accelerated by the events the past few years. But the biggest driver of this current wave of retail digital transformation is coming from consumers themselves.
"In retail, we're now seeing a new, hyper-demanding type of customer," says Javier Lima, Director of Digital at Econocom Products and Solutions, a manufacturer of digital transformation kits for fashion retailers. "They want everything in real time—and they want brands to truly see them as individuals."
To deliver this level of convenience and personalization in stores, many retailers have turned to digital signage solutions—which are also excellent ways to boost sales and streamline operations. But for retailers in the fashion industry, implementation isn't easy. When it comes to matters of style and taste, messaging has to be extremely personalized in order to be effective. And given the nature of fashion, digital signage in this corner of retail is unusually context-dependent and subject to change.
Answering these challenges for fashion retailers: all-in-one digital signage kits. These powerful, flexible solutions are helping brands deliver the phygital experiences they need to compete. And best of all, these solutions are easy to configure, which means that they scale extraordinarily well—even in the largest of businesses.
Scalable, Interactive Media Benefit Retail Sales and Operations
Case in point: Econocom's success with Pull&Bear, a multinational clothing retailer based in Spain.
Pull&Bear wanted to implement digital signage across all of its brick-and-mortar stores. But this was a daunting task. The brand has more than 800 physical locations in 40 countries, in locales as diverse as the EU, Latin America, the Middle East, and Asia. Any digital signage solution used would need to be straightforward to set up and maintain at scale, and would have to allow for localized content that could be easily curated and managed.
Econocom's Fashion Retail Digital Transformation Kit turned out to be exactly what Pull&Bear was looking for. The solution is based on the integration of hardware, software, and cloud technologies. Digital marketing material is uploaded, configured, and scheduled in a backend content management system—allowing for extremely fine-grained control over the timing and distribution of media content. Specific content is then deployed from the cloud to media players in individual stores, which are in turn connected to display screens throughout the customer area. The in-store part of the system also includes options for smartphone integration to help store personnel manage and configure display content in a more agile way. The kit also allows for add-on smart devices to be connected at display endpoints if a more interactive solution is desired.
Together with Econocom, Pull&Bear successfully implemented digital signage kits in over 800 of its stores worldwide, enabling highly contextual, personalized messaging in many different locations. This allowed the retailer to leverage its robust digital marketing team to customize content for shoppers no matter where they were located.
However, an impressive in-store experience is only one part of what digital signage solutions offer to fashion retailers. "If you just want to play the 'wow' game, that's fine, that's great," says Lima. "But in this case, we were looking to reach the full potential of digital signage by deploying our solution across a massive base of stores. Because it's only then that you start to achieve the economies of scale that benefit a retailer's operations—and their bottom line."
Econocom's technology partnership with Intel was a major factor in delivering a solution that scaled so well, says Lima: "There were obviously huge challenges to rolling out our kit in more than 40 markets and across hundreds of stores. Intel's operational support was essential. Our relationship has been one of synergy and reciprocity, and we expect even bigger things from this partnership in the future."
The rise #ComputerVision at the #edge means in-store #DigitalSignage doesn't have to be reactive; it can be highly interactive. Econocom via @insightdottech
The Future of a Phygital World
As to what that future will look like, there are exciting possibilities on the horizon.
The rise computer vision at the edge means in-store digital signage doesn't have to be reactive; it can be highly interactive. Content displayed on screens can shift in real time to match a customer's behaviors—for example, displaying relevant media if they pick a particular piece of clothing up off the shelf.
Beyond fashion and retail, digital signage solutions will find use cases in other sectors and industries as well. Econocom, for example, is already looking for ways to adapt its retail fashion kit for financial services businesses. Other use cases are sure to follow—which Lima says is really part of a larger phenomenon:
"In retail we call people 'customers,' in hospitality, 'guests,' in medicine or smart cities it's 'patients' or 'citizens'. But in the end, it's the same game: Leverage technology to deliver a better experience—to meet people's needs and deliver the value they expect."
And as people come to expect phygital experiences in certain areas of their lives, they'll likely begin to demand them in others as well. The result, according to Lima, will be a far more interactive—more phygital—world. That world will not only meet its inhabitants' expectations, but also will also bring substantial benefits to businesses and organizations as well.
"The future is extremely bright," says Lima, "because when you mix the physical and digital, there are limitless opportunities for optimization."

Edited by Georganne Benesch, Associate Editorial Director for insight.tech.