Fill form to unlock content
Error - something went wrong!
Your content is just a step away. Please submit below.
Managing the World of Embedded Android Devices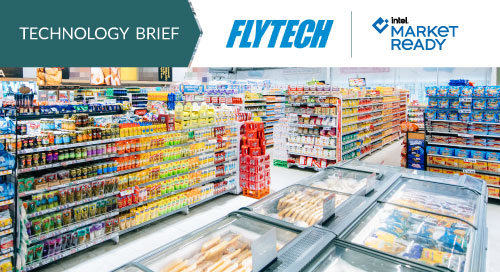 Service at shops, hotels, and restaurants has undergone a sea change in recent years. Quick-serve restaurant patrons can skip the line and order from a kiosk, browsing the menu without hearing sighs from impatient customers behind them. Mall shoppers can navigate and play games on interactive touchscreens. Hotel guests unlock their doors with a phone app, and some rooms have infrared body-heat sensors advising cleaning staff when to stay away.
Customers love the ease and personalization remote technology provides, but managing it can be a headache for business owners. The tablets, point-of-sale equipment, kiosks, sensors, and digital signs they use are all produced by different manufacturers and run on systems that don't sync well with enterprise technology. That makes it tough to spot malfunctions and keep peripherals updated and secured. As Android devices flood the market, the problem is growing worse, making it nearly impossible for managers using Windows and Linux terminals to resolve problems without sending a technician to the site.
To address these frustrations, new endpoint solutions have emerged, enabling companies to manage a worldwide fleet of remote equipment running on any system—Windows, Linux, or Android—from a single desktop console.
Improving Reliability in Smart Retail Solutions
Facing acute labor shortages and customer demand for self-service, retailers are expanding their use of connected devices, and some now have thousands in their operations. Peripherals are intended to boost efficiency, but when they don't work right, they can backfire, impeding operations and frustrating customers. Self-service equipment is particularly vulnerable.
"If an unattended kiosk is out of order, you no longer have the backup of staff to step in and take care of the customer. Retailers regularly see dissatisfaction, abandoned merchandise, and people walking away," says Leonard Gilbert-Wines, Director of Product and Markets at Flytech Technology, a producer of customized computer peripherals and firmware.
To help solve these challenges, Flytech ventured into the software realm to develop a unified endpoint management solution called inefi Spotlight, which gives companies full visibility of their remote devices' operating systems, firmware, and software. Because Flytech works closely with most major peripheral manufacturers, inefi can accommodate virtually any make or model of equipment.
Managers and service providers can be alerted to problems as they occur, and often resolve or prevent service interruptions with a real-time remote fix.
For example, a UK home improvement retailer that was experiencing problems with a store network noticed some devices worked fine, while others failed. Retail managers couldn't pin down the issue, but after installing inefi Spotlight, they quickly discovered that the nonfunctioning devices needed a firmware update, which solved the problem.
"Without this visibility, they would have had to send agents on-site. There could have been weeks of troubleshooting: Is it a network problem? An OS problem? A hardware issue? Instead, they were able to apply a fix and move on," Gilbert-Wines says.
"The @Intel platform provides longevity, consistency, and #security, with great performance and low power consumption." – Leonard Gilbert-Wines, Flytech Technology via @insightdottech
Extending Unified Endpoint Management to Android Devices
To get remote applications up and running faster, retailers are increasingly using Android, which has become the leading mobile operating system worldwide, with a market share of over 70%.
"With Android, you don't need to pay a license fee to Windows. It's also easier to find Android developers, and it's faster and less costly to develop applications," says Eric Lin, Product Marketing Director at Flytech.
But Android processors tend to evolve at a faster rate than others, requiring companies to replace their remote equipment sooner or lose support. The devices also don't give companies the visibility and remote management capabilities they need. Until recently, they didn't work with inefi Spotlight, which was created for Windows and Linux systems before the Android boom.
To address these problems, Flytech created inefi Aura, which allows retailers to remotely provision and update Android devices without using the Google Management System. Companies deploying inefi Aura also have the option of using inefi Spotlight to manage all their Android, Windows, and Linux devices on a single platform.
Inefi Spotlight's universal endpoint management is enabled by Intel processors and Intel vPro® remote management software. "The Intel platform provides longevity, consistency, and security, with great performance and low power consumption," Gilbert-Wines says.
Because inefi Spotlight works with any operating system, it gives companies flexibility in selecting devices, helping them expand to new locations without friction or extra costs. "Device requirements and pricing in Indonesia may be different from that in Germany," Gilbert-Wines says.
Enhancing Endpoint Management with AI
In addition to serving the retail and hospitality industries, endpoint management can keep operations running smoothly in manufacturing plants, where downtime may cost millions of dollars. It can help medical facilities with patient monitoring devices, where delays or malfunctions could cost lives. Adoption will likely expand as machine learning and AI add new capabilities.
For example, Flytech plans to use AI to perform preventive maintenance. Other solutions in the works include managing computer vision applications, which can improve accuracy in retail checkout scanning and prevent shrinkage, Gilbert-Wines says. "We are investing to bring these solutions forward because the future is about choice for the consumer, and about empowering a new generation of developers who are mobile-facing and very agile."

Edited by Georganne Benesch, Editorial Director for insight.tech.