LPWAN Delivers on Cold Chain Logistics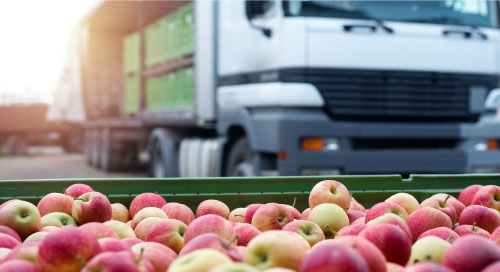 Over the years, 2G chipsets became cheap enough to embed in low-cost IoT devices. Meanwhile, carriers offered extremely attractive rates for small amounts of data. These factors made 2G cellular important for IoT applications like asset tracking, logistics, and remote monitoring, as alternative cellular solutions delivered superfluous bandwidth at higher costs.
But over the past several years, carriers around the world have been shutting down their 2G and 3G services.
Now low-power, wide-area networking (LPWAN) standards such as LTE Cat M1, NB-IoT, and LoRa have emerged to deliver a balance of throughput, quality of service (QoS), and cost that make them a perfect fit for mobile IoT use cases (Figure 1).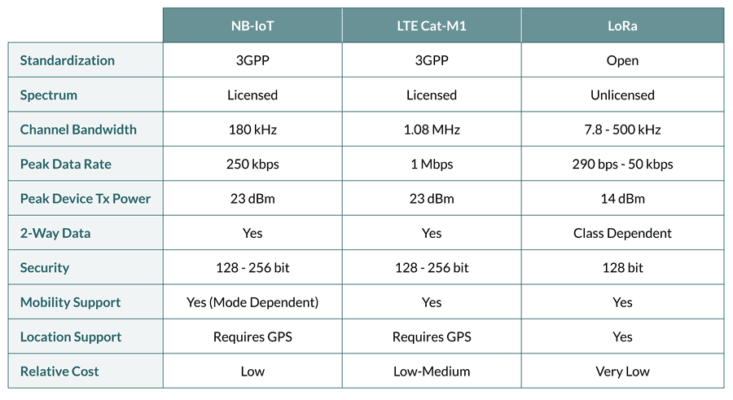 As shown, each technology has advantages and disadvantages in terms of latency, power consumption, bandwidth, and cost. This means that selecting one LPWAN solution over another must be considered on an application-by-application basis.
Flexible Options for Mobile IoT Apps
Cold chain logistics operators don't have to select just one type of LPWAN.
"M1 or NB-IoT-type services cost as low as $6 a year depending on the amount of data you use," explained Johnny Chen, Solutions Architect at OnLogic. "And it also depends on what your latency requirements are and how real-time you have to be."
"Now for sensor connectivity, yes, it's cheap to do M1, but if you had 100 sensors on M1, it still costs you quite a bit of money for all the service," Chen continued. "On the endpoint side, you want to use something that is basically free."
That "basically free" option could be LoRa. With a simplified modulation technology, LoRa modules are cheaper than their LTE counterparts. It also operates in unlicensed sub-GHz spectrum to eliminate traditional network carrier service fees.
But some mobile IoT applications can benefit from both the low cost of LoRa and the increased reliability afforded by cellular options like NB-IoT or LTE Cat-M1. Cold chain tracking provides a perfect example of how these upstart networking technologies can be used in tandem to ease the migration from 2G networks.
LPWAN standards such as LTE Cat M1, NB-IoT, and LoRa have emerged to deliver a balance of throughput, QOS, and cost—a perfect fit for mobile IoT use cases. @OnLogic
Combining Connectivity for Cold Chain Tracking
Cold chain tracking is the process of monitoring the temperature or humidity of perishable goods as they make their way through the supply chain—from manufacturing to shipping to storage at warehouses or their final destination.
In a combined LP-WAN scenario, pallets outfitted with low-cost LoRa-enabled temperature sensor modules can communicate with private LoRa networks at manufacturing facilities and warehouses. Then, when being transported in a climate-controlled freight vehicle, backhaul communications can be performed over a more reliable cellular technology.
So how would one achieve that? Through a combined NB-IoT or LTE Cat-M1 and LoRa mobile gateway device.
"That's a great example of where we recommend that customers mix a couple of technologies on the main edge system," Chen said. "You could both use it as a gateway for NB-IoT or M1 but also use it as a LoRa gateway for all your sensors. That makes it very cost-effective, and it makes it very easy to implement in the field."
OnLogic develops multiple classes of Intel® processor-powered mobile edge systems that are LTE Cat-M1-enabled. Systems such as the ML350G-10 also contain multiple PCIe or mPCIe expansion slots that accept NB-IoT or LoRa networking cards (Figure 2). That allows these platforms to function as multi-connectivity gateways that permit cold chain operators to use lower-cost, lower-bandwidth communications down to the pallet sensors and higher QoS technologies for wireless backhaul.

The Intel Atom® processor onboard the ML350G-10 is also compatible with machine learning algorithms developed in the Intel® OpenVINO™ Toolkit. This capability can be integrated into applications like cold chain tracking to help pre-process data before sending more expensive messages over the cellular network, or connect with cameras to perform facial recognition on people attempting to access the cargo in transit.
And once the freight arrives, dynamic networking provisioning can automatically hand over the LoRa-based sensor modules to a less costly private LoRa network at the destination.
"With LoRa it is possible to jump from one LoRa network to the other," Chen said. "The whole idea of having LoRa on a pallet is because it can live through the whole life cycle of that pallet, meaning that when the milk is out there, it will track the refrigeration level to make sure it's cold the whole time."
"This way there is a record of where it's been, so it's a lot easier to trace if there was a recall, for example," Chen continued. "It's broadcasting to the world that this milk has this serial number, so you can trace it to what market it was sent to, where it was delivered, and even what pallet it was on if there was ever an issue."
New Use Cases with AI at the Edge
Having too many options is never a bad thing, especially when it comes to communications. As the cold chain tracking example illustrates, LPWAN technologies can be used together or separately to meet the needs of the end use case, whether the emphasis is on reliability, bandwidth, or cost.
But beyond mixing and matching these complementary technologies, things get even more interesting when machine learning enters the equation. Economical, low-power edge gateways capable of AI inferencing at the edge have the potential to transform entire sectors by pre-processing sensor data to reduce networking costs, providing deeper analytical insights, and enabling entirely new use cases.
What if you could run object recognition and detection algorithms onboard a freight vehicle and transmit metadata over a low-cost communications technology for smart city infrastructure management?
Seem far-fetched? Read how garbage trucks are making smart cities safer.