IoT Paves the Way Toward Smart Sustainability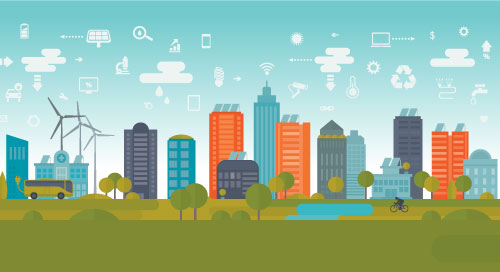 Environmental sustainability is one of the most urgent topics today. At its foundation, it's about lowering carbon footprint—a stairstep from where you are today to some future carbon neutrality.
In an interview with Michael Bates, Intel® Global Sales GM, Energy and Sustainability, we talk about the leadership role Intel® is taking through its own actions and technologies. For more than 25 years, Michael has worked at the leading edge of new concepts and business models in distributed energy, and the intersection of traditional energy and technology.
Michael shares the innovative ways in which the company enables an ecosystem of partners and end-customers to achieve their own smart sustainability initiatives.
Let's start out by talking about Intel's smart sustainability strategy.
The foundation for our strategy is wrapped around our RISE (Responsible, Inclusive, Sustainable, Enabling) 2030 goals and objectives. It is our north star, guiding us into 2022 and beyond. Not only in our own sustainability efforts and practices, but also how we're enabling sustainability in the market.
We have a sense of responsibility in applying all the goodness at Intel and our partner ecosystem to act and address some of the biggest challenges in sustainability.
We have a sense of responsibility in applying all the goodness at @Intel and our partner ecosystem to act and address some of the biggest challenges in #sustainability. @IntelIoT via @insightdottech
When you talk about customers going down their own sustainability path, what does that look like?
The guiding principle is how to apply technology and solutions to go down that path. Sustainability has become the number-one topic in most, if not all, businesses. It's a C-level conversation because it has so many implications, across the entire enterprise, all the way from the company brand to cost control. There's also pressure from shareholders and financial markets that are also creating this sense of urgency.
And I think it has an impact on acquisition of talent. There's a lot of passion to be part of the drive toward more sustainability and a lower carbon footprint.
When we think about sustainability, alternative energy sources and smart grids are top of mind. What's happening in this area?
With these carbon-neutral energy sources like solar, wind, battery, the electricity distribution model clearly needs to undergo change, starting at the substation. We're moving from an always-on, one-way flow of power to a highly distributed network across the other side of the grid. This two-way distributed power requires a level of edge compute that supports making real-time decisions using AI and machine learning tools.
Utilities are looking to develop a platform for the delivery of these new services. In markets like Europe, for example, many utilities are taking a very aggressive approach to this disruption. We are working with companies like Enedis in France, Iberdrola in Spain, and Enel, a utility in Italy. They see this as a great opportunity to expedite the transition to clean renewables. And while they are doing it themselves, they are taking these best practices to other utilities in other markets.
Companies that modernize the grid and their delivery of energy services are going to be the ones that are at the forefront of revenue generation.
What are private and public sector organizations doing to meet their green-energy objectives?
For one, businesses and educational institutions are building microgrids for their own facilities. They deploy these technologies on-site to help lower their carbon footprint, consume more green energy, and be more energy resilient.
And when they generate more power than they can use, it can be shared with the grid and be turned back to the market. Not only does it allow organizations to lower their carbon footprint but potentially open the opportunity to make some money while they're at it.
This is a massive opportunity from an IoT solutions perspective. Imagine all the data needed to create those algorithms to optimize both sides of the energy equation, the building, the parking lot, the solar panels. We're not at the very beginning, but it's still very early. There are a lot of buildings out there that are going to get some funding to update and modernize in this way.
That's a good segue to talk about sustainable, smart buildings specifically.
Smart building technology of course has been around for a while, and buildings are already fairly well instrumented. What's needed is to consolidate all those different workloads onto a common platform. Then to look for those insights to drive energy efficiency, lower carbon footprint, and be more energy resilient. The impetus now is adding in the green-energy component, which requires a higher level of systems and data integration, and which a lot of our partners are fulfilling right now.
So same problem, and part of the solution is really driving that edge, computing edge, AI capabilities, high performance needed to do that.
But the amount of workload consolidation is heavy, and it needs significant compute power at the edge to optimize that. More importantly, it's the almost instantaneous decision-making that must happen. You can imagine, if you're really relying on solar power, for example. In one area, the weather changes and it moves from cloudy in one to sunny in another, those changes happen instantaneously. And when you start aggregating a lot of that data, it's clear to see that AI is the answer. To turn that intermittent, distributed energy into base load, like we were talking about.
Electric vehicles and the infrastructure to charge them is another hot topic. How is this market evolving?
It's one of those chicken-and-egg conversations. Do you build out a network of fast-charging infrastructure and then the cars will come? Or do you wait for the cars and build it out based on demand?
With so many car manufacturers switching to EV models, the growth is exceeding projections up to this point. But the need to scale requires the certainty of being able to charge your vehicle and travel just like you do today. It must look and act like filling up a gasoline-powered car.
The big trend going forward is fast EV charging—10-15 minutes. On roadways, this will be scaled expeditiously through the funding that we get from infrastructure funding, both in the U.S. and Europe.
But the real driver is going to be the retailers that see charging your vehicles as a service. Just like you get Wi-Fi at Starbucks today. Imagine relying on a similar experience, whether it's a plug-in or even a wireless EV charging station. Now, there's a new revenue opportunity where customers pull in and purchase that retailer's products at the same time.
Another interesting application that's coming out of Japan is a mobile battery concept being tested. An automated mobile robot plugs in on the outskirts of town or in a dense city like Tokyo, where you can't put solar panels. It charges up its batteries, and then gets dispersed to the parts of the city where the energy is needed, to fill in the peaks and valleys. And it knows where to go based on AI and real-time decision-making. It's futuristic, but maybe not as far in the future as you might think.
This has been a great conversation. Is there anything you'd like to add that we didn't get a chance to go over?
This is a call for action. No one has the ecosystem partners that Intel has, which has been built over 50 years. If we can work closer together and collaborate in this partner network, think about the real impacts that we can make. It could be impactful planet-wide.
We really do have an opportunity to do something here. It's not theoretical, it's not prohibitive, it's needed. And I think the appetite is high for IoT solutions that help make it possible.
This article was edited by Christina Cardoza, Associate Editorial Director for insight.tech.