Fill form to unlock content
Error - something went wrong!
Stay up-to-date with the latest IoT news.
Interactive Digital Displays Let Every Product Tell a Story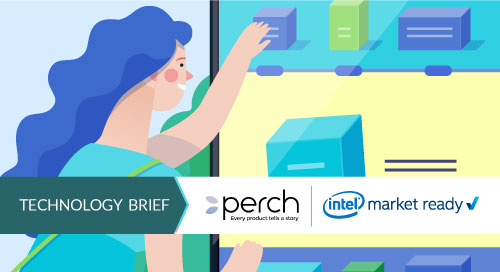 Even while e-commerce and online shopping have built a strong presence in the world of retail, reports proclaiming the death of in-store shopping are, to quote Mark Twain, "greatly exaggerated."
What is true is that for those customers who are used to nearly limitless shopping options online, the return to a physical retail store can sometimes be a bit jarring.
"We're out of your size."
"We just sold the last one this morning."
"We don't have it in red, how about blue?"
Until now. Newer technologies allow retailers to offer selections and options they would never be able to carry in a single store—while at the same time offering customers a one-of-a-kind shopping experience.
Today, smart brick-and-mortar retailers are taking advantage of a set of technologies, including real-time analytics, digital displays, augmented reality, and computer vision, to create fun, unique retail experiences. These solutions dissolve the boundaries between online and in-store shopping, and create an omnichannel experience that builds brands, engages customers, and drives purchases—in some cases, leading to sales lifts as high as 130 percent.
"Lift and Learn" with Digital Displays
One company on the front lines of product engagement marketing is Perch, whose "Lift and Learn" digital marketing solutions have been implemented across a wide variety of retail brands.
The company's Interactive Retail Display solution was created around a simple concept: "I can click on a product online to get more information. Why can't I do that in-store?"
"What we did was marry the best of both worlds," said Trevor Sumner, Perch CEO. "Eighty-seven percent of people start their product journeys online because that's where the content is—the ratings, the reviews, the videos. An in-store Perch experience of the customer picking up an item is the equivalent of an online 'click.' They pick it up and all the rich media and content available is there, right at the fingertips of the customer."
Luxury fashion brand Kate Spade partnered with Perch to integrate the in-store experience with its online presence for a customizable bag collection called "Make it Mine".
Online, a shopper can choose a base bag, then customizes the flap, strap, and lock to create a completely personalized purse. Perch and Kate Spade brought this experience into retail locations to provide an "endless aisle" experience for customers, combining the excitement of limitless options with the immediacy of being in the store.
In the Kate Spade store, the customer picks up a handbag and a configurator loads on an interactive display that shows all the available options. Stripes? Polka dots? Metallic leopard? Yes! All available. Strap or no strap? And that's not the end. "They can also see how choosing three different flaps or three different straps can actually yield nine different purse combinations," said Sumner. "So the potential for selling more than just one bag is greatly enhanced." (Video 1)
Video 1. Kate Spade customers have infinite possibilities for customization.
"An in-store experience of the customer picking up an item is the equivalent of an online 'click.' They pick it up and all the rich media and content available is there." @TrevorSumner,
@PerchExperience
Personalized Recommendations with AI
Macy's and other retailers, including Jo Malone, MAC, Sephora, CoverGirl, and Bumble & Bumble, are also creating fresh new experiences with the Perch platform.
Macy's Fragrance Bar organizes fragrances by category—floral, sweet, citrus, spicy, fresh, woodsy—instead of by brand. "What Macy's recognized is that the way that products are merchandised in-store is not the way customers want to shop," said Sumner. "So now customers start by taking a quick quiz, which profiles them and suggests a fragrance category. They can start with the floral station and smell all those fragrances. The fragrance a customer picks up determines what media or experience they will get. They can watch videos, read reviews, and learn all about each product—all based on their choice."
This is a win-win for both consumers and brands. The consumer sees all the different fragrances that may be a good fit for them; the brands can showcase the rich media assets that they've created to promote their products.
Macy's then takes the omnichannel shopping experience to the next level by integrating a seamless checkout experience. This means shoppers can access the Macy's website or their app to order the product they're looking at, and have it delivered to their home—or pay for it with Macy's cashier-less checkout, and walk right out of the store with their new item.
Rich Media for Customers, Rich Data for Brands
The front-end experience that Perch helps brands provide is equaled by its back-end processing, real-time retail analytics, and insights into customer behavior and conversion (Figure 1).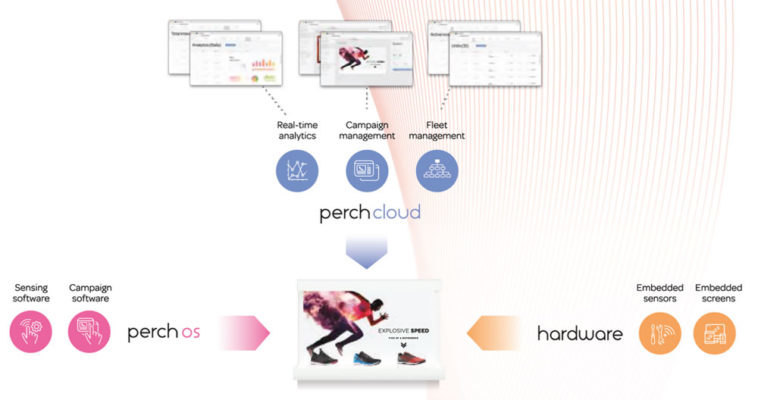 "We can track shopper behavior over time so that brands can examine campaign, creative, store locations, and regional performance," said Sumner. "There's easy access to data about which products shoppers pick up most often, the total time the customer is engaged, and which products convert best to sales."
Perch relies on both Intel® NUC and Intel® RealSense™ technology to deliver innovative and immersive solutions in an affordable way that's easily scalable.
"We use computer vision to figure out what people are touching," Sumner explained. "These are highly sophisticated algorithms, and when the display 'wakes up' and activates a marketing application, we could have videos playing, a configurator running, an augmented-reality experience going. Having an integrated stack and a proven player from Intel® is really critical. Retail is a very chaotic environment; we needed something rugged and proven, so we've been really happy with the Intel architecture to base our platform on."