Fill form to unlock content
Error - something went wrong!
Stay up-to-date with the latest IoT news.
Hybrid Learning Propels Accessible and Equitable Education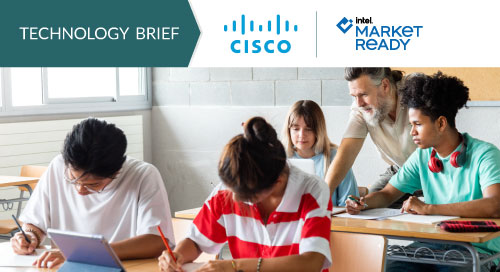 For most people, the notion of formal education conjures up images of sitting at a desk and taking notes, surrounded by classmates. And yet the lessons that we learn from our teachers and peers extend far beyond the classroom walls and affect everything from our core values to our ability to function as members of society. In the words of 18th-century philosopher Immanuel Kant, perfection and hope lie "… in education, and in nothing else."
In the hundreds of years that have followed, our systems have become much more formal, and disciplines have been disentangled. The global community has worked hard to ensure that every child has access to a high-quality education, irrespective of their background, location, or income level.
But only recently is education tech making accessibility, inclusion, and equality possible. Throughout the COVID-19 pandemic, we have seen a clear need to exploit digital transformation to avoid educational disruptions, foster access to students from all backgrounds, and arm teachers with the resources they need to bring lessons to life—in and out of the classroom.
Education Tech Leads the Way to a Hybrid Future
Cisco Systems, a worldwide leader in IT, delivers education solutions, powered by Intel® technology, which are leading the academic march toward a hybrid future. And I cannot imagine a better match. The former is an expert at building digital bridges and the latter at leveraging research and development to bring the impossible to life.
"One of the great benefits of hybrid is that it allows you to flex and maintain your operations," says Brad Saffer, Global Education Lead at Cisco. "It also allows people to make the choice, whether you're a faculty member, a staff member, or student, to where you want to be on a given day."
In addition to connecting campuses, Cisco education solutions are streamlining administration, expanding learning models, enhancing safety and security, and fueling innovative research. Everyone in the ecosystem—students, teachers, and administrative staff—now have access to the same educational tools. Whether on-premises, hybrid cloud, or multi-cloud, the solution will adapt to each IT department's needs, without jeopardizing the security of the whole.
At the core, we can find the Intent-Based Network (IBN) concept—a new paradigm relying on network virtualization and artificial intelligence to configure the network automatically, according to best practices, complying with any business request.
@CiscoIoT #education solutions are streamlining administration, expanding #learning models, enhancing safety and #security, and fueling innovative research. – @antgrasso via @insightdottech
"We build the platform so it's scalable and secure. Those are two big pieces that are so critical, especially when you're thinking about connecting districts across many different locations," Saffer says. "We also integrate with our partners globally, with institutions that support and are tailored to education, providing specific solutions that we integrate with the platform."
The architecture allows mobility, security, and collaboration in almost any underlying configuration about computational resources, network, and storage (Figure 1).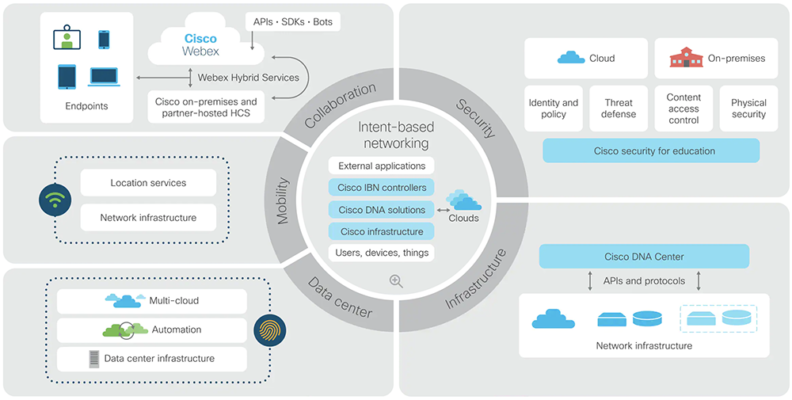 Notice how the solution fully adheres to their extended Cisco Digital Network Architecture (Cisco DNA)—an open architecture that accelerates and simplifies network management operations while reducing the associated risks and costs.
Beyond its outstanding architecture, I fell in love with the platform's potential for social inclusion. During my discussion with Saffer, I discovered that the solution allows you to extend the physical limits of campus connectivity to adjacent areas, spanning entire neighborhoods and small cities. Offering a mixture of face-to-face and remote lessons, this gem allows those without a strong broadband connection at home to continue studying using an amplified campus signal.
Inclusive Education in Action
An excellent example of how technology can address inclusion problems and follow the changing landscape of learning is the Canutillo Independent School District in Texas. It faced a number of challenges when the pandemic forced a transition from the physical classroom to distance learning. With 6,200 students in 10 schools, 70% of the students did not have Internet access at home. Canutillo needed a way to curb the digital divide and keep these kids from falling behind.
The district worked with Cisco to deploy and test an "extended network," enabling students to log onto private, secure Wi-Fi from home to continue their schooling. The solution includes Cisco Fluidmesh wireless backhaul, Cisco industrial switches, and Cisco Meraki outdoor access points.
Canutillo leadership foresees continued use of innovative technologies to meet the diverse needs of its students, enabling them to reach their full potential.
Embracing the Shift to Hybrid Learning
Given the cost savings and new features that allow the entire teaching process to be optimized, the asset can be amortized in a short period of time, yielding considerable return on investment.
Cisco's hybrid education solutions have allowed academic institutions worldwide to not simply respond to, but embrace, the paradigm shift that disrupted the global education system more than two years ago. A mixture of face-to-face and remote lessons can ensure students benefit from a high-quality education, no matter their location, background, or income level.
Just as Kant maintained hundreds of years ago, education has the power to restore hope, enable us to look beyond mere appearances, and shape our lives and the very future of humanity.
This article was edited by Georganne Benesch, Associate Editorial Director for insight.tech.