Fill form to unlock content
Error - something went wrong!
Stay up-to-date with the latest IoT news.
Healthcare IoT, the RX for Providers and Patients
Healthcare providers have a lot on their plates. Costs are always on the rise, and staff shortages put hospitals in a bind. Thirty-five percent of executives say their shortages were worse in 2019 than 2018. This lack of personnel and increased costs lead to higher patient dissatisfaction with healthcare services.
Many organizations look to technology to solve their headaches, but they're unsure how to optimize care team performance without becoming intrusive. So how can medical providers overcome these challenges and create new opportunities? We see four common themes:
Patient experience. Patients can access more information than ever about treatment options and physician ratings, and can even compare costs. But in this competitive environment, providers need to make a patient's journey through the system as frictionless as possible.
Clinician efficiency. With staff members in short supply, care teams have to run like well-oiled machines to keep up. Communication failure is a key factor in 30 percent of malpractice cases, so clinicians need an effective way to share information. They have a lot of wisdom about providing care; the challenge for hospitals is in deploying solutions that can optimize their performance without being intrusive.
Security and compliance. With the fast rise of the Internet of Medical Things, security is a growing concern for the industry. A lot of older technologies still in use are essential for patient care. But these connected devices don't have the same capabilities as a computer or tablet, and can't install the latest, greatest security software. And it's not just technology itself; people and processes are also critical when it comes to patient security.
Operational challenges. Healthcare IT teams are stretched to the limit as they try to keep up with the rapid pace of technology. They have a passion for delivering the foundation on which clinicians can care for patients effectively, but often struggle with the agility needed to stay abreast with innovative technologies.
Innovation Through Partnerships
Centered around its edge-to-cloud Healthcare platform, Cisco works with an ecosystem of partners to improve outcomes across these challenge areas. The solution infrastructure is based on five domains: connectivity, mobility, collaboration, data center, and security (Figure 1).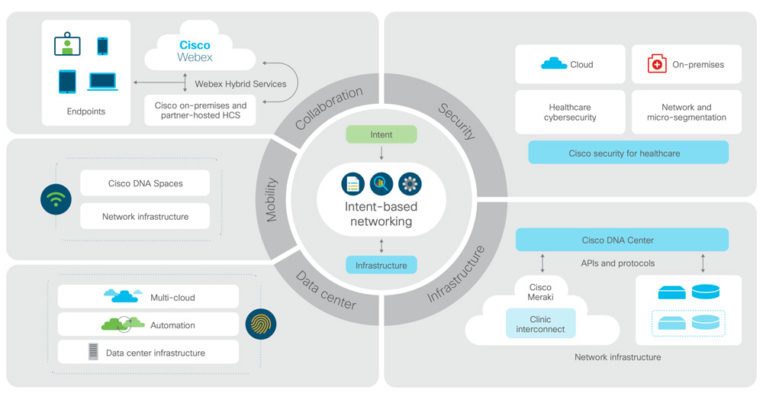 The architecture provides a digital framework that factors in and converges different clinical systems. Across all of these domains, the solution supports third-party solutions with a standardized approach.
"One way we bring value to the healthcare environment is by working with partners that focus on solving specific business problems," said Marlon Harvey, Cisco's Global Healthcare Business Solutions Architect. "For example, to address clinician and care team communication, we'll work with mobility and software partners to allow for essential data to be provided to that clinician on a personal mobile device."
When the healthcare workforce can be more efficient, it enables them to provide better experiences for patients. Cisco accomplishes this through a variety of focused solutions, such as SMS appointment reminders, mobile patient check-in, and location-based services.
A suite of telehealth solutions helps patients cut travel time and gives them more convenient access to care. For example, Jabber Guest allows for video consultations, and clinical staff can manage virtual waiting rooms with Unified Contact Center Express.
On the clinician side, Cisco eases communication and collaboration between the clinical care team and other departments with help from its hardware and software partners. For example, in partnership with Apple the two companies delivered an advanced communication solution for Parkview Medical Center in Colorado.
Parkview's previous system was unreliable and resulted in dropped calls and problems connecting to the internet. To address these problems, Cisco provided a solid wireless infrastructure, while Apple delivered security and simplicity for users with iPhones and iPads. This allows clinicians to move easily from patient room to patient room, with bar code scanning to convey medication lists and other important information.
While Parkview always boasted low error rates, the new system built around Cisco and Apple solutions helped them reduce medication errors by more than 60 percent (Video 1).
Video 1. Parkview Medical Center solution deployment and results.
While Parkview always boasted low error rates, the new system built around Cisco and Apple solutions helped them reduce medication errors by more than 60 percent.
Protecting Patient Data
When it comes to the security of data and systems, cyberattacks ramp up as fast as new technology does, and the thought of a breach keeps many a hospital administrator up at night.
Cisco helps healthcare organizations beef up their security. Take Norfolk and Suffolk NHS Foundation Trust. As a mental health organization, it needed to ensure consistent end-user security across all locations. In its particularly sensitive environment, the trust had to identify and deal with threats effectively, while maintaining confidentiality.
The foundation used Cisco Umbrella cloud security and firewalls to gain greater insight into emerging threats. It was able to identify and block threats quickly, and deliver a smoother experience for staff by automating tasks like unblocking websites.
In one case, a phishing attack targeted the trust. Within 10 minutes, Umbrella detected unusual activity and blocked the bogus URL, preventing 80 users from accessing it. Thanks to being in the cloud, it also spotted remote workers affected by the breach, protecting sensitive data across all locations.
Enhancing Outcomes
Cisco Healthcare relies on Intel® technology across the solution infrastructure. Harvey credits Intel with his team's success. "We can't bring forth innovation in our network and other platforms without working with Intel," he said. "We almost take it for granted that Intel is there, because it's such a reliable and stable aspect of how we deliver information."
Great healthcare depends on connecting everything—devices, data, clinicians, patients, and caregivers. And great patient outcomes require personalized care, streamlined collaboration, and optimized business operations. All this while keeping data and devices safe and in compliance with regulations. Cisco and its partner ecosystem are making it happen.