From Smart City to Smart Factory: AI and ML Offer a New Look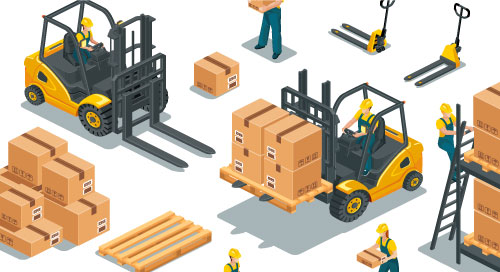 Editor's Note: insight.tech stands in support of ending acts of racism, inequity, and social injustice. We do not tolerate our sponsors' products being used to violate human rights, including but not limited to the abuse of visualization technologies by governments. Products, technologies, and solutions are featured on insight.tech under the presumption of responsible and ethical use of artificial intelligence and computer vision tools, technologies, and methods.
---
For years, improving worker protection meant increasing occupational safety regulations and conducting safety procedure checklists. But implementation remains a challenge despite both the social and financial costs of dangerous worksites. Why? There simply isn't enough people power to monitor every inch of a manufacturing site to ensure safety 24/7.
Fortunately, the same technology used to monitor cities and improve traffic safety can do the same in the factory. Computer vision, AI, and machine learning offer ways to automate safety inspections. Such techniques can be used to alert safety officials, who can immediately address a problem—often before an accident occurs. Officials can also track violations to create new standard operating procedures to improve workplace safety.
"Like on roads and bridges, many industrial facilities already have mounted CCTV cameras," said Avinash Trivedi, Vice President, Business Development, Videonetics. "But most don't perform real-time analysis on video feeds. They only look at the footage after an accident has happened."
Detect Safety Violations with Computer Vision and AI
In developing the Industrial Safety & Security Solution, Videonetics reused many advancements the company made in overcoming the challenges of building its computer vision traffic management and safety system. Similar to processing vehicle violations, it uses AI and machine learning to detect and analyze worksite safety violations in real time. This enables companies to benefit from continuous safety inspections, rather than conduct the designated number needed to satisfy regulations. "We combine human and computer intelligence to better coordinate response across all areas of a manufacturing site," Trivedi said (Figure 1).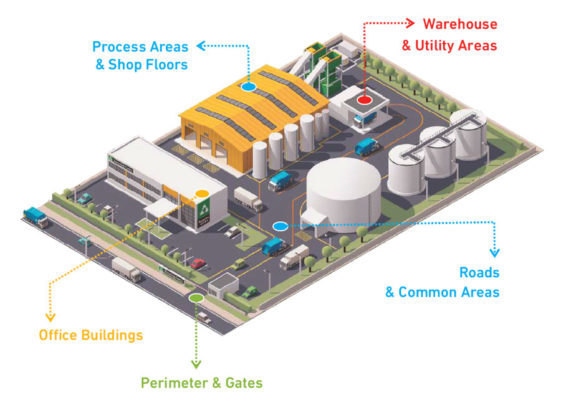 Much of @videonetics' automated behavior analysis, and the chain of events that it triggers, reuse development of the company's traffic safety system.
DeeperLook, the solution's AI and deep learning framework, is operating system agnostic. It equally supports FPGA, GPU, and CPU architectures, and can be deployed in the cloud or on edge devices, enabling flexibility and compute load distribution. It comes pre-trained with large data sets collected from a variety of sources. And data training, annotation, inferences, and the self-continuous approach of the video analytics lifecycle is built into the platform.
Once installed, the platform uses unsupervised learning to improve its ability to detect safety violations. This works through Videonetics' proprietary AI and deep learning inference training techniques, enabling the solution to recognize different kinds of objects and patterns.
Video frame preprocessing is one such technique. It's paired with machine learning to take advantage of anything that does not change in the frame, for example, the actual floor of a factory. The solution can ignore the digital video data that comprises the floor and, instead, focus on things that change, such as the movement of people and things like forklifts and robots.
In such a case, the Videonetics Industrial Safety & Security Solution can detect a parked or disabled forklift blocking a production route or a fire door. The system automatically generates an alert or event, which is sent to the manufacturer's command center. From there, safety and security staff can inform the forklift operator to immediately clear the hazard from the area.
Much of the solution's automated behavior analysis, and the chain of events that it triggers, reuses development of the company's traffic safety system. The chart below helps visualize the process, from video input and frame preprocessing to the output of an event or alert (Figure 2).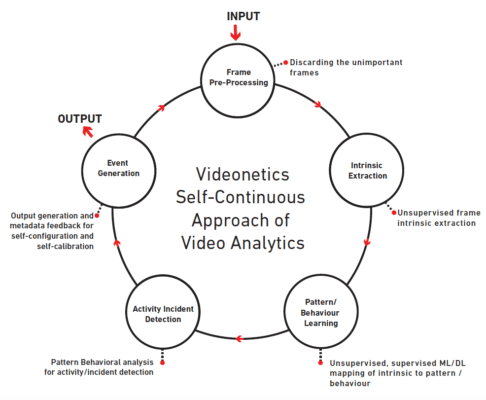 "Frequently, manufacturers develop their safety, security, and operational solutions in silos," said Trivedi. "This causes a lack of overall awareness, which contributes to failures in all three areas. Unifying them into an integrated command-and-control solution improves response in each."
Facial Recognition Increases Safety
Observing people—be they employees, contractors, or vendors—is essential to helping ensure safety and security. For instance, by adding facial recognition, a manufacturing site can permit only staff trained on certain equipment to gain access to specific areas. Likewise, rooms devoted to R&D or other sensitive information can be secured.
In addition to facial recognition, people counting and behavior analysis also enable manufacturers to increase safety. People counting is critical in an emergency to quickly determine the number of people in an area. Facial recognition combined with behavior analysis can also automatically establish if employees are engaged in improper actions, from conflicts with others to vandalizing equipment, and create a record of those involved.
The Solution in the Field
"We've benchmarked our solutions not only on Intel® processors but to Intel® Movidius™ and the Intel® OpenVINO™ Toolkit," said Trivedi. "And by using Intel for both CPU and GPU technology and an end-to-end processing platform, our compute-intensive operations—like AI and deep learning—provide a high level of performance and low cost of ownership. Moreover, Intel inspires confidence in our customers, paving the way to proof-of-concept deployments and reducing time to market."