Fill form to unlock content
Error - something went wrong!
Stay up-to-date with the latest IoT news.
Educational Tech Tools Power Smart Virtual Classrooms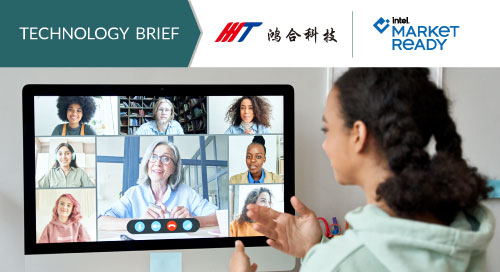 It is very easy for a student to become distracted in a classroom setting. They might stare blankly out the window, count the minutes until the bell rings, or have secret conversations with classmates when the teacher isn't looking. Add remote learning into the mix and the distractions are amplified. It's all too easy to go on mute, turn off your camera, and forget about schoolwork.
This is not what schools had envisioned when deploying IoT technology and solutions. Leveraging IoT in education, while initially used out of necessity, is really meant to support learning—not block it.
"Technology should be used as a tool to assist education. It should not impact normal teaching plans or classroom management. It's necessary that it is implemented in a way that is seamless and frictionless to learning," says Jing Zhao, Marketing Planning Specialist for the Beijing Honghe Technology Group.
But the world is not turning back to a traditional education system. And universities and K-12 schools are left trying to find the right solution for the problem.
Smart Education Engaging Students Outside the Classroom
Rather than using educational tech to just broadcast a lecture, one tech-savvy university is using them in innovative ways. The university creates lessons that make learning material exciting, engaging, and interactive.
Thinking outside the box and screen, the Beijing Capital Institute of Physical Education took its introductory course on Winter Olympics out of the classroom and onto the ice rink. Instead of using a stark PowerPoint presentation to go over the history of the games, they set the class in a rink using real-life examples of different snow activities. The university even invited several athletes and coaches to teach and demonstrate various sports.
The class was broadcast to about 100 schools where tens of thousands of students and teachers were able to remotely access and engage in the course.
Because @HiteVision uses a #cloud + terminal platform to manage class participation, instructors can detect #students who need the most support and personalize the #educational experience for them. via @insightdottech
"Through this solution, a wide range of students were able to experience the charm of the ice project with their own eyes," says Zhao.
This new online teaching technique is known as smart education, which uses technology as tools for teachers to provide an immersive learning experience.
The institute used the Honghe HiteVision Interactive Broadcasting Classroom solution to broadcast the Winter Olympics course from the arena. The solution supports hybrid educational models with a cloud + terminal platform. Key features include single "lecture classroom," multiple "listening classroom" support, synchronized live teaching, two-way interactions, and insights into student participation. Teachers can control lessons and classroom interaction with a touch of the blackboard screen—simplifying the operation process and improving efficiency.
The solution uses Intel® technologies to ensure it has enough power and performance to record, transmit, and deploy lessons remotely.
"We make full use of the computing power in Intel CPUs and GPUs in order to realize the video-audio codec and provide smooth operations. Intel helps us provide remote interaction and courseware playback for remote interactive classrooms," says Zhao.
Smart Education for All
The HiteVision solution is not only used to support a new form of learning. It is also used to address the education equity and expertise gap in China. Many students don't have the same access to high-quality instructors as others. With the HiteVision solution, all students regardless of location or economic status can receive the resources they need on-demand.
"Although compulsory education is moving from a basic balance to a high-quality balance, some weak areas still have the problem of not offering enough courses prescribed by the state," says Zhao. "This capability makes the solution a clear avenue for school districts to help promote equity and reduce poverty restrictions in the educational sector."
Teachers can reach more than one classroom at a time as well as collaborate with other teachers on one platform. Because HiteVision uses a cloud + terminal platform to manage class participation, instructors can detect students who need the most support and personalize the educational experience for them.
"This capability makes the solution a clear avenue for school districts to help promote equity and reduce poverty restrictions in the educational sector," says Zhao. "The solution automatically tracks test scores and student engagement to provide beneficial data to educators so they can alter their lesson plans and optimally address the needs of their students to ensure no one is falling through the cracks."
In addition to student performance data, instructors get real-time insight into equipment health and operations so they can broadcast in the best streaming quality, Zhao explains.
The Honghe also works with systems integrators to create complete and customized distance learning solutions depending on the need. For instance, systems integrators explore different use cases and industries such as museums and libraries for shared lecture series and training initiatives.
Technology like HiteVision will be key as the evolution of education in China continues to rapidly advance.
"Technology itself has educational significance. It is not only a tool to promote social progress but also triggers a change in our way of thinking. Its educational nature is worth exploring and learning," says Zhao.
This article was edited by Georganne Benesch, Associate Editorial Director for insight.tech.