Fill form to unlock content
Error - something went wrong!
Stay up-to-date with the latest IoT news.
Digital Transformation Goes Edge-to-Cloud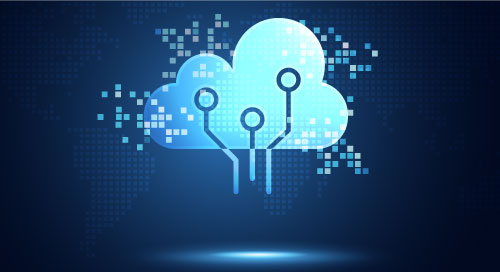 Hybrid cloud environments are the new normal. Currently, 82 percent of organizations have hybrid strategies combining public and private clouds with on-premises infrastructure. But now those environments increasingly include edge computing as well.
Edge computing places hardware as close to data sources as possible. Why? "The main motivations are data latency and data sovereignty," explains Derek Pounds, cloud consultant at solutions provider World Wide Technology (WWT).
In an edge-to-cloud context, this means bringing the capabilities of the public cloud into local environments. Specifically, companies can leverage platforms like Microsoft Azure Stack, AWS Outposts, and Google Anthos to deploy these cloud providers' services on-site.
While this arrangement can provide powerful benefits, putting together an edge-to-cloud architecture can be a monumental undertaking. But with the right mix of business case assessments, careful testing, and the latest in pre-validated solutions, companies can smooth the path to success.
Why the Edge Matters
The growth of enterprise Internet of Things (IoT) applications is a primary driver behind the emergence of edge-to-cloud architectures. These IoT applications often require real-time or near-real-time processing.
Examples can be seen in telemedicine, smart cities, oil and gas, and other critical functions that demand reliable connections and the ability to respond immediately to a problem. If data must travel hundreds of miles to a cloud, latency is inevitable; hence the need to keep data close to sources and users.
And because it keeps data at local sites, the edge also enables compliance with data sovereignty requirements. "Where data can't leave a particular site, data sovereignty becomes very important, especially with EU-based data that can't move outside of country locations," says Pounds.
Sovereignty also matters at a more granular level: Companies want to protect their data. Thus, the most sensitive data—such as proprietary designs—is typically kept on-premises with access granted to the narrowest set of employees. Other types of data can stay on-premises or move to the cloud.
Taking the time to understand the business is key to deciding "what portions of the business we can move to the cloud or how we can move them to the cloud in stages or phases" to ease the transition, Pounds explains.
Assessments, Please!
For many companies, this mapping exercise is a major hurdle: It involves tasks and technologies they have not encountered before. To accelerate the process, companies can partner with service providers such as WWT, which has deep experience deploying edge-to-cloud architectures.
We can work with the customers, set up an environment that they can test in, show them how all the tools and applications can work together, and how that can be bridged up to the #cloud." @wwt_inc via @insightdottech
"We're always having these discussions with customers," says Pounds. "A portion of it involves a professional services assessment looking at: What are the roles of individuals? What is the role of data? What is the classification of both of those?"
In medicine, for instance, healthcare providers often need to monitor patients from a distance. "Think of diabetics, blood pressure, oxygen," explains Pounds. "All those can be measured and monitored through an edge solution and then aggregated out against multiple users."
In this scenario, the main objective is to keep analytics for individual patients at the edge—which minimizes both the security risks and network traffic—while still enabling a global view of population health trends.
Another scenario involves oil pipelines. By installing intelligent valves, oil companies can continuously monitor and adjust flow rates for better efficiency. Here, the main issue is speed. "The latency is incredibly important to be able to get that data right in real time," says Pounds, explaining that sending data to the cloud would simply take too long.
Matching Platform to Use
But which cloud platform should you choose? Deciding between Anthos, Azure Stack, and Outposts to support an implementation comes down to the nature of the existing IT environment.
In multi-cloud environments, for instance, an Anthos solution may be a better fit because it uses Kubernetes to run multiple infrastructures simultaneously. In other cases, Pounds says, it makes sense to combine pieces of the platforms in a best-of-breed approach.
Above all, choosing the right approach—and achieving successful deployment—depends on a strong working relationship with the cloud service providers. "One of the first and foremost things that we offer is the relationship we have with the vendors," he says.
These relationships have enabled WWT to leverage Intel® Select Solutions in edge-to-cloud implementations to simplify and accelerate deployment. Intel Select Solutions combine compute, storage, networking, and software in preconfigured, validated packages.
Intel Select solutions, says Pounds, can be optimized for edge-to-cloud implementations to deliver localized performance and reduce latency while enabling globalized data analytics to support long-term strategic goals.
And, of course, it helps to get an unbiased opinion—and here WWT's role as an intermediary is uniquely valuable. "What we bring to the table is neutrality," notes Pounds. "I can show you the pros and cons of a solution, and match that against the pros and the cons of the other solutions that are out there."
Test Before You Deploy
But even with the best-laid plans, the complexity of edge-to-cloud architectures leaves numerous opportunities for things to go wrong. That's why WWT created its Advanced Technology Center (ATC).
By testing their ideas in the ATC, customers have the opportunity not only to explore their options but also to validate functionality before an implementation goes live.
"In the ATC, we have Azure Stack, Anthos, and Outposts, we can work with the customers, set up an environment that they can test in, show them how all the tools work together, how all of the applications can work together, how that can be bridged up to the cloud," says Pounds. "That's just not something others can do."