Fill form to unlock content
Error - something went wrong!
Stay up-to-date with the latest IoT news.
Digital Displays Feed Information Appetite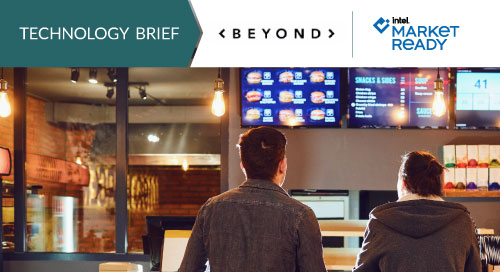 Today's customers crave data—about where their food was sourced, how to care for their clothing, where a brand stands on sustainability issues—the more details the better. A self-service digital display that shares what customers want, when they want it, is an ideal way to highlight essential background and build brand affinity.
Beyond Digital creates design experiences for digital spaces that can entertain, educate, and even prevent emergencies, such as in the case of food allergens. That was one of the ways the company helped bolster the reputation of a large quick-service restaurant (QSR), which first approached Beyond Digital a decade ago to help burnish its brand image.
The initial partnership entailed digitizing print materials so the restaurant could share its message quickly and dynamically through digital menu boards. But easing the ordering process was just one benefit. These digital signs also allowed the restaurant to engage customers by highlighting additional information of note, from in-store promotions to company philanthropic endeavors.
Soon after, the QSR expressed a critical need to inform customers of possible allergens in its products and proactively arm staff and guests with details. Beyond Digital saw an opportunity to develop an innovative and market-leading interactive digital signage solution.
"Some companies will merely comply with the legal minimum for sharing allergy facts, but our client wanted to provide something meaningful that can be regularly updated," says Louise Richley, Beyond Digital's managing director. "And the self-service nature of the interactive kiosks removes the burden from staff to act as experts, because customers can explore the material themselves."
This success opened the QSR's eyes to additional impactful ways they could create a connection and feed guests' desire for a personal experience. Using the digital kiosks, they began sharing information more broadly to guests while they queued or waited for their food.
The restaurant was able to showcase various menu items and promotions and add more holistic nutritional details, which today's consumers want as they move toward healthier, clean eating.
Digital displays also highlighted corporate responsibility commitments and charitable work, along with other general brand news. They even created a recruitment section where guests could find out what positions were available and how to apply.
Even when no one is interacting with the digital kiosk, animated content scrolls through to attract attention. "While guests are waiting for their food, the restaurant can promote menu items or share how it sources healthy products," Richley says. "The information also provide a talking point for the staff, making it easier for them to engage with the customer."
Beyond Digital creates design experiences for digital spaces that can entertain, educate, and even prevent emergencies, such as in the case of food allergens.
Over time the QSR deployed several Self-Service Displays alongside multiple digital technologies into more than 2,000 sites throughout the U.K., reaching diners from High Street to retail parks, service stations, and transport hubs. With more than 6,500 displays, the QSR has modernized its brand image and delivers great customer experiences.
A Broad Roster of Capabilities
While the digital kiosk has proven popular for this particular QSR, Beyond Digital solutions can be deployed worldwide, anywhere that customers seek more information about their food, and more.
It's just one example of the types of creative full-service solutions the company can design. Its team has the expertise to manage all aspects of a project: strategic development and content design, installation and software management, to collecting retail analytics that confirm impact.
"We do such diverse things that we can work with any customer who wants to use technology to communicate or share a solution," Richley says. "Whatever the industry or client, we can develop a holistic solution that will make sure their message attracts attention. That's the value of digital signage. It's not one size fits all; it's one size fits what you need."
Retail Analytics Improve Engagement
A key advantage to the solutions Beyond Digital creates is that they can be dynamic and responsive to changing attitudes or preferences. By tracking retail analytics, the restaurant can measure what interests people most to add new capabilities or tweak what's there to make it more compelling or easier to find. For example, it can track how many times people pressed a particular button and where they navigated after that.
"We can see that people are interacting with nutritional information and are very interested in clean ingredients but might need a different headline to click on local restaurant news," Richley says.
With that continuous loop of feedback, it sources ongoing reports that help inform the content strategy and make the pages more intuitive and clear. "We find it much more meaningful to move from real-time analytics to these larger insights, where we can see where thousands of people are clicking," Richley adds.
Fueled by Reliable Technology
Beyond Digital uses Intel® processor-based technology, which offers the reliability the agency requires to provide a premier experience as an integrator. "We use a combination of various software solutions in our installations, so we need to be incredibly confident in the quality of the underlying manufacturers and the fact there is a deep bench of support if we need it," Richley says.
Digital signage is becoming imperative as a way for brands to engage with customers, but just mounting a screen on the wall will not yield the results you need, says Richley: "A seasoned digital integrator will bring a comprehensive blend of strategic planning, creativity, software knowledge, and technical expertise to execute a successful campaign that will provide a solid return on investment."