Fill form to unlock content
Error - something went wrong!
Your content is just a step away. Please submit below.
Cybersecurity Solutions Safeguard the Network Edge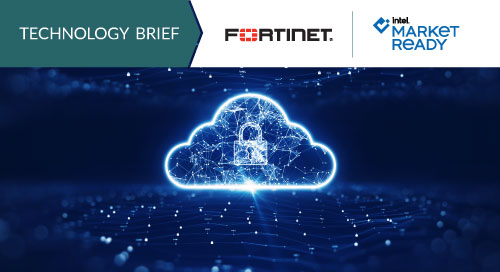 The cyberthreat landscape changes rapidly. With new threats emerging all the time, it's hard for any organization to effectively defend itself. Often, companies must walk the line between fast and easy vs. robust and comprehensive in their efforts to secure the business without slowing it down in the process.
It doesn't have to be that way, says Courtney Radke, Field CISO – Retail and Hospitality at Fortinet, a global cybersecurity leader. It is possible to have network performance and efficiency while still maintaining a strong security posture. The trick is making security a priority from the ground up and simplifying management as businesses expand their ecosystem with new branch locations, remote sites, and even home offices.
Too often, security becomes an afterthought in the march toward digital innovation. This leads to "bolt on" cybersecurity solutions as the network expands, which effectively limits a business' ability to mitigate risk. In highly distributed environments, this also creates complexity, hinders visibility, increases the likelihood of vulnerabilities, and significantly reduces the ROI of technology investments.
But as C-suites and boardrooms become more attuned to cybersecurity needs—often a result of headline-grabbing breaches—organizations are taking a new approach. "They need something smarter, more consolidated," says Radke. "They need a whole solution set; a platform to solve all the problems they can see today and the ones they can't even anticipate. And they need it to scale."
Fortinet addresses these needs with its Secure SD-Branch solution, which takes a platform approach to delivering enterprise-grade networking and security for the branch. By converging network and security through FortiOS, organizations gain access to benefits such as Next-Generation Firewall, Zero Trust Services, IoT protection, and integrated switching and wireless management via FortiLink—all in a single device.
Fortinet Secure SD-Branch also incorporates native software-defined wide area networking (SD-WAN), tightly coupled with next-generation firewall protection, to provide secure, "always-on" connectivity for today's changing business needs. With templated configurations, zero-touch deployment, and centralized management and visibility, Fortinet Secure SD-Branch is also simple to manage at scale.
As Digital Transformation has made the branch more complex, Fortinet Secure SD-Branch provides comprehensive security at the network edge, and addresses the expanding attack surface, by consolidating network and security within a single platform that provides visibility and protection to the branch and all users and devices connecting to it.
Edge Security at Work
For Checkers Drive-In Restaurants, the SD-Branch approach was just what the company needed to manage its 265 locations across 38 states. Checkers was looking for a solution that could secure its many locations at the edge, scale as the company grows, and deliver centralized visibility. Its legacy SD-WAN platform couldn't support the organization's requirements.
The company decided to replace its outdated system with Fortinet SD-Branch's security-driven networking approach. Specifically, Checkers deployed Fortigate Secure SD-WAN, which combines next-generation firewall with network orchestration and acceleration.
For Checkers, it meant simplified network management with fewer resources—lowering costs and improving productivity.
The proliferation of endpoints, including #PCs, smartphones, and #IoT devices, as well as the convergence of #IT with #OT, has resulted in an "explosion of edges." @Fortinet via @insightdottech
Cybersecurity for the Expanding Edge
Like Checkers, just about any enterprise with a growing, distributed environment wants scalability and visibility. For many, the proliferation of endpoints, including PCs, smartphones, and IoT devices, as well as the convergence of IT with OT, has resulted in what Radke calls an "explosion of edges," which strains network resources, lessens security effectiveness, and complicates management.
When organizations turn to Fortinet, Radke says, they are looking for simplified management and better cybersecurity solutions that scale to meet the business. Fortinet's job is to understand business outcomes that customers seek and enable them while delivering consistent user experiences.
But most important, organizations are looking for stability and resilience. "It's about maintaining business continuity if the worst were to happen," says Radke. "How do I continue to meet customer demand? How do I keep my business moving forward? How do I keep pace with the competition in a hyper-competitive market?" Fortinet allows organizations to execute on their business objectives and digitally differentiate themselves securely and with confidence.
Consolidating Security Unifies System Management
Key to Fortinet's approach is its partnership with Intel. The company uses Intel processors that support the scalability requirements of its solutions. "The beauty of the Intel and Fortinet partnership is scale, and that we're in so many organizations together," Radke says.
Together, Fortinet and Intel help customers secure the edges. At the same time, the SD-Branch technology helps lay the foundation for a new security approach often referred to as SASE (Secure Access Service Edge). The model calls for consolidation of cloud-based and WAN security to enable uniform management no matter where users or devices reside.
SD-Branch also sets the stage for moving toward a "Zero Trust" approach, a security framework that acknowledges that securing network egress and ingress is not enough. Lateral movement inside the network must be secured via microsegmentation, identity must be established, and access to resources must be based on least privilege—meaning users get access only to resources required for their roles within the organization.
Fortinet solutions, including the Fortigate NGFW, incorporate threat intelligence from FortiGuard Labs, Fortinet's cybersecurity threat intelligence organization. FortiGuard Labs continuously monitors the worldwide attack surface using millions of network sensors and hundreds of intelligence-sharing partners to provide timely intelligence, product updates, and help customers better understand and defend their threat landscape.
Fortinet's portfolio of more than 50 security technologies is designed with integration and automation in mind to share threat intelligence, correlate data, and mitigate threats across any network, endpoint, and cloud in real time. This allows customers to move beyond point products, gaining better ROI on technology investments, and accelerating business outcomes via consolidation and convergence of network and security.
Edited by Georganne Benesch, Associate Editorial Director for insight.tech.