Cloud Whiteboards Move to the Head of the Class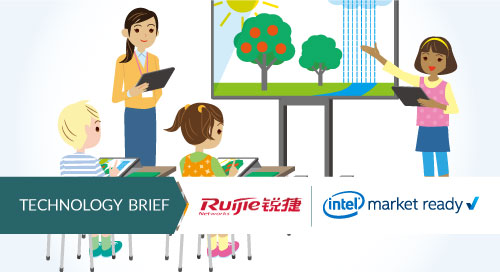 China is a textbook example of how continuous investments in technology and teaching tools can lead to notable improvements in education systems. The country's Ministry of Education estimates that more than 99 percent of school-age children have received universal nine-year basic education.
In recent years, the combination of the internet and information technology has triggered rapid development of digital transformation in China's education sector. To that end, the country rolled out the "Education Informatization 2.0 Action Plan" to meet the needs of a quickly evolving school environment through innovation in IT, advanced hardware, and edge-to-cloud software.
As a result, the methods, models, and content of education in China are undergoing profound changes. The domain of education digital transformation has expanded from a main focus on hardware such as smart digital displays to the inclusion of software.
This shift calls for increased integration among educational resources, teacher and student computing platforms, and information technology. And while infrastructure and teaching environments have greatly improved, challenges remain.
From Digital Display to Cloud Whiteboard
Since the implementation of education digitization in China, infrastructure has greatly improved and basic network teaching environments in schools have been built. More and more smart teaching equipment has entered schools. But there are still shortcomings in educational software. For example, in educational processes, teaching tools are not abundant and teaching resources are difficult to acquire.
To address these and other challenges, Ruijie Networks introduced its Cloud Whiteboard solution—combining a smart education IT environment, a smart education platform, and smart operations management (Figure 1).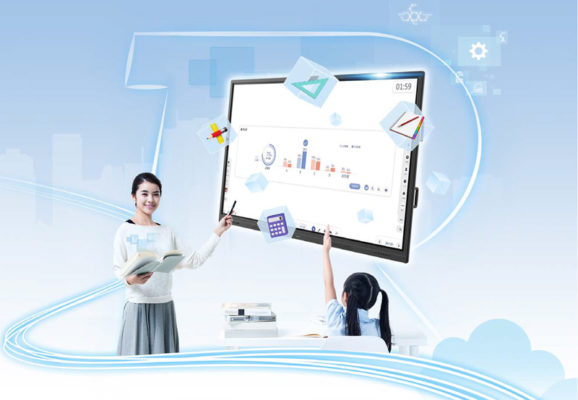 The platform is an integrated solution for education and management that enables an upgraded, educational environment with widespread applications in educational resources and teaching spaces. Viewed from its overall framework, the smart education IT system allows educators to teach effortlessly while providing tools that support active learning.
The Cloud Whiteboard software works with state education cloud resources—making it easier for teachers to prepare lessons. This improves on the traditional classroom model of repeated lectures and limited interactions by getting students more engaged. In addition, the solution provides access to teaching materials such as study guides, synchronized lesson plans, interactive classes, online testing, and assignments—providing an integrated, cloud-based smart educational service.
Remote Management Lowers Costs
Smart digital displays have long served as a core teaching tool. But they have issues when it comes to managing school operations and system upkeep.
Typically, on one shared system, multiple instructors use their own individualized teaching software. This means multiple applications and data must be installed and updated, which often happens in an unsystematic way.
Other problems such as poor performance and system crashes adversely affect teachers' instructions. Ongoing maintenance is difficult if equipment is damaged or software is modified. Administrators face the time-consuming task of reinstalling system software and even going classroom to classroom to update each whiteboard independently.
The Ruijie solution is designed to solve these challenges. Based on Intel® Intelligent Desktop Virtualization (Intel® IDV) architecture and the Open Pluggable Specification (OPS), it provides centralized management, turning traditional displays into cloud-centric whiteboards.
Standardized OPS modules simplify equipment connections, while offering possibilities for various protections and expansions. These devices solve the problems of debugging difficulties, stability differences, and jumbled wires. For example, teachers can broadcast multimedia courseware, videos, and animations without interruption, while administrators no longer need to create complicated equipment line connections.
And Intel IDV technology can simplify operations and maintenance. This is a valuable benefit for teachers who are not skilled with technology, since the complexity and difficulty of managing digital equipment can be quite high.
Once a cloud whiteboard solution is implemented, administrators can remotely execute various operations on classroom equipment—including shutoff, restart, single-click recovery, installation, system patches, and application updates. Even if a server or network is interrupted, cloud-based educational services will not be affected or interrupted. The centralized control platform also can carry out remote subgrouping, screen and condition monitoring, information issuance, and other operations for classroom equipment—all requiring minimal effort from administrators.
Teachers can log in to their accounts anytime and anywhere, quickly open the cloud file storage, and effortlessly complete various tasks.
From the Classroom to the Cloud
Lesson planning can be difficult and time-consuming, with on-site resources challenging to centralize, gather, and obtain. And teachers often turn to the internet for educational materials and resource sharing.
The Cloud Whiteboard solution helps teachers collect and store their lesson plans and materials on individual virtual cloud drives, making it easier to complete their lessons and administrative work.
With a single click, teachers can collect shared resources and materials for later use and provide fellow teachers with an IDV account that serves as the foundation for a cloud whiteboard. Teachers can then log in to their own accounts anytime and anywhere, quickly open the cloud file storage, and effortlessly complete various tasks.
These benefits extend beyond the classroom. Integration of Ruijie's cloud whiteboard and cloud office solutions opens up various educational application scenarios, achieves strong computing and application performance, and can be used and managed offline.
Whether in the classroom, office, or home, unified deployment supports multiple applications through a single server—resulting in worry-free operations and maintenance.
Ed Tech for Smart Classrooms
Digital transformation in the education sector is becoming more widespread—improving classroom instruction and learning while making systems management more effortless. And this is where Intel plays a key role, as Ruijie leverages new technologies to focus on both hardware refinement and active learning through software and the cloud.