Boost Communications Performance with Embedded SSDs
To handle today's massive and ever-increasing amounts of data traffic, business communications equipment of all types (commercial, corporate, small-and-medium business, and military/aeronautics) require performance. Every system component, large and small, must be meticulously selected to eke out greater performance gains.
One performance-enhancing solution with a big impact for its size is the embedded solid-state drive (SSD). Unlike SSDs packaged to replace hard disk drives (HDDs), embedded SSDs are tiny, inexpensive chips with capacity for an amazing amount of gigabytes. Soldered directly onto a board, they save space and increase ruggedness. Mounted on a disk on module (DOM) or an M.2 card, embedded SSDs give communications equipment manufacturers flexibility, and scalability in system configuration (Figure 1).

Figure 1. Mounted on a disk on module (DOM) or an M.2 card, embedded SSDs give communications equipment manufacturers flexibility and scalability in system configuration.
Embedded SSD Advantages
The obvious reason to use embedded SSDs is they are faster and superior to HDDs. Where HDDs may require more than a minute to boot up a server, an SSD can do it in seconds. With their fast NAND flash technology, SSDs excel in performing random read/write operations, including retrieving all the small files read during the boot sequence.
Embedded SSDs also enhance virtual memory mapping performance. When memory is full and a server assigns memory functions to the boot drive, an HDD's slow read/write speeds bog down the system. Innately faster SSDs deliver better virtual memory performance.
Other advantages drive interest in embedded SDDs as well. With no moving parts, SDDs can tolerate environments with higher ambient temperatures and more vibration. They save precious space in small form factors. They consume much less power than an HDD. And recent technology breakthroughs make them competitive in price.
Server-Class Embedded SDDs
One source for manufacturers looking for server-class embedded SDDs is Silicon Motion. Their FerriSSD* family of products include the SM659 and SM619 SATA single-package 6Gb/s SSDs. These compact solutions integrate Silicon Motion's NAND flash controller, industry-standard NAND flash memory, and DRAM in a small 90-ball, 1.0mm pitch BGA package (16x20x1.8mm).
The DRAM is key. With its low latency and tolerance for write-heavy applications, DRAM enables these SDDs to deliver best-in-class performance of up to 80,000 random input/output operations per second (IOPs). DRAM also increases reliability and extends SSD life.
The SM659 and SM619 feature a number of advanced Silicon Motion technologies and capabilities:
Advanced NAND Flash management, including error correction, bad block management, cell health monitoring, and automatic recovery
IntelligentScan with DataRefresh for enhanced data retention and read-disturbance protection
PowerShield for advanced protection against sudden power loss
DataPhoenix for instant data recovery
Global wear-leveling for evenly distributing program/erase cycles across all NAND cells and a low-write amplification index for maximizing SSD lifespan
Rigorous factory testing for ensuring extremely low defect rates and failure rates through product usage life (Figure 2)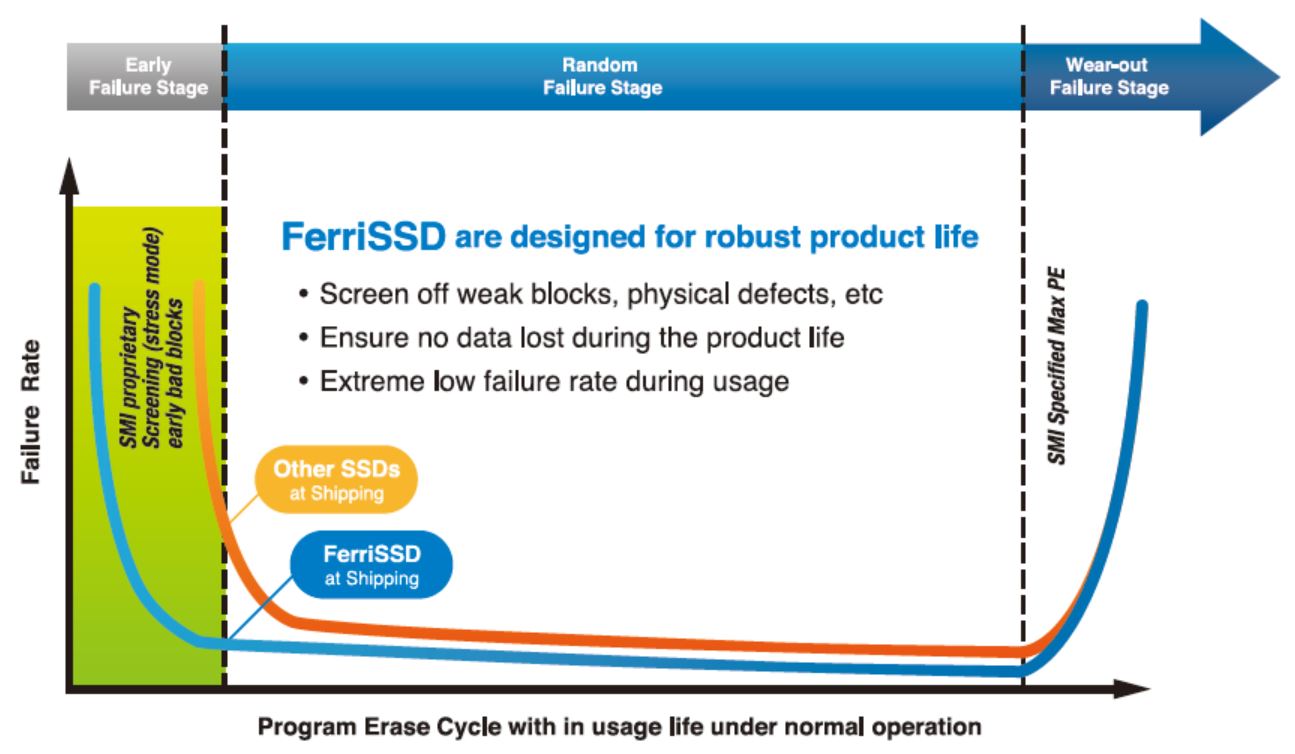 Figure 2. FerriSSDs undergo rigorous testing at customer-specified temperature to extremely low defect rates and failure rates through product usage life.
Silicon Motion recommends the SM659 for high reliability applications that require up to 30K Program/Erase (P/E) cycles and the SM619 for cost-effective systems with less stringent endurance requirements. FerriSSDs are available in commercial (0°C to 70°C) and industrial temperature grades (-40°C to 85°C).
FerriSSDs in Action
The SM659 and SM619 can play a number of roles in blade servers, application servers, routers, telecom base stations, network firewall servers, VoIP servers, and business telecom systems. They can function as a boot drive, embedded system storage element, backup recovery device, license drive, or storage in rugged communications equipment deployments where mechanical HDDs would fail.
Integrating FerriSSDs in System Designs
The SM659 and SM619 are typically installed as SSD modules in SATA DOM or M.2 form factors or installed directly onboard. The BGA-SDD form factor enables FerriSSDs to be placed virtually anywhere inside a tight server chassis, including a micro server's extremely restricted space. FerriSSDs can be soldered down directly to the main PCB or an OEM's proprietary module form factor.
FerriSSDs' high reliability matches well with the high reliability and performance of solutions based on Intel® Xeon® processors. A particularly good fit for many of the communications equipment systems mentioned here is the Intel® Xeon® processor D product family. This product family brings the performance and advanced intelligence of Intel Xeon processors into a dense, power-efficient system-on-a-chip (SoC) – see Figure 3.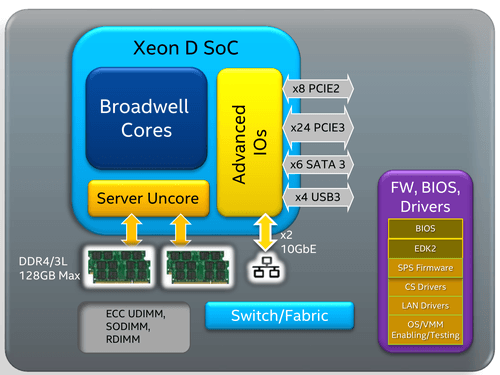 Figure 3. The Intel® Xeon® processor D product family brings the performance and advanced intelligence of Intel® Xeon® processors into a dense, power-efficient system-on-a-chip (SoC)
Based on industry-leading 14 nm process technology, the Intel Xeon processor D product family includes integrated platform controller hub (PCH) technology, two integrated 10 Gigabit Intel® Ethernet ports, and thermal design power (TDP) ranging from 20 W to 65 W all in a BGA package enabling rugged designs. These processors run the same instruction set as other Intel Xeon processor families, providing software consistency from the data center to the mobile edge.
Available with up to 16 cores, the SoCs offer exceptional node performance, up to 24 MB of last-level cache (LLC), and high-speed DDR4 memory support. Intel® Turbo Boost Technology 2.0 can dynamically increase processor frequency to deliver an extra burst of speed when needed and increased energy efficiency for less demanding tasks.
In addition to these capabilities, the Intel® Xeon® processor D-1500 product family includes the following advanced server-class capabilities:
Enhanced reliability, availability, and serviceability (RAS) features that include support for ECC memory and platform-level error management and resilience
Intel® QuickData technology for offloading memory accesses to the SoC for fast data movement with low processor overhead
Intel® Platform Storage Extensions to enable smarter and more cost-effective storage solutions that accelerate data movement, protect data, and simplify data management
Intel® Trusted Execution Technology (Intel® TXT) for platform verification that strengthens security while reducing performance impact
Intel® Advanced Encryption Standard New Instructions (Intel® AES-NI) for accelerating data encryption and decryption
Speed Up Design by Starting at the Solutions Directory
The Intel® Internet of Things Solutions Alliance's Solution Directory gives OEMs and designers a head start. A variety of boards and systems are available with the Intel Xeon processor D product family, many with appropriate connectors for DOM or M.2 modules. Alliance members also offer custom design services for OEMs and designers wishing to purchase boards with the FerriSSD already soldered in place.