Fill form to unlock content
Error - something went wrong!
Your content is just a step away. Please submit below.
ATM as a Service (ATMaaS) Transforms Banking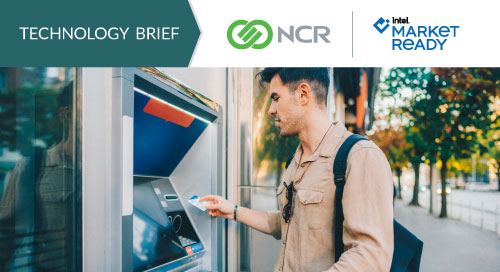 Data breaches. Dated customer experiences. Unavailable ATMs. These are three big issues for financial institutions (FIs) when it comes to brand reputation and customer loyalty.
In recent years, FIs have seen a shift in consumer trends around the use of self-service technologies like ATM, ITM, or digital banking. Now, there is a permanent shift in digital banking behavior as consumers conduct more of their banking needs at their convenience and outside the bank branch.
Ensuring a secure and working self-service channel is vital. But running a multitude of self-service technologies that are always available, with the latest software updates and sufficient cash to meet customer demand, requires specialized skills. And most FIs still own and operate their own self-service channel.
Like many industries, FIs look to focus more on core competencies and simplify operations, saving costs and improving efficiencies along the way. One way this is achieved is through "As a Service" outsourcing models. NCR, a leading enterprise technology provider that helps run self-directed banking, has launched its ATM as a Service (ATMaaS) offer, helping FIs better manage their self-service channel.
"More than ever, consumers value the convenience of being able to complete transactions at the ATM instead of in the branch—and most transactions can now be completed using self-service. But a poor ATM experience can directly impact customer satisfaction," says Terry Duffy, Senior Vice President and General Manager of Self-Service Banking for NCR Corporation. "With ATMaaS, FIs can free up resources and focus on other priorities, while still delivering an exceptional ATM self-service experience."
"With #ATMaaS, FIs can free up resources and focus on other priorities, while still delivering an exceptional #ATM self-service experience." – Terry Duffy, @NCRCorporation via @insightdottech
Deploying Digital Banking Services
Outsourcing the self-service channel through ATMaaS can be especially impactful for smaller FIs. "Smaller FIs appreciate the ability to scale and compete with larger financial institutions;" says Duffy. "They're not engineers, they're not software developers, and they have limited resources. ATMaaS combats this by driving efficiency in resources, costs, and management."
One FI on the U.S. West Coast recently turned to NCR for help with its fleet of 26 ATMs. Two key employees had left the organization, and the FI was dealing with compliance challenges and dated equipment maintained by a third party.
"Within four months we had deployed completely new technology," says Duffy. "The operational burden was taken off their hands and modernized technology meant performance and availability improved. ATMaaS replaced the multiple vendors they were managing with a single point of contact, allowing the FI to focus on what's most important for them—serving their customers."
Digital-First Solutions Transform Operations
NCR's ATMaaS is a turnkey program that includes the software, services, and hardware required to deliver a reliable ATM channel. To enable digital-first experiences today's customers expect, the ATM channel includes multi-touch, digital advert panels, and improved transaction times. The ATM units run on embedded Intel® processors that facilitate reliability and speed during peak hours. Intel processors allow for a compact, low-power, and rugged computing device, suitable for different temperatures and environments (Video 1).
Helping to modernize the technology that delivers the digital-first experiences customers demand was one key objective to highlight the benefits of digital banking. Just as important as a single contract and monthly agreement, they hand the burden of accountability to a trusted partner and no longer need to worry about compliance, security, and availability.
Some FIs have outsourced select aspects of the ATM channel, such as hardware maintenance, cash replenishment, and software maintenance, while still maintaining governance of other elements. ATMaaS is an end-to-end solution, consolidating everything under a single agreement, provided by one trusted partner.
And this saves time trying to coordinate a variety of suppliers and enables FIs to focus on their customers. Importantly, NCR provides maintenance and continuous monitoring, ensuring that the network of ATMs operates correctly.
Another advantage of an As a Service approach is keeping up with compliance changes, which can be difficult. The genesis behind ATMaaS is the simplification of operational burden to drive business efficiencies, and the company has launched the program in more than 30 countries, with a standard approach to support the operations of customers' ATM networks.
ATMaaS also allows FIs to transform their operations. "How consumers use branches has changed significantly over the last few years, leading FIs to transform the traditional branch format. Some branches are going cashless, using self-service technologies, like the ATM, for routine transactions, as well as other functionality such as account opening and bill payments," says Duffy. "This allows tellers to shift to more high-value advisory and consultancy roles."
Moving to an As a Service approach provides benefits to the FIs' customers, too. "If an ATM goes down, we take responsibility for identifying the machine, the problem, and getting it fixed in a timely manner," says Duffy. Under the ATMaaS model, NCR commits and delivers a high-availability outcome across the customer's network. This provides the end consumer with confidence they can perform the transactions they require, resulting in an enhanced customer experience.
"ATM as a Service is increasingly changing the way companies want to do business," says Duffy. "By using one partner, FIs have a single point of contact for vendor management and day-to-day requirements to keep the ATM channel compliant, available, and secure. The FI can focus its resources on strategic business initiatives, whether that's bringing new products to market or enhancing the customer experience."

This article was edited by Christina Cardoza, Associate Editorial Director for insight.tech.
This article was originally published on June 30, 2022.