Fill form to unlock content
Error - something went wrong!
Your content is just a step away. Please submit below.
AI in Restaurants: The Missing Ingredient for QSRs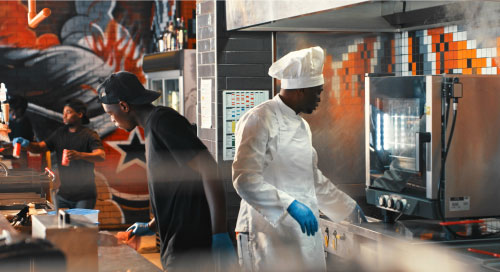 Today's quick-serve restaurants (QSRs) operate in a pressure cooker. Harried workers scramble to keep customer wait times down, burgers hot, and fries crisp—crossing their fingers that nothing goes wrong with the equipment. Perpetually short-staffed, they must manage a barrage of new online orders, in addition to those arriving in the restaurant and the drive-through.
So why don't these restaurants just hire more staff? On top of everything, QSR owners face higher costs for food, supplies, and labor—eliminating any option of bringing in extra help.
"Restaurants can't afford to add one more shift manager and hire six more people to handle the influx of orders. They have to learn new ways to be more efficient with their existing staff," says Atif Kureishy, founder and CEO of Vistry, a company that develops AI and automation solutions for retailers.
That's one of the main reasons why Vistry developed the Discrn platform, an AI solution for restaurant automation. By analyzing operations with edge AI and computer vision technology, restaurants can gain real-time insights that enable them to do more with less, improving efficiency, service, and food quality without breaking the bank.
AI in Restaurant Kitchens
QSRs must maintain a delicate balance, preparing enough food in advance to meet customer demand without allowing it to get cold or soggy. But staffers are often too busy to monitor pre-prepared burgers or fries. They need to coordinate order volume with preparation time, a tricky business as new orders flow in.
That's where Vistry's Discrn platform comes in. It uses computer vision cameras to record the exact time food leaves the broiler or deep fryer, sending staff alerts through voice bots to prevent them from sitting around too long. That keeps food fresher and saves restaurants money by reducing waste.
"With operational complexity growing and restaurant staffing shortages likely to persist, #edge #AI will continue to gain popularity in quick-serve restaurants." – Atif Kureishy, @vistryai via @insightdottech
The system can also help detect when food preparation isn't keeping up with order demand.
"The voice bots will say, 'Hey, manager on duty, please go over to the fry station and prepare two more batches,'" Kureishy says.
Using AI in Restaurants at Scale
QSR owners who have multiple restaurant locations can also gain valuable insights by analyzing operations and patterns across all their sites.
For example, when a nationwide chicken restaurant was switching potato suppliers, it was able to use Discrn to parse data from its 2,000 stores and ensure quality was maintained.
"If they saw an increase in complaints, they could determine whether it was because of the product or the food preparation," Kureishy explains.
The restaurant is also testing drive-through express lanes for customers who order by mobile phone with the help of Vistry. By crunching incoming data, the Discrn platform can predict wait times within a four-minute window, with 90% accuracy. Customers appreciate the information, and managers can use it to spot and resolve holdups.
"The more cars you get through, the more money you make," Kureishy says.
Depending on the restaurant and operations, information can vary. The chicken chain uses metrics to enforce its rules, such as not holding fries for more than five minutes. Other shops attach AI sensors to equipment to warn staff of breakdowns and measure factors such as oil quality and yield. Discrn uses the Intel® Distribution of OpenVINO™ Toolkit to tailor solutions to chain and store requirements.
"We use Intel-based devices that can run edge AI workloads very cost-effectively," Kureishy says. "We know restaurants aren't ready to spend hundreds of millions on technology."
Dealing with Increased Complexity
But it's not just the restaurant staffing shortage adding complexity to operations. QSRs have to deal with new mobile and online ordering options and delivery services.
"You used to have an 18-year-old kid making food and giving it to someone at the counter. It's not like that now," Kureishy says.
The increase of online orders comes with hyper-personalized requests, throwing a monkey wrench in streamlined operations.
"Customers have all these options online, like, 'I want exactly two pickles on my sandwich, with ketchup and no mustard.' That puts more burdens on the restaurant staff to deliver," Kureishy says.
And since the third-party delivery service providers such as DoorDash and Uber Eats are unfamiliar with the restaurant and its products, restaurant owners have to deal with human error and omissions.
"A high percentage of these orders tend to have missing or incorrect items, and restaurants have very limited visibility when things go wrong. It's a big problem in the industry right now," Kureishy says.
Thankfully, edge analytics can help owners manage these challenges. Computer vision cameras can analyze and track orders, validating that staffers prepare food according to customer specifications and packers place the correct items in the right bags. Analytics can also help restaurants with the increasingly complex calculus of prioritizing orders.
"Maybe you make more money per order with one delivery service. With another, you make less money, but they have a highly loyal customer base. How do you make sense of all that? Edge analytics can help you make the right business decisions," Kureishy says.
QSR Solutions for Other Retailers
With operational complexity growing and restaurant staffing shortages likely to persist, Kureishy believes edge AI will continue to gain popularity in quick-serve restaurants.
"I think we're on the frontier of doing this at scale, in a cost-effective way," he says.
The Discrn platform can easily be tweaked to help other kinds of retailers operate more efficiently. For example, a hardware store could deliver a lawn mower ordered online to the parking lot just as the customer arrives. A convenience store could measure the effectiveness of digital-sign promotions. An auto shop could learn whether employees do retreads or oil changes, how long these tasks take, how many materials are used, and whether workers adhere to safety rules.
"Ultimately, these systems are going to work seamlessly with human beings to improve capabilities," Kureishy says. "They're going to make businesses more efficient and effective so that they can do more with the same or fewer resources."
This article was edited by Christina Cardoza, Associate Editorial Director for insight.tech.