Fill form to unlock content
Error - something went wrong!
Stay up-to-date with the latest IoT news.
AI and Thermal Imaging Streamline Temperature Checks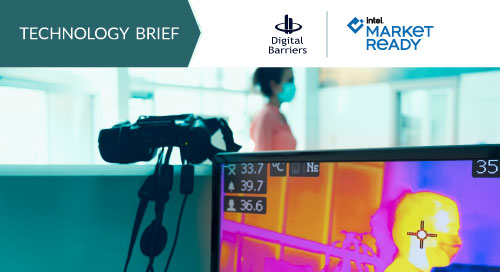 Current health monitoring systems, such as human-operated temperature checks at entry points, were hastily thrown together to fight COVID-19, but their limitations could actually compound problems. The time-consuming, arduous process can be inconvenient for people trying to make their way to events, meetings, and appointments, and long lines impede social distancing, potentially spreading germs.
Organizations looking for a more efficient, scalable solution to ensure health and safety in the future can use technology combining AI-powered video analytics and thermal screening, such as the Heat Detection Camera, created by a partnership between Digital Barriers and Vodafone.
"What makes the solution so powerful is the Heat Detection Cameras' remote monitoring capability," says Kenny Long, Business Development Manager for UK-based edge intelligent video technology company Digital Barriers. "With holistic connectivity, the solution can encompass cameras installed in multiple locations, and alarms can be viewed locally or remotely via a central monitoring center or on a smartphone. This means that staff don't need to provide direct supervision to the device on-site."
The solution combines unique low-bandwidth video streaming capability and intelligent analytics with Vodafone's innovative IoT connectivity and support service. This gives end users or systems integrators a fully managed secure end-to-solution straightaway, rather than having to source the hardware and each capability from multiple vendors.
"The Heat Detection Camera system combines unique low bandwidth video streaming, intelligent analytics, and Vodafone's connectivity and support service."
How AI and Video Analytics Improve Safety
The Heat Detection Camera system uses a thermal camera, a laptop, and a blackbody tool that gathers the ambient temperature of the room (Figure 1). "On a really hot day, you might get lots of false alerts if you did not have that blackbody," says Long. "It's a key part of getting accurate results."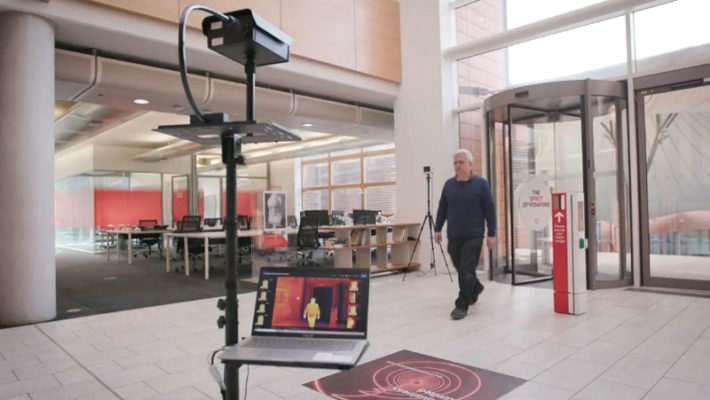 Heat detection cameras, which are powered with Intel® processors, scan people as they enter a location and display encrypted body temperature thermal imaging on a laptop, smartphone, or another device in a control room. The system can register up to eight people at a time, and as many as 100 people in 60 seconds, making it a good choice for mass screening at large businesses or public places, such as airports or stadiums.
"If you try to use heat detection guns at a stadium with 60,000 spectators, it would take about seven hours to get everyone inside," says Long. "This system will take less than half an hour."
The solution also operates on cellular connectivity using pioneering video transmission, which compresses and encrypts the footage, providing huge data savings—an important consideration for organizations that want to minimize expenses. The live-streaming cameras measure available bandwidth and adjust the amount of detail before sending video to a device so that it doesn't exceed the bandwidth and cause a delay. "An ultra-low bandwidth can save the customer up to 60% on data costs compared to anyone else," says Long.
The system can be set up by the end user, a systems integrator, or through Vodafone. It is typically connected to via a Vodafone SIM card. "It's a very simple out-of-the-box solution," says Long. "You're literally ready to go."
Gaining Real-Time AI Insights
Digital Barriers' partnership with Vodafone allows customers to have a managed solution, and current Vodafone customers can add the service to their existing contracts. Customers also get access to a 24/7 helpline for support.
When the solution is delivered as a managed service, companies gain an added layer of efficiency and protection, including live-stream monitoring to multiple devices, providing real-time information. Otherwise, camera latency can cause a lag of up to six seconds or more.
"If you don't have a security guard standing with that camera, the person may have walked away by the time the information reaches the control room," says Long. "If a high temperature is detected with real-time viewing, an alert is sent to the devices, pinpointing the location of the individual and giving the organization time to follow its safety protocol."
Making Buildings Smarter and Safer
The Heat Detection Camera is currently deployed in several types of venues, including sporting arenas and airports. For example, the Wasps rugby team in Coventry, England uses the solution to screen players and staff members as they enter the stadium and training facility to help keep everyone safe (Video 1).
The system has also been deployed at other sporting venues, as well as England's Bristol Airport.
"You can't stop the virus from spreading without identifying people who have symptoms like high temperatures. It's absolutely vital to have this sort of technology at airports," says Long.
While COVID containment is a central focus today, the solution's camera technology and AI capability can also be used to aid security operations and building surveillance. "The system can become part of your security efforts for the whole organization, with an upgrade path to other enhancements," says Long. As well as commercial entities, Digital Barriers provides tried and trusted IoT and edge-AI technology to military and government agencies, and follows all privacy procedures and encryption regulations.
"Digital screening solutions have three essential components. It should be seamless, secure, and safe," says Long. "I think that's pretty much how you can describe our solution. We offer seamless entry and secure encryption in a tool that helps keep organizations safe."