Surprising Ways IoT Transforms Retail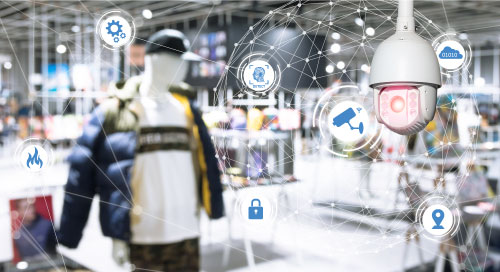 When you think of retail technology in your retail stores, are point-of-sale or inventory management systems all that comes to mind?
These technologies are important, but they're just the start. In recent years, the industry has focused on customer engagement with tools that personalize the customer experience. And now, IoT technology is solving operational challenges in unique and creative ways.
"Business operation has not always been thought of as high tech, but we see cost reduction and cost avoidance as huge opportunities," said Matthew Tyler, Director of IoT for Wachter, a nationwide leading solutions integrator. "We're addressing these opportunities by utilizing some not-so-mainstream IoT devices, like lighting and audio—and mops."
Cleaning Up with Computer Vision
A mop may not be an obvious tech tool, but slip-and-fall lawsuits can be costly for retailers—especially when they're erroneous. One of Wachter's clients, a global quick-service restaurant, averaged four complaints per store per year. Proving that store operators had been diligent with facility maintenance was difficult, and the client had been settling the cases out of court at a cost of about $15,000 per incident.
From smart mops to AI fry cooks, the possibilities for retail IoT are endless. via @insightdottech
To address this challenge Wachter built a smart-mop solution, using a small IoT sensor in the brush that recorded maintenance information in real time. In addition, retail data collected occupancy and transaction rates throughout the day. Information about local weather and events that could drive additional traffic to the premises were integrated to automatically generate a dynamic cleaning schedule (Video 1).
Video 1. Smart mops help keep customers and businesses safe. (Source: Wachter)
"Now, if a slip-and-fall claim comes into the risk department, the client can run a simple report to see if the facility was cleaned on schedule," said Tyler. "They also know if the store adjusted its operations because it was raining that day, and they could link to the surveillance to mitigate claims."
Partnering for Solutions
Developing and deploying unique solutions like the smart mop requires domain expertise. IoT applications can be incredibly complex, and retail environments involve complicated scenarios and situations. There are a wide range of issues to consider, from the technical details of a system design to the human factors of deployment and maintenance.
Choosing a solutions integrator with a dedicated, knowledgeable staff can be more efficient than relying on subcontractors who may not fully understand the solutions or scenarios. That's why Wachter has a team of employees who are trained to install and support systems, explained Tyler.
Creating and implementing effective solutions also takes a deep understanding of the types of tools that could revolutionize retail spaces. Even the most sophisticated enterprise will need an ecosystem to solve problems. Wachter takes a cross-disciplinary view of the world, addressing the retail sector's problems by building strong relationships with clients as well as with industry partners.
"We consider ourselves to be a general contractor," said Tyler. "We have a deep knowledge of the end user as well as an understanding of what other suppliers and vendors offer. We bring it all together."
A driving force that helps Wachter traverse use cases, markets, and technology is its relationship with Intel®.
"We're a small company, and utilizing Intel® technology is how we can demonstrate our capabilities and be a substantial player at the table," said Tyler. "We rely on Intel and the introductions they give us to other solution providers. That's where we find a quicker route to market with less disruption. We can't do it alone."
Virtual Mosquitos Discourage Loitering
Those relationships have resulted in creative solutions and impressive results. For example, one of Wachter's retail clients had a problem with teens loitering outside of its store. The OTSI built a solution that combines computer vision with sound technology to address the problem in a unique way.
"Computer vision can recognize the demographics of people inside and outside of the store," said Tyler. "When teens are loitering outside the store, the sound system will emit a high-pitch mosquito frequency that only kids age 14 to 18 can hear. It drives them away without a staff member needing to interact with them. This takes away risk—both of a confrontation with the teens as well as potential lost sales from paying customers who are turned off because of the loiterers."
AI as a Fry Cook
For a fast-food client, Wachter layered technology to design a solution that helps address food waste, cooking the right amount of food at the right time. By connecting smart fryers to perimeter camera vision, the restaurant's system could detect and analyze vehicles coming onto the premises.
"If a bus pulls up, the connected fryer automatically drops 20 pounds of fries to anticipate sales based on occupancy predictions," says Tyler. "Ultimately, the restaurant delivers the freshest food to customers in the fastest way instead of cooking food on a schedule for people who may or may not show up."
By finding ways to tie technology to business challenges, Wachter helps its clients streamline operations and reduce costs all while improving customer satisfaction.
"When you look at machine learning in a new way, there are surprising things you can do and a universe of possibilities," said Tyler. "It takes a breadth of scope and a Rolodex of contacts to find and pull together all of the elements needed to create a successful solution. It's about being a matchmaker and letting the solutions come to light."