Smart Substations Transform the Grid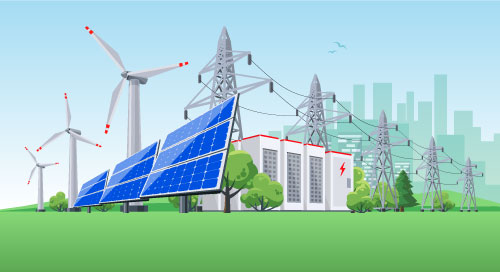 Utilities face multiple challenges as uncertainties linger, from global energy prices to the changing competitive landscape. And while the rapid growth of renewable energy adds more opportunities, it also adds more complexity. These dynamics require a balancing act, driving the need for new technologies and business models for operators.
For example, today's grid has been built around large-scale energy sources, designed for one-direction production and distribution. But the future looks much different, with a more diverse landscape that utilities must consider. Increased use of distributed energy sources (DERs), electric vehicles, and renewables requires significant changes in how the power grid is designed, secured, and managed.
As customers become energy generators, the demand curve is changing, causing the one-direction model to no longer be sustainable. A sustainable energy ecosystem requires moving to a two-way exchange of power.
Working hand in hand with Intel®, Capgemini, a global leader in digital transformation, technology, and engineering services, is delivering on these needs with its Substation and Edge-of-the-Grid Automation solution for energy management—from consulting, to implementation, to lifecycle management.
The solution enables utilities to flatten the grid with fully virtualized and two-way multidirectional operations. This provides the ability to monitor and manage load and flow across all assets, simplify the energy ecosystem, prioritize the production and consumption of clean energy sources, and flatten the rate structure.
Start with Smart Substations
"The change begins at the substation, where utilities must manage energy more efficiently," says Philippe Ravix, Capgemini's XIoT Global Solution Leader. "Nothing is possible without a smart substation."
But there are limitations with today's substations. For example, each function—such as anomaly detection, voltage regulation, and load balancing, for example—use independent control systems. Operators struggle with managing proprietary solutions provided by multiple suppliers. Each has separate hardware to deploy, distinct interfaces, and takes up valuable real estate.
By virtualizing these functions, the Smart Substation integrates multiple systems into a single, agnostic platform (Figure 1).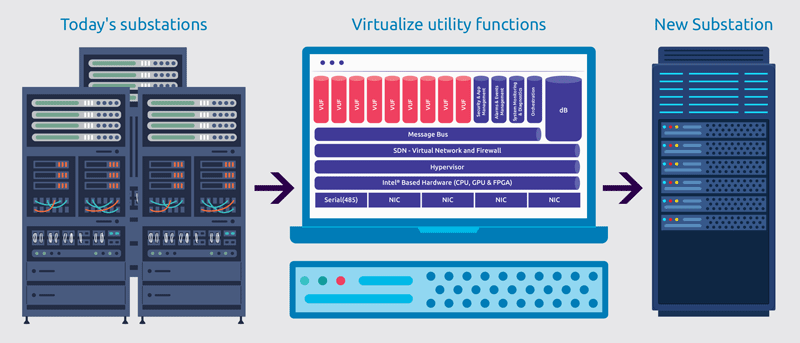 The solution virtualizes and administers functions that can be delivered by any supplier. This helps a utility easily deploy and operate new features—from the edge down to the secondary substation.
"It's about the convergence of IT and operating technologies (OT), but you need to keep the OT requirement, which requires a secure, deterministic, and robust edge platform," explains Ravix. "We are providing this on an open platform with a reference architecture."
This solution interoperability to the edge, along with central management, is a cost-efficiency key lever for both CAPEX and OPEX.
Integrators can work from a single template and more easily add new features—giving utilities the flexibility to choose any supplier according to both technical and business needs.
This @Capgemini solution virtualizes functions that can be delivered by any supplier—so utilities easily deploy and operate new features.
IoT Devices Enhance Automation
Long accustomed to maintaining a few large assets, utilities and service providers face deploying new types of resources, such as sensors and cameras that monitor equipment. And all these edge devices, from the smallest to the largest, must work together and connect to the network—even if they are not designed to do so.
"Now with the need for more safety and security, for example, you'll have cameras in the transformer area, or additional sensors to protect personnel from risk," explains Thierry Batut, Capgemini's Director of Smart Energy Services. "You can deploy a huge number of small devices to enhance automation and provide new features."
Capgemini makes integration between these different data sources easier by working with a mix of suppliers, to deliver new digital functionality that enables a smarter grid.
AI Technology for Actionable Intelligence
Multiple Intel technologies bring the hardware and software platforms required to provide smart substations with local intelligence. For example, Intel AI and machine learning capabilities enable real-time decision-making for predictive maintenance, which can prevent downtime and lower operating costs. "You have to enable and leverage edge artificial intelligence to bring more value for the grid operator and more autonomy to the system, but also for the clients and stakeholders on the network," says Ravix.
"Intel has invented substation solutions to bring platforms with local intelligence and the ability to better monitor the energy market," Ravix continues. "Our partnership allows Capgemini to deliver a complete platform that reliably delivers all the computing needs for automation at the edge in a way that's scalable. And it's been tested by leading utilities, which are seeing the opportunities it brings."
Growing Smart Grids at Scale
In adding hundreds or thousands of substations at a time, utilities are working together to meet the needs of the rapidly changing energy environment. "Big distribution companies combine their experience, their intelligence, and the progress they are making through experimentation to mature this technology and leverage it at scale," Ravix says.
Modernizing the grid via smart substations offers utilities several positive business outcomes, including investment planning, asset lifecycle improvement, cost savings, and the possibility of additional revenue streams. Deploying the latest technologies such as AI, computer vision, and machine learning creates new efficiencies and a more resilient network. With its Intel partnership, Capgemini is making this a reality.