Fill form to unlock content
Error - something went wrong!
Your content is just a step away. Please submit below.
Partnerships Fast-Track AI-Powered Quality Inspection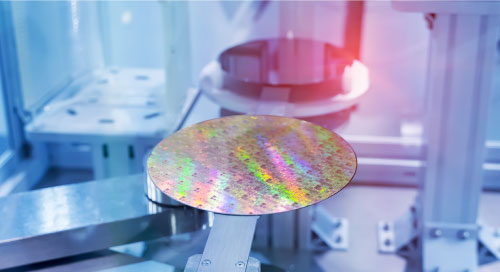 Edge AI and computer vision are a natural fit for real-time quality inspection on the production line. With accuracy and speed greater than possible by the human eye, AI and machine vision solutions catch even the smallest of product anomalies.
But it can be time-consuming and costly for manufacturing to develop and deploy these solutions on the factory floor. So how can businesses move faster to gain advantage with the latest technologies? One answer is collaboration with an ecosystem of partners.
For example BlueSkies.AI and Lenovo Group joined forces with Intel to develop secure and scalable quality inspection solutions. And as these companies all partner with Global Solutions Distributor BlueStar, Inc., VARs and systems integrators gain new opportunities to serve their manufacturing customers. BlueStar provides a broad range of services from custom solutions to logistics, along with service, support, and marketing—helping VARs and SIs get to market faster with the complete quality inspection systems their customers need.
Collaboration at Work
BlueSkies.AI and Lenovo partnered closely with Intel to pilot the solution at a large pharmaceutical company during the constraints of the COVID-19 pandemic. On the hardware side, they deployed the Intel® processor-powered Lenovo ThinkEdge SE30 industrial PC, built to withstand harsh environments.
"The appliance is designed to snap onto a conveyor belt and the camera can be chosen based on the product and size of the potential defect," says Ted Connell, Founder and CEO of Blueskies.AI. In this case, computer vision cameras needed to look at full images and detect defects as small as 0.1 mm on the pharmaceutical tablet line.
The client does not need any AI or IoT skills. BlueSkies.AI developed AInspect, an edge machine vision appliance with an integrated PC, camera, and light that fits on top of conveyors to inspect products. All the client needs to do is to show the system 30 to 50 examples of each defect type, a similar number of good examples, and the system trains its own AI models.
"That's all the data you need to start with, and we can achieve mid- to high-90% accuracy," says Connell. "We've figured out how to train models with a small amount of data and quickly reach a better level of accuracy than humans can provide. If the client needs higher accuracies, all we need to do is show the system additional samples of each defect type and the AI models improve with each interaction." As part of its AI-as-a-Service model, BlueSkies.AI oversees initial training to reach the pre-chosen level of accuracy, and provides ongoing support.
Edge Compute Provides Data Security Plus Scalability
Keeping data secure is of utmost importance to manufacturers. In many companies, it's against protocol for data to leave the factory, making cloud solutions an impossible choice.
"Security is front and center for manufacturers when they're considering implementation and deployment of a solution at scale," explains Blake Kerrigan, Senior Director of ThinkEdge Business Group at Lenovo. "This is especially true when you're blending IT and OT in organizations where there's been a lot of bifurcation in the past."
The solution answers that concern with powerful on-premises compute that keeps data at the edge and behind the customer's firewall. Manufacturers can deploy Lenovo hardware confidently, knowing it meets all their security criteria and quality standards. They also benefit from a trusted supplier program supported in more than 180 markets around the world. "We're able to leverage that economy of scale and service large global companies," says Kerrigan.
The Future: Open Source at the Edge
Proprietary machine protocols have a long history in manufacturing, creating interoperability challenges and data bottlenecks that can slow down ROI for connected solutions.
Kerrigan believes an open-source approach is the way forward. "The thing I love about AI, and especially computer vision, is that it's basically a single language," he says. "BlueSkies.AI and Intel are leading the way by adopting and embracing this open-source community, which is the way of the future and will lead us to better horizontal strategies from the IT-down perspective." The Intel® OpenVINO™ Toolkit, for example, provides an extensive development framework that runs on standards and allows for new innovations in deep-learning applications.
Latency is another challenge manufacturers face, especially as they adopt high-bandwidth solutions like AI machine vision. Processing data at the edge is one way to minimize latency—and alleviate security concerns—as AI and connected things become ubiquitous.
"There's been a massive consolidation of workloads in the cloud and movement of enterprise applications to the cloud," Kerrigan says, "and now we're talking about moving them back to the edge for efficiency and speed."
Ultimately, though, the future of connected manufacturing will take a holistic view of computing. "It will be about managing data across the entire plane, from edge to cloud," says Connell. "AI is going everywhere. To support those applications, we'll need a homogeneous environment and network to minimize latency and maximize security between the distributed compute centers."
With robust edge compute and data security in place, imagine what AI-as-a-Service could do for your business.

---
About BlueStar
BlueStar is the leading global distributor of solutions-based Digital Identification, Mobility, Point-of-Sale, RFID, IoT, AI, AR, M2M, Digital Signage, Networking, Blockchain, and Security technology solutions. BlueStar works exclusively with Value-Added Resellers (VARs) to provide complete solutions, custom configuration offerings, business development, and marketing support. The company brings unequaled expertise to the market, offers award-winning technical support, and is an authorized service center for a growing number of manufacturers. BlueStar is the exclusive distributor for the In-a-Box® Solutions Series, delivering hardware, software, and critical accessories all in one bundle with technology solutions across all verticals, as well as BlueStar's Hybrid SaaS finance program to provide OPEX/subscription services for hardware, software, and service bundles. For more information, please contact BlueStar at 1-800-354-9776 or visit www.bluestarinc.com.