Fill form to unlock content
Error - something went wrong!
Your content is just a step away. Please submit below.
OT SIs Unlock New Opportunities with Process Automation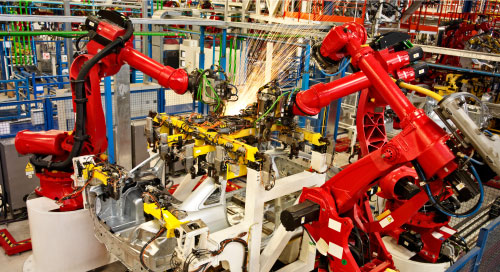 Operational Technology (OT) systems integrators must weave a complex web of partnerships among hardware, software, and cloud service providers to deliver complete, end-to-end solutions to their customers. So deploying AI-powered predictive maintenance systems—a must-have for manufacturers—can be out of reach for many OT SIs.
Working with a solutions aggregator such as Arrow Electronics, they can overcome these challenges and find new opportunities. Arrow collaborates with best-of-breed technology providers to deliver full-stack solutions. It does the costly and time-intensive groundwork of finding, sourcing, testing, and integrating all the system elements.
One example is the Senseye PdM AI-Powered Predictive Maintenance Solution (Video 1). Arrow worked with Senseye to build an edge-to-cloud solution, which includes preconfigured hardware, sensors, and analytics software, as well as expert setup and support.
Predictive Analytics Reduces Operational Downtime
Arrow chose Senseye not only for its leading AI technology but also because the company excels at folding predictive maintenance into end customers' existing operational processes.
"Successful projects are as much about integrating the solution into the customer's processes as they are about the technology," says Andy Smith, Technology Director for Arrow's Intelligent Solutions Business in EMEA. "Senseye works with the business and operational teams to gain buy-in, then moves through the entire workflow with the goal of demonstrating ROI in a measurable and sustainable way. It's a very solid eight-step process that can be delivered not only by Senseye but also by systems integrators. They love this because they're helping customers through the digital transformation process—and adding a lot of value."
Alcoa Corporation, a global leader in aluminum products, has partnered with Senseye. Alcoa's business objective was to adopt equipment maintenance best practices, including moving from planned to predictive maintenance.
Initially, Alcoa implemented the Senseye solution at a remote aluminum smelter plant in East Iceland as the first site in a global deployment. Designed as a zero-waste-to-landfill project, this site is among the most environmentally sustainable facilities of its kind.
Connected to existing maintenance systems, the PdM solution analyzes machine condition indicators, providing automatic alerts and diagnostics in advance of functional failures. For example, the system can warn off-site personnel of loose components in saw motors weeks before they could cause problems. The plant reduced unplanned downtime by 20%, improving operating efficiencies and lowering maintenance costs.
On the factory floor, the #AI-powered PdM industrial #edge computer taps into existing embedded process controllers with PLC #data sources, gathering data for real-time analytics. @ArrowGlobal via @insightdottech
Manufacturing Process Automation with Edge AI
On the factory floor, the AI-powered PdM industrial edge computer taps into existing embedded process controllers with PLC data sources, gathering data for real-time analytics. Manufacturers can also add new sensors to equipment that lacks PLC components, allowing managers to glean details on machine temperature, vibration, current load, and more.
With help from the Intel® OpenVINO™ Toolkit, system software uses AI inferencing to prefilter and normalize all sensor data, converting it from a proprietary format into a cloud-ready protocol. The Intel® processor-powered machine, designed to operate in harsh industrial environments, backhauls the data to the Senseye platform. Combining data from various sources into analytics reports and customizable dashboards, the cloud-based platform gives manufacturers the ability to scale the solution easily across multiple sites.
Not every AI algorithm is alike. Most predictive maintenance solutions start with scanning sensor data for anomalies, flagging the unusual reading as a sign that the machine is in need of attention. "The problem with this approach is that almost every machine has a different signature from the next, even if they use the same type of motor and drive," says Smith.
Senseye takes a more nuanced approach called fingerprinting, which recognizes that every machine is different. After a short period of time running on any device, the AI system builds up a picture of its individual profile—known as a "fingerprint"—that becomes the model for its future health. When the machine starts to drift from the fingerprinted model, the system sends out an alert that maintenance is needed.
"Senseye has spent years researching and refining this approach," Smith says. "It's a point of great difference for them and adds a lot of value to the solution."
OT SIs Unlock New Opportunities
Working with an ecosystem of OT SIs, Arrow ensures that these partners benefit from faster time to market and new business opportunities—while their manufacturing customers improve operations and save money.
And as adjacent technologies such as computer vision and private 5G networks emerge and impact the manufacturing space, Arrow will continue to deliver new solutions around anomaly detection, worker safety, and cybersecurity.
"We've seen a clear need in the market for someone who can play this role in orchestrating solutions through OT SIs," says Smith. "We've got lots of work to do as manufacturing undergoes digital transformation, and we'll continue to innovate."
Edited by Georganne Benesch, Associate Editorial Director for insight.tech.