Fill form to unlock content
Error - something went wrong!
Your content is just a step away. Please submit below.
Interactive AI Avatars Transform Customer Service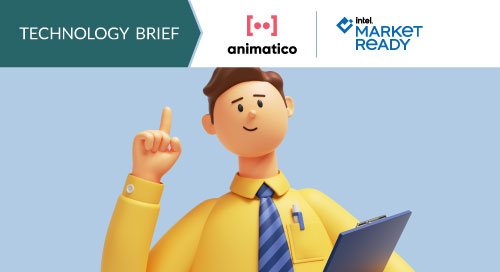 Ask Siri what she looks like, and she'll give you one of a few answers. She imagines she looks like colorful sound waves, or she'll tell you she's invisible. Sounds intriguing, but all you really see is a round icon indicating she's listening. As our reliance on AI increases, voice alone is no longer enough.
"Human interaction with computers used to just be keyboards," says Pascal Bérard, Director at Animatico AG, a technology company that offers interactive avatars. "Then it evolved with the mouse and eventually touchscreens. The introduction of voice assistants enhanced the human computer interaction (HCI), but a big part of human communication is nonverbal. And that's what is still missing."
This need for personalization is increasing as more transactions move to e-commerce. Customers who visit brick-and-mortar locations want similar interactive experiences to what they find on the web. Retail stores have already implemented in-store digital solutions like digital signage. But complementing those solutions through engaging and talking AI avatars that act as virtual assistants with gestures and facial expressions has the power to take it a step further, Bérard explains. Customer interactions can now move from transactional to more experiential ones.
Interactive AI Avatars Convert Sales
For example, talking avatars can be used to help customers in a liquor store find the perfect wine pairing for their night or evening in a fun and engaging way (Video 1). They could also help customers pick out the perfect color and type of paint for their new home projects or find the right route when taking public transportation. And they can even be used to enhance business experiences by greeting customers when they walk in the door.
One business is using interactive avatars to help customers smoothly decide and plan a vacation destination. The vacation booking company Hotelplan recently deployed an avatar maker solution by Animatico in its travel agencies across Switzerland. Because the agencies are inside shopping centers, the company wanted to extend service beyond the agencies' business hours. Bérard and his team created a digital-signage solution that featured an intelligent avatar named "Tom." Tom can provide services to customers when the business is closed as well as assist employees during working hours.
"At first, customers wonder, 'What's this new thing?'" Bérard explains. "But as they approach the screen, they are quickly engaged in the conversation with Tom. You suddenly see them smiling and using the system for what they need. This customer interaction is extremely valuable for a brand."
Deploying Intelligent Avatars
Animatico leverages the founding team's background as former Disney researchers to create engaging characters that complement retailers' branding with its Visitor Experience Avatar solution.
"We were working on digital humans for visual effects applications, basically cloning actors to be used. But in the Disney world, we saw how the entire company leverages characters—or cartoon avatars, if you will—and their emotions to create connections with viewers," says Bérard.
#Retail stores have already implemented in-store digital solutions like #DigitalSignage. But complementing those solutions through engaging and talking avatars with gestures and facial expressions has the power to take it a step further @AnimaticoAvatar via @insightdottech
The Animatico platform includes a set of tools that help companies design their own custom avatars, which can be robotic or photorealistic characters. Templates can be customized to complement the company's branding, such as choosing colors, clothing, and accessories.
"The avatar itself contains all the magic, like artificial intelligence, computer vision, animation, and the output and voice component," says Bérard. "Depending on the customer, we can create your avatar based on our templates, changing the color of the shirt, adding a logo and maybe a hat."
Once a character is chosen, the next step is to create content that guides dialogue with customers based on a product database. Animatico often works with digital marketing agencies on interaction designs that enhance branding. As the avatar communicates, it's programmed to use a combination of speech, body gestures, and visuals to provide an intuitive interaction.
If a more technical API is needed, such as digitizing a company's existing mascot, Animatico offers professional services that would implement these integrations, says Bérard. The Visitor Experience Avatar solution uses Intel®hardware to enable computation at the edge. "For us, it was a very natural fit to enter into a partnership with Intel and promote our offering together," Bérard explains. "It provides the needed rendering quality and the low latencies to bring our avatars to life."
But it's not just about the customer experience. Interactions with avatars can provide valuable insights based on those interactions, collecting data from customers that tie into the business's KPI to improve operations. For instance, with the Hotelplan use case, the company can measure how many interactions converted to bookings based on the destinations suggested by the avatar.
"One of the huge advantages is that the interaction is digital, and we can record and remember all of them," says Bérard. "We can get statistics, like the number of interactions and the customers' age. We also see what data the customer is interested in. And we find mapping between those two."
Digital Signage Future Trends
Bérard predicts avatars will likely play a big role as the 3D virtual world of the metaverse expands the number of digital spaces where people can meet and connect. Businesses that plan to enter the metaverse, which is considered as the next evolution of the internet, can leverage interactive avatars to serve and engage customers where they are and in new ways. With machine learning and deep learning in the computing systems, the possibilities are endless and limited only by the imagination.
"The number of uses for avatars is going to explode in the near future," says Bérard. "We're seeing from the current trends that interaction with computers is becoming more and more human. I think in five to 10 years from now, interactive avatars are going to be very present in our daily lives, in all types of use cases."
This article was edited by Christina Cardoza, Senior Editor for insight.tech.
This article was originally published on March 1, 2022.