Fill form to unlock content
Error - something went wrong!
Stay up-to-date with the latest IoT news.
Accounting for the Human Factor in Manufacturing Operations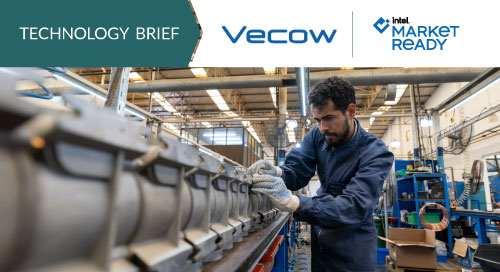 If you are a manufacturing company building a product, you want to ensure the production and quality remain consistent. But how do you account for the human element and its inevitable variability? Advancements in computer vision technology, artificial intelligence, and machine learning now make it possible to pair human behavior analysis with traditional assembly line machine metrics.
Operations become faster, simpler, and more scalable when manufacturers can easily track specific key performance indicators such as total cycle time, throughput, scrap, availability, and changeover time.
"The human factor is the most difficult thing to control. In factories, everyone has their own manufacturing procedures even if they are in the same industry," says Joseph Huang, Sales Director at Vecow, a developer of machine vision and imaging solutions. "When human behavior analysis is included in the assembly line, manufacturers understand the performance of each operator instead of just a group of operators. With that information, you can address inconsistencies and reward your best workers."
AI-Powered Analytics Accelerate Worker Performance
The value of being able to detect human divergence from standard operating practices was made evident in an electric motor assembly manufacturing company. The company found failure to comply with procedures was costing them in wasted materials and rework.
The manufacturer added human behavior analysis to its motor assembly line, and was able to accelerate its performance analysis, improve production quality, and identify production process improvements.
It did this with the Human Behavior Analysis Solution from Vecow, which uses AI inference models to detect abnormalities on the production line in real time and prevent costly problems before they occur.
In the past, assembly process operational improvements depended solely on optimizing assembly line machines. But this approach ignored the human impact on the process. By having real-time access to metrics on both machine and human behavior, manufacturers can identify areas of improvement, change or modify human activities and procedures, and enhance production schedules.
"We are helping manufacturers understand the real-time performance of their assembly line. When there is a new inquiry or work order, the production manager will know exactly how to arrange the work order and how to best manufacture it with the best performance," says Huang.
By having real-time access to metrics on both #machine and human behavior, #manufacturers can identify areas of improvement, change or modify human activities and procedures, and enhance production schedules. @VecowCo via @insightdottech
The solution not only measures the impact of human operators, but it looks at the performance of each individual operator to improve employee productivity. "If I'm an operator and my performance is only being recognized as a group, what is the incentive to work harder? This system allows managers to understand how much time and effort their operators are putting it and reward them accordingly," Huang explains.
The Vecow Human Behavior Analysis solution can also be used to help ensure manufacturers are complying with regulatory requirements. For instance, in the semiconductor industry, operators must follow wafer production standard operating practices. As part of the of ISO 9001 Quality Certification, they must also submit their manufacturing process data.
"Normally, that data is provided by filling out paper forms or manually submitting numbers online. But since this is not in real time, it becomes outdated and is prone to errors," says Huang. "Using human behavior analysis, data can be submitted in real time. And in some cases, even send an alert to any potential issues."
Real-Time Data Reflects Real-Life Performance
While creating models that accurately reflect real-life line production performance in its complex, Vecow's Human Behavior Analysis solution uses the VHub AI Developer software platform to ease the development process.
The platform includes deep learning, model training, and labeling tool capabilities to enable developers to build AI applications with computer vision capabilities.
The solution connects to cameras at the edge to process data and spot inconsistencies. To ensure personal privacy, the manufacturer manager can access and see only those abnormal activities rather than the whole video, Huang explains.
The use of pre-trained, industry-specific models also eliminates the need for software development skills during deployment. The solution uses a graphical user interface for configuration and customization.
"The biggest differentiator is that this is a no-code AI platform. It is an all-in-one solution for the end user to easily deploy and optimize the deployment process," Huang explains.
Featuring engineering and training accounts for most of a developer's time, according to Huang. With Vecow, nontechnical users can leverage cloud-based, auto-labeling capabilities to simplify that process and save a lot of time. In addition, model testing is conducted on the cloud to ensure the accuracy and effectiveness before being ingested by the embedded inference engine.
Powerful Intel® Core™ i5 and i7 CPUs deliver the computing power necessary to process computer vision data flows. The use of the Intel® OpenVINO™ Toolkit within the solution dramatically improves the model generation process by converting models to IR files and minimizing the size of the model. "We don't have to put really powerful computing powers at the GPU, and that helps us reduce the cost of deployment," Huang says.
The Vecow Human Behavior Analysis solution solves the manufacturer's inability to efficiently apply numerical analysis to human-centered assembly line processes and inputs. As the manufacturing space continues to improve and streamline operations, access to real-time data will be revolutionary.
Related Content
To learn more about how technology is transforming the retail industry, read Machine Vision Makes Industrial Robots See and Improve.
This article was edited by Georganne Benesch, Associate Content Director for insight.tech.