City life is busy—and so is city government.
Growing populations need information on better travel choices. Residents want easier access to businesses and government services. In an emergency, neighborhoods want help on where to go and what to do. And people everywhere need wireless connectivity.
Connect People with Services
To meet these expectations, civic leaders must modernize delivery of services, information, and infrastructure. What's more, solutions must be localized for different communities within a city.
These demands explain why smart city spending can see a compound annual growth rate of up to 17.7 percent through 2021, according to BCC Research.
"Municipalities have long faced challenges providing services efficiently and cost-effectively to both keep citizens informed and enhance the community engagement," said Victoria Dower, Director of Marketing for Verizon Smart Communities. "We're using new technology to provide real solutions."
The Verizon Digital Kiosk is a customizable community hub powered by Intel® technology (Figure 1). Kiosks allow communities to discover local businesses and events, access services, and engage in civic activity.
Figure 1. Verizon Digital Kiosk enables cities to support their citizens in important ways.
Each kiosk acts as a hub for the local community. At a transit station, for example, the kiosk could give travelers near real-time schedule updates to help them project travel times. Once they reach their destination, travelers could use another kiosk to access rideshare and bikeshare programs, and get directions to local places of interest (with information sent to a phone on request).
Or consider the possibilities in a town square. Visitors could learn about special offers from local businesses, events that would bring them back to visit the city, or menus at top new restaurants.
Built-in Wi-Fi can let anyone within 200 feet of the kiosk access city services or get some work done.
Plus, kiosks can incorporate small cells to provide strong mobile service quality. Each kiosk also has phone-charging terminals for those times when battery life lags.
Safety First
Kiosks also offer built-in security capabilities. Vibrant lighting illuminates the kiosk area, and backup power sources can keep kiosks running during an electrical outage.
Kiosks also enable two-way emergency communications: Citizens can use kiosks to contact emergency services, and the city can use kiosks to broadcast emergency information as needed.
Kiosks' broadcast capabilities can be customized for specific locations around the city—for example, if heavy rains create flood risks in certain neighborhoods and not others. Kiosks can receive and relay the most appropriate warnings and instructions for their locations. Residents near one kiosk could be told to evacuate the area while people in a higher elevation could be told to stay home.
Customizable Services
In addition to standard services, kiosks support functional expansion through open application programming interfaces (APIs). These APIs enable integration of data and services from around the community.
For example, a city might deliver in-the-moment bus and train schedules from its own resources. This data could be combined with information from taxi and rideshare services, as well as traffic conditions relayed from IoT sensors around the city. A traveler finally can have an informed choice of transportation options, with estimated costs, to choose from.
Using advertisement information provided by kiosks, students at a public university could place orders with food purveyors that accepted the school's meal plan and pick up dinner before settling in their rooms to study. Workers from local businesses on their way home could notify a parking garage that they wanted to pick up their cars.
Collaboration with Intel
Verizon has worked closely with Intel to bring its kiosks to life. As shown in Figure 2, an Intel® NUC acts as the heart of the system, providing the rugged performance to run the kiosk securely and reliably.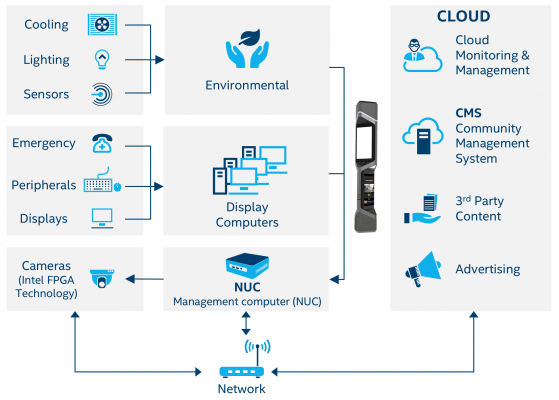 Figure 2. Intel® technology powers the end-to-end solution, from kiosk to the cloud.
Beyond providing hardware, Intel and Verizon are working together on strategic planning for the kiosk and video nodes used in other smart city applications.
An Open Door to the Present — and Future
One challenge faced with hardware-based services is integration of later capabilities without device physical upgrades. But the power of the basic design combined with API support opens the door to the future and helps lay the foundation for a city moving forward.
As modern information-based services are deployed with software and cloud implementation, cities can direct their kiosks to tap into innovative new services as they develop. The same customization and API support that serve initial installation also allow the city to embrace the future.
In addition, easy scalability of kiosk-based solutions means a city can start with a pilot plan, quickly and easily extend across the entire region, and keep pace with future urban growth and expansion.
Cities can monitor and analyze data from opt-in applications and get feedback from the public to see which services work as expected and which do not. "We work closely with cities to continue to curate and refine the systems," Dower said.
"What really excites them is that the kiosks have so much built into them and are so flexible in implementation," Dower said. "We're not forcing them to push information in a particular way. And the accompanying free Wi-Fi helps provide an important service for many local citizens."
Advertising Revenue Subsidizes Costs
For all the flexibility and technical advantages, communities find that the Verizon Digital Kiosk helps expand services and can help defray costs.
The display offers the ability to deliver targeted advertising, whether in static form or video. The advertising can cover significant portions of both installation costs and ongoing operational expenses.
Finding incremental revenue is critical at a time when budgets are pressured. A city, business, or institution can pilot and roll out solutions while helping to reduce associated costs.
A New Solution to Old Problems
Cities have always faced challenges informing and serving their citizens. Modern kiosks go a long way toward solving these challenges. Not only do they provide a direct connection between government and citizen, they can also incorporate the vibrancy of the surrounding community to create a truly engaging experience.
It's easy to see how kiosks can become a central technology for smart cities—and a central hub for local communities.
About the Author

More Content by Erik Sherman