Intel Innovation: The Event Designed by Developers for Developers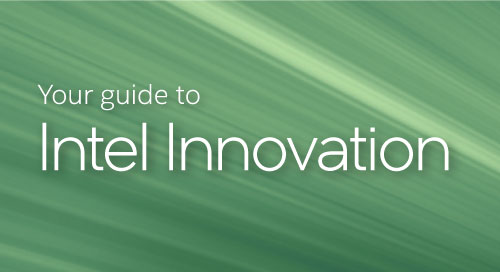 First it was the hyperconvergence of IT and OT. Then it was developing ultra-portable applications. Today, it's increasingly a cloud-native world where pervasive connectivity and ubiquitous intelligence with AI everywhere are the new normal. How do you keep your development skills on track when the landscape keeps shifting?
Intel Innovation—an event designed by developers for developers—delivers precisely what you need. It's free, it's global, it's all digital, and it's right around the corner—October 27 & 28—so register today.
Here's your guide to must-see presentations, demos, and training sessions:
Start at the top with CEO Pat Gelsinger's keynote, where you'll hear exciting news and insights from Intel and industry thought leaders—along with in-depth technical sessions across a range of products, technologies, and developer-enabling tools like OpenVINO™—and much more.
Then take a deep dive into the world of edge computing and 5G networks with Intel technologists Rita Wouhaybi and Rajesh Gadiyar. They'll walk you through free, ready-to-deploy tools for network, AI, and IoT developers, solutions architects, and data scientists, to name a few. And get answers to your questions at the live "Meet the Geek" Q&A with Rita and Rajesh immediately following their presentation.
Then roll up your sleeves.
See how a worldwide ecosystem of partners is working alongside @Intel to accomplish amazing things across industries, use cases, and geographies. #IntelON via @insightdottech
AI Everywhere Through the Lens of OpenVINO™
See how a worldwide ecosystem of partners is working alongside Intel to accomplish amazing things across industries, use cases, and geographies.
From healthcare to retail to auto manufacturing there's a massive need for intelligence via AI-enabled computer vision, natural language processing, and more. That's easier said than done. The Edge & 5G track at Intel Innovation demonstrates how organizations use OpenVINO to streamline AI development—and how you can, too. Plus, you'll see that exciting new common framework integrations, features, and capabilities are right around the corner.
An Eye on Healthcare
Learn how GE Healthcare teamed up with Intel on a medical imaging solution using OpenVINO to train and tune CV models for fast inferencing at the edge. The technical session will demonstrate the increasingly urgent needs in critical interventional medicine brought on by the COVID-19 pandemic. See a step-by-step, in-session demonstration with live code used to build an AI-assisted X-Ray intubation procedure.
And in the marquee demo showcase, see how OpenVINO-optimized models for kidney segmentation are accelerating and improving diagnostic accuracy in radiology departments at the point of care. The live code demonstration shows exactly how they did it.
Route Planning and New Age Retail
Hear how Intel partner Pathr.ai uses the potential of location data for Spatial Intelligence. Retailers and mall operators can analyze customer foot traffic and dwell time to improve product placement, merchandising, tenant lease pricing, and safety. Most important, it protects personal privacy by anonymizing images of shoppers.
And they aren't the only ones creating smart retail solutions on OpenVINO. Quividi uses it with great success for digital out-of-home (DOOH) advertising.
Check out how these and other ecosystem partners put OpenVINO to use in the IoT Edge Innovation Zone.
Keeping Automotive in Drive with Open Source
Discover how BMW and Robotron built a manufacturing quality control system that obscures production processes and anonymizes factory workers to comply with European GDPR privacy regulations. You can see the solution's range of anonymization capabilities enabled by OpenVINO in the Edge & 5G showcase.
And this is just one example of how Intel tech is transforming transportation. See how IntelliSite software powers VectoLabs' Smart Driver Behavior Analytics and the Supply Chain-as-a-Service for Intelligent Transportation.
Speaking of factories, the industrial segment has been one of the early adopters and beneficiaries of AI at the edge. BlueSkies.AI will illustrate how it's done in a walkthrough of AI-based product inspection on commercial-off-the-shelf (COTS) industrial PCs, which is a great way to get acquainted with the tech.
From there you can gain an understanding of the actual AI models powering these applications. Another must-see demo is the Baidu PaddlePaddle deep learning-based worker safety system and the open Industry 4.0 platform from the IndustryFusion Foundation (IFF)—each uses OpenVINO as a key optimization enabler and solution building block.
There's plenty happening beyond the world of AI, like next-generation industrial networking and cloud-native application development. Intel Innovation has you covered here as well.
Discover how Microsoft and Intel are enabling 5G in a joint session on everything from the new radio access network architecture to how it works with time-sensitive networking (TSN) in factories. Then apply that knowledge in a collaboration with Real-Time Systems GmbH and Intel called "Building Modern Real-Time Applications with Intel Time-Coordinated Computing (TCC)". You'll see how industrial networks are getting an overhaul.
You can also uncover ways to unify applications across the cloud-edge continuum in "Introducing the Intel® Smart Edge Software Portfolio," where Intel will reveal an edge-native software stack for managing private 5G networks.
Innovation You Can Take to Market
If you're just starting your journey, Intel Innovation shows how developers can get off the ground with prototyping platforms and open-source code.
For example, Sergio Velmay of consulting firm Bravent, and winner of the ADLINK and Intel 20/20 Vision Hackathon, used OpenVINO and a Vizi-AI development kit to generate 3D simulation models of industrial work cells. Find out how ADLINK helped take Sergio's design to production—and start tinkering for yourself.
If you're ready to go a step further, Intel Principal Engineer Hassnaa Moustafa present "Rapidly Build Commercial Offerings with Edge Reference Solutions." This practical training session reviews off-the-shelf platforms that Intel has tailored for use in specific applications. And best of all, it shows how you can leverage them to get to market quickly.
Regardless of your skill level, role, or industry, there is a path into the hyperconnected era of AI everywhere. Take a big step forward at Intel Innovation.
Learn more, register for free, and start building your personal agenda today.