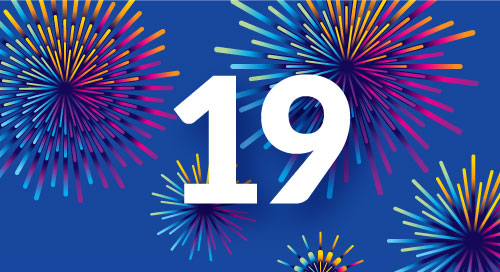 We talk about a lot every year in the world of IoT and embedded innovation. All year our writers scour for the best new innovations, the game-changing solutions, and the stories of how technology is helping businesses and people make the world a better place.
Scroll down to re-visit our 19 most-read articles in 2019. We can't wait to share whatever 2020 may bring.
A look inside the Skratch AV Phygital Video Wall and how it is improving retail experiences.
Arkessa is helping buildings reduce office space costs.
Our writer, Robert Moss, dove into the world of AI and deep learning in medical technology with IEI.
Wind River explains the short- and long-term costs of commercial Linux.
Robert Moss took a stand that machine vision needs to be easier and showed us how Advantech is making it happen.
Tempered Networks has a solution for standard IT tech that doesn't protect smart grids from network attacks.
Jeff McVeigh walked us through the power of Intel® IoT OpenVino and solving puzzle of hardware diversity.
Bill Pearson, Vice President, Internet of Things Developer Programs at Intel®, talked about the journey toward designing an AI-based system (hint: the Intel® Developer Zone is very helpful).
Siemens AG and Intel® collaborated on a new deep learning module for easier AI integration.
Our Editor in Chief, Kenton Williston broke down why Intel® processors pivoted to AI — and what it means for developers with an example from Mercury Systems.
UP ! Bridge the Gap, a division of AAEON Technology, created an AI Vision Development Kit to help developers and solution integrators quickly implement & deploy computer vision solutions.
Steen Graham from Intel® broke down the Intel® AI: In Production ecosystem to help accelerate prototype to production at the edge.
As deployments grow, VPNs and on-premises networks can quickly become too complex or too expensive. To support secure remote device management, it's clear that the industry needs an alternative solution. TeamViewer GmbH has the answer!
Kenton Williston helped you decide between Intel® Xeon® D Processor and Intel® Xeon® Processor E5.
From the archives, Rich Nass showed how solutions can help the standardize the process of updating/securing firmware remotely.
Everyone was very interested in the new 9th Generation Intel® Core™ Processors for IoT.
All year you were interested in reading about the emergence of containers for IoT and their effect on the future of the industry.
We explored the convergence of OT and IT with Hewlett Packard Enterprise.
And our top story for 2019 was Robert Moss's insights on AAEON boosting retail sales with AI.
We look forward to covering the latest design ideas, solutions, and trends in IoT Innovations together this year!