The Best of embedded world 2021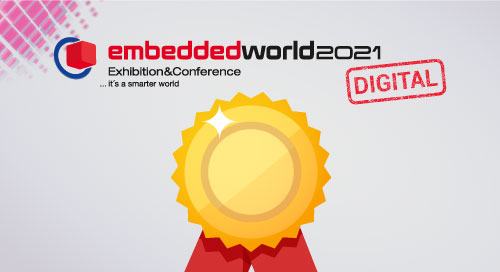 Wondering what went down at embedded world 2021? Wish you could have attended more sessions? Here's your chance to catch up.
We've picked out some of the best sessions and hosted the recordings here for your convenience. We hope you'll enjoy them as much as we did. And if you are looking for even more insights on the show, check out our podcast Everything AI at embedded world 2021.
Scalability in Tiny Spaces
Need to squeeze big performance into a tiny space? Don't want to waste engineering hours on basic design? Kontron has you covered with new COM Express and SMARC modules. Featuring the Intel Atom® x6000E series processors and 11th Gen Intel® Core™ processors, they bring deep learning and high-end graphics to very compact spaces.
See how to scale up performance with tiny compute modules >
Making AI Workloads Play Nice
Running multiple AI workloads gets complicated, fast. Consistent performance is often just a dream, but Real-Time Systems' new RTS hypervisor is changing that with strong hardware partitioning and Intel® Time Coordinated Computing (Intel® TCC), which isolate workloads from noisy neighbors and provide reliable output with less jitter.
Watch multiple AI workloads share a platform >
Simplify AIoT Development
If you're looking for a faster way to bring AI to edge devices, Advantech's platforms might be just what you need. They come with the OpenVINO toolkit, where you can create customized AI apps with way less hassle. Then run them on powerful new hardware!
See how you can kick edge computing into high gear >
Onboard New Hardware in a Hurry
Bringing IoT hardware online can be a pain. AAEON learned it's easier if you let Intel® Edge Software Hub and the Intel Edge Device Test and Diagnostic Tool (EDTDT) do the heavy lifting. The company says its partners and developers are building apps faster since it started using the software hub, and EDTDT validates solutions for quality and compatibility.
Learn how to onboard edge devices faster >
Merging AI with Functional Safety
Need an edge device that is smart and safe? SECO does both, using Intel OpenVINO to create image recognition and security camera solutions for industrial, medical, and military applications, then pre-certifying them for safety with Intel FuSa. Good idea.
Get the inside scoop on AI for safety-critical environments >
More Capable IPCs
What are the requirements for today's industrial PCs? Just a small, high-performance device that's flexible, expandable, easy to use, and maintenance-free. Oh, and it needs to operate at 130 degrees F. To accommodate every last wish, Siemens is developing a new generation of "Swiss army knife" IPCs that can do it all.