Fill form to unlock content
Error - something went wrong!
Get the latest updates on IoT for retail.
You are following this topic.
On-Premises or Off-, Custom Servers Are the Engine for SMBs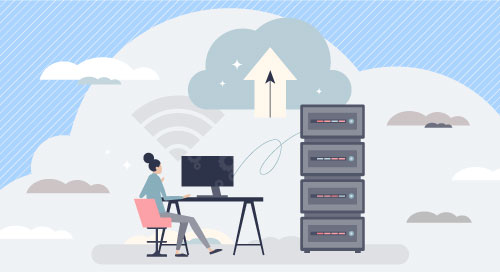 No matter what size or what type of business you are in, the ability to store and access data is incredibly important to the success of your operations. But if you are a small- to medium-size business (SMB), you probably don't have the IT team or budget to properly build and manage a storage solution that can handle all your data demands.
Several essential software and applications help make a business run. Most businesses deal with at least email, payroll, and project management software, and they need a solution that can not only properly store all their files and data but have enough power and memory to support their growing needs. As a result, on-premises servers have become an essential element of business operations—especially for companies that, for one reason or another, do not want to move entirely to the public cloud.
"Even for small-scale companies or small offices, everyone needs a reliable server that runs 24/7. But it is often difficult to even know where to start. And without an available IT staff, it's impossible to decide what the right server or technology is going to be best for you," says László Fésüs, General Manager at Real.Com-94 Informatikai Kft – Szerver.Hu, an on-premises server and data storage provider.
The issue is that there are no one-size-fits-all data storage for businesses. Most businesses require a customized solution. And choosing the wrong piece of hardware or components can result in poor performance, unsecure data, inability to scale, inability to access data, and wasted effort.
Then there's constant innovation coming from server providers, making it even more challenging to ensure businesses make the right investment.
Build vs. Buy On-Premises Data Storage
Because businesses need a data storage solution built specifically for their needs, there's a misconception that it has to be a server built in-house. But on top of limited budgets and lack of expertise, businesses just don't have the time to take on such a complex task.
"You need to understand the technology and its compatibility very well. It may look straightforward, but there are a lot of hidden traps in the assembly process. You need to be up to speed with the latest technology almost day-to-day to know the new standards and capability of the latest server component generations," Fésüs says.
That's why Szerver.Hu works to take the pressure off businesses and provide the necessary support and expertise. It works with customers from start to finish to build an optimal, high-performing, and reliable on-premises data storage.
Szerver.Hu takes advantage of technologies such as @Azure Stack #HCI to offer #data storage solutions with #HybridCloud capabilities as well as backup, recovery, security, and monitoring features. via @insightdottech
Szerver.Hu first does an intake on what the customer is looking for, the types of applications or services they are running, and their data demands. If the company sees a disconnect between what the customer is asking and the configuration, it will work to balance the components, CPU, and hardware elements for the business.
"Based on our own experience, we can advise on the right configuration for the upcoming needs and future performance improvement," Fésüs says.
For SMBs that don't have the resources to install the server themselves, Szerver.Hu will work with customers on putting the hardware together, configuring it, setting it up, and doing basic network connection. If any upgrades need to be made, the company will make sure components are compatible with the overall system and performance is not compromised.
A Hybrid Cloud Data Storage Strategy
Some businesses decide to go all in on the cloud to bypass the complexity and expense of building custom servers. But Fésüs notes that not everything can live in the cloud.
Businesses may have data that can't be made publicly available due to legal regulations such as GDPR or have private, sensitive health data they need to keep secure. Additionally, many SMBs have old legacy applications and hardware that they can't upgrade and need to continue to run locally.
In these instances, a hybrid cloud strategy is key. "Hybrid is the way to go because you can keep your data right next to you in your own data center or in a private cloud, and it can be connected to the cloud so you can still take advantage of the scalability and other benefits the cloud offers," Fésüs says.
Szerver.Hu takes advantage of technologies such as Microsoft Azure Stack HCI to offer data storage solutions with hybrid cloud capabilities as well as backup, recovery, security, and monitoring features.
The company's servers also use the latest Intel® Xeon® CPUs and Intel® Optane™ technology to enable persistent memory and rapid access to data. And because the company works directly with Intel®, it can provide data storage at a much lower price point than traditional brand-name solutions, Fésüs explains.
"Building a server out of Intel components is going to be as reliable as any name brand-name server like Dell or HP. Intel provides us the same value-added services, updates to firmware and remote controller units, and ability to upgrade—giving businesses the freedom to build something that fits their exact needs and budgets," he says.
Trying to upgrade brand-name servers can also cause a roadblock to business operations because typically a business would need to stay within the same brand to change components. And with today's supply chain issues and global chip storage, it could take months to get those updates made.
With a company like Szerver.Hu, SMBs can get the latest enterprise-grade components faster with the technology service and support they need to succeed in today's digital and data-intensive market.
This article was edited by Georganne Benesch, Associate Editorial Director for insight.tech.