Intel® Innovation 2022: Democratizing AI for Everyone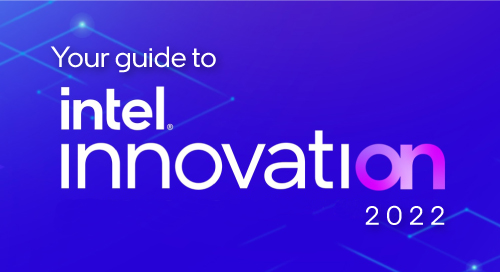 Before last week, the last Intel® event I attended in person was the Intel® Developer Forum (IDF) in 2016. It's hard to believe, but the company was just rolling out its 7th Generation Intel® Core™ processors back then.
Now the company is on its 12th Generation and 13th Generation Intel® Core™ processors, which was just announced at Intel® Innovation 2022. The latest 12th Gen Intel® Core™ processors feature a new performance hybrid architecture, enhanced AI and vision capabilities, expanded bandwidth, and fast memory—perfect for IoT applications. The 13th Gen Intel® Core™ processors continue the hybrid Performance and Efficiency core architecture of the previous generation but add optimizations that yield 15% better single-threaded and 41% higher multi-threaded performance—great for gaming, streaming and recording.
And that was just the tip of the iceberg when it came to Innovation 2022 announcements. Beneath was a whole lot of AI innovation, headlined by Intel® Geti™, which Gelsinger announced in his keynote.
Intel Geti is a new AI platform designed to streamline the time-consuming process of dataset labeling by offering an intuitive environment and annotation tools that let computer vision model training commence with as few as 20 images. The platform is accessible to data scientists, domain experts, and AI developers alike, who can leverage it to output production-ready deep-learning models in formats like PyTorch, TensorFlow, or as neural networks that can be optimized by the popular Intel® Distribution of OpenVINO™ Toolkit.
Democratizing AI, Live at the Edge
But Geti wasn't the only example of AI innovation at the event. Many Intel partners showcased their innovative edge AI solutions built on OpenVINO. This included PreciTaste, whose object recognition software helps Chipotle monitor food stock so there's always enough on hand.
Regardless of where you are in the development lifecycle, where your application sits on the #edge-to-#cloud continuum, or even your skill set, technology is evolving to simplify and accelerate your #AI experience. @intel via @insightdottech
Elsewhere at the edge, Eigen Innovations demonstrated how its OpenVINO-based software stack revolutionizes automated optical inspection (AOI) for manufacturers by integrating real-time control system and environmental data with AI inferences. And while a picture archive and communications system (PACS) itself isn't unique, JelloX showed how its MetaLite PACS with Intel-powered AI can integrate with radiology and other hospital systems to create AI-enabled imaging and digital pathology platforms.
While those use cases are on the more advanced end of the spectrum, meldCX has recognized the need to educate the next generation of technologists on AI fundamentals. It showcased how this could work at Innovation 2022, where an edge AI object recognition stack identified Legos that comprised a rover and instructed users how to assemble them properly. From there, a video game let participants drive a digital twin of the rover around Mars, where it could encounter and learn about real rovers like the Perseverance.
But Innovation 2022 exhibitions didn't just include AI for end users. The Deci AI neural network optimizer, for example, doubles down on OpenVINO to improve inferencing performance by 4x compared to the toolkit alone. MindsDB, on the other hand, presented OpenVINO in a non-imaging use case by folding it into its in-database machine learning platform, where developers can create applications like a real estate cost estimator on the fly.
I was also able to catch awesome demos from Awiros, Icuro, and a hands-on OpenVINO walkthrough from Intel AI Evangelist Paula Ramos. Awiros showed how it's working to simplify the model creation and development journey with a single integrated app marketplace, while Icuro featured how OpenVINO and Model Zoo can be used to fast-track deployment of intelligent systems from cloud development to actuation.
AI Innovation for Everyone
Regardless of where you are in the development lifecycle, where your application sits on the edge-to-cloud continuum, or even your skill set, technology is evolving to simplify and accelerate your AI experience.
Whether your sweet spot is the new Intel Geti AI democratization platform, the OpenVINO edge inferencing optimizer, or the hardware it runs on, Intel Innovation 2022 covered it from end to end.
And if you missed it, select event content is available on demand now.
This article was edited by Christina Cardoza, Associate Editorial Director for insight.tech.