Fill form to unlock content
Error - something went wrong!
Get the latest updates on IoT for retail.
You are following this topic.
How Systems Integrators Bring Digital Schoolbags to the Classroom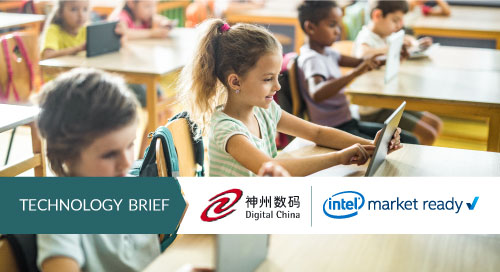 With the world's oldest formal school system—dating as far back as the 16th century—China is embracing the value of top-quality education now more than ever. And with 260 million students and more than 15 million teachers, the government is making significant investments to modernize the country's sprawling school system.
The question is how to provide the same high quality education to hundreds of millions of students—from the largest cities to the most rural villages. Deploying advanced technologies like artificial intelligence and cloud computing, is essential for success.
The COVID-19 pandemic forced schools, teachers, students, and parents to learn how to navigate a home-based, online learning model. But even now that most teachers and students have returned to the classroom, the government continues to subsidize digital learning technologies, teaching tools, and course materials.
This represents a golden opportunity for systems integrators (SIs), who can offer schools and parents unprecedented value in the form of knowledge and skillful deployment of cutting-edge technology solutions. And if they don't have them in-house, a solutions aggregator can provide easy access.
Transforming the Smart Classroom
One innovative solution that's advancing digital learning in classrooms and at home is the Electronic Schoolbag from Digital China, an Intel® solutions aggregator. Using edge-to-cloud technology, the solution helps instructors develop and teach lessons in person and online. And it allows schools to fully integrate resources for a high-quality, multidimensional mix of online and offline learning.
With a typical classroom size of 45 students, providing effective instruction is a challenge. The Electronic Schoolbag solution increases teachers' efficiency as well as the quality of their lessons.
Instead of spending time creating their own, teachers can download a wide range of organized lesson plans and courses. And the Electronic Schoolbag provides a consistent curriculum across instructors, schools, and municipalities.
Students gain access to everything they need in a single computing device: courses, assignments, and materials. With access to so many resources, every student and teacher benefits from instruction that is convenient, engaging, and efficient.
Given the country's laser focus on education, it's no surprise that teaching is both a well-respected and very demanding profession in China—in part because of continuing education requirements (which start on a teacher's first day).
The Digital China solution aids in ongoing training and evaluation by providing learning data analytics to central education departments. As a result, they can develop better teaching policies and materials—and make them available through the cloud.
Smart cameras capture students' classroom behaviors, and AI analyzes the data so students' learning can be personalized: teachers can easily adjust teaching methods according to students' needs and their own aptitude. At the same time, administrators can take targeted measures to improve teaching quality.
Students gain access to everything they need in a single computing device: courses, assignments, and materials.
The Elements of an Ed Tech Solution
The Electronic Schoolbag solution, built on Intel processors, comprises three interconnected elements for a "cloud classroom" experience. Here's how they work (Figure 1).
The Educational Resource Cloud is a central hub where teaching and learning resources can be easily accessed.
The Learning Preparation AIO (all-in-one) system allows teachers to develop more engaging lessons, monitor student progress, and communicate remotely.
The Electronic Schoolbag itself allows for a variety of digital learning resources in a single lightweight device.

What the Future Holds
Digital China is making it easier for SIs to take advantage of new business opportunities. The Electronic Schoolbag is just one example of how SIs can serve their education customers with new technologies, products, and services—all from one supplier.
Overall, the company sees three main benefits of the Electronic Schoolbag:
Strong classroom collaboration with simplified communication tools and a shared cloud-based resource system
Improved curriculum through actionable insights around student performance
Empowered students who enjoy access to high-quality educational resources, information, and tools anytime, anywhere
And with China's continuous investment in education, imagine what will happen once every student has a digital schoolbag, and every teacher has access to centralized education resources. The possibilities for innovation in the classroom seem endless—as do SIs' chances to deepen their relationships with customers and expand their business.