Expert Review: 3rd Gen Intel® Xeon® Scalable Processors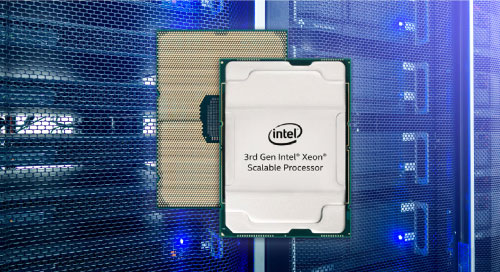 "Move faster. Store more. Process everything." Intel has aligned its portfolio to enable these three pillars, and with the recent launch of its 3rd Gen Intel® Xeon® Scalable processors, it is taking these ideas to new levels. So why does this matter?
With advances in multi-cloud computing, widespread IoT adoption, IT/OT integration, and 5G, data is increasingly generated everywhere, by everything. Indeed, the OpenFabrics Alliance anticipates a 600% increase in annual data creation over the period 2015-2024. Organizations that can collect, analyze, and share this data securely and intelligently are poised to outperform their competitors.
For me, the 3rd Gen Intel Xeon Scalable processors exemplify how the explosion of data can lead to rapid innovation. With more than 200,000 units shipped to major customers already, the latest Intel Xeon processors are available in a wide variety of servers, boards, and more.
The processor marks a clear generational uplift, with 46% increased performance—but more than this, it affords solutions to some of the key challenges impacting organizations today. My reflections on the leading advances and differentiators traverse AI, 5G, Security, and Tech for Good. Let's consider these in turn.
Built-in AI Accelerators
There are many "flavors" of Artificial Intelligence, and I believe Intel's leadership in CPU-oriented AI is especially important as this provides the flexibility to handle all workloads. But maximum performance requires AI-specific features—and the 3rd Gen Intel Xeon Scalable processors are the company's first datacenter-class processors with built-in AI accelerators for superior performance.
The result? These processors deliver 1.5X more performance than other CPUs across 20 popular machine learning and deep learning workloads. And thanks to the open oneAPI standard, the new processors help engineers and data scientists build and deploy smarter models more widely, from proof-of-concept to production. This reduces issues around data and model waste, and enables Model Ops approaches.
Further still, the Intel® Deep Learning Boost (Intel® DL Boost) facilitates AI acceleration to significantly improve inference efficiency. One example of this in action is 3D digital face reconstruction for gaming.
Optimized for 5G Networks
5G is catalyzing a rapid transition to virtualization, vRAN, and cloud-native technologies, necessitating more agile network infrastructure with performance tailored to workloads. The 3rd Gen Intel Xeon Scalable processors deliver 62% more performance on a range of network and communication workloads, enabling lower latency, more rapid deployment, and higher throughput.
And with security a key focus for 5G, CoSPs can also reduce the performance impact of full data encryption and increase the performance of encryption-intensive workloads. This affords the capacity to extend existing 5G use cases and enable brand-new possibilities from edge to access, core, and cloud.
A Foundation of Security
There is a key emphasis on cybersecurity, which has never mattered more, with attacks and malware becoming a full commercial industry in recent years, and only accelerated by the pandemic. A range of options and security controls are provided to protect data and application code, notably Intel® Software Guard Extension (Intel® SGX), which uses a hardware-based Trusted Execution Environment (TEE) to help isolate and protect specific application code and data in memory.
This is especially significant to enable confidential computing and privacy-preserving techniques so that organizations can benefit from data sharing—without the data ever leaving its secure home—notably critical in sectors such as healthcare.
As Gartner research recently found, data and analytics leaders that share data externally attain 3x more measurable economic benefitthan those who do not. Facilitating collaboration with privacy preserving computation such as Intel SGX directly supports this opportunity. In addition, Intel® Crypto Acceleration can reduce the performance impact of full data encryption and increase the performance of encryption-intensive workloads.
What I especially appreciate here is not only the security advances but also the enablement of developers, reducing restrictions and supporting time to production and creativity. And finally, Total Memory Encryption (TME) supports the encryption of physical memory, preventing the removal and scraping of DIMMs. Impressive advancements across the board!
Tech for Good
And finally, I wholeheartedly believe leadership in technology goes beyond the tech itself, to the people behind it and the purpose to which it is applied—alongside organizational time, talent, and other resources that can be shared. Back in April 2020, Intel launched its own Pandemic Response Technology Initiative to support COVID relief with a commitment of $50 million to enable response and readiness, online learning, and a critical-needs innovation fund.
Fast-forward to April 2021 and the 3 Generation Xeon Scalable launch. Before the technology was even introduced, Tech for Good and community support took center stage with a renewed commitment of $20 million for the Intel Rise Technology Initiative. This is supporting projects and collaborations to address some of the world's biggest challenges, from education to climate change.
Bringing this piece to a close, this demonstrates how the latest technology innovation leadership can advance not only sustained business transformation but can go further still, and help foster scalable social impact change, creating shared value. I could not agree more with Intel CEO Pat Gelsinger, who summed up the event: "Technology is Magic."