Fill form to unlock content
Error - something went wrong!
Get the latest updates on IoT for retail.
You are following this topic.
Driving Through Efficiencies in Coffee Service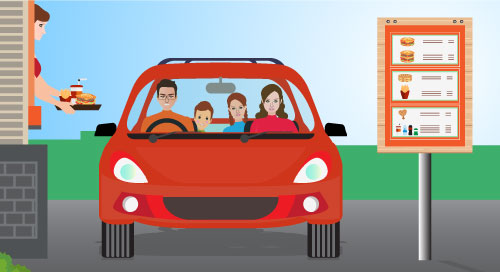 Drive-thru technology is helping businesses improve customer service, reduce waiting times and personalise their marketing, as Costa UK has discovered.
The UK might lag behind the US when it comes to the prevalence of drive-thrus in the hospitality space, but relatively recent entries into this area by coffee giants Costa and Starbucks in the UK as well as growing use of those operated by the likes of McDonald's and KFC has meant that they are growing in importance.
The pandemic has played its part in this, with McDonald's becoming reliant on its drive-thrus and click & collect during the third UK lockdown having closed its restaurants for customers even for takeaway.
"When the virus happened that accelerated everything," says Chloé Bisiaux, head of drive-thru products at Acrelec, which provides drive-thru systems as well as self-ordering kiosks to the food and beverage industry across the world.
"Demand has been rising for drive-thrus as many restaurants have been closed at some point and they have had to find a way to sell their products."
"Some restaurants had a drive-thru that was not that efficient or lacked investment because most customers would come into the restaurant to place an order. The pandemic has changed that and encouraged companies to look more closely at their drive-thrus. Across Europe there was a big realisation that companies need to invest in the drive-thru."
What's next for drive-thrus? @AcrelecUK sees a world of high-tech possibilities. via @insightdottech
As well as making drive-thrus a much more important part of a restaurant group's offer, the pandemic has also put more pressure on them, and this is where Acrelec, has stepped up to help businesses with products that include outdoor digital menu boards, customer identification technology and systems that bring vital new efficiencies to drive-thru operations.
For example, its digital menu boards are designed to help improve visibility of products, changing their displays based on the time of day. Its boards also have an order view function so that the customer can see their order written down as it is being taken, which helps reduce the number of errors with the order, says Bisiaux. They can also be linked to a restaurant's POS system so if an item is out of stock that information can be displayed on the screen, so the customer knows not to order it, reducing order time.
To further speed up the drive-thru process Acrelec has created customer identification technology Drive ID, designed to identify customers upon arrival at the order point and generate up-sell opportunities through personalisation.
"Prior to having this type of solution, a customer would have a basic scanner scanning a QR code on a phone if they wanted to redeem an offer and that would very often happen at the payment window," says Bisiaux. "So, they've placed the order already and then realised that they've got some chicken nuggets for free – the big problem with that is that it's not part of the order so [the restaurant] will have to start preparing the nuggets a bit later in the process."
Drive ID uses Bluetooth-enabled customer identification so when the customer places the order, they can simply select the offer they want to redeem on their phone, which then goes through. Acrelec is in discussion with major QSR brands in the US and Europe on a global level for Drive ID and says it is looking at how it can integrate it with the fast food giant's mobile app.
AI and Machine Learning
As with self-order kiosks, companies are looking at opportunities to upsell at the drive-thru through tailored product recommendations. Bisiaux says Acrelec is looking to harness AI and machine learning so that the machine would learn what items are purchased together and as a customer places an order they would be given a recommendation made specifically for them. "Not only does this make the process simple but it increases the average check."
She also says that Drive ID is able to recognise a customer (if previously consented) and, based on their previous orders, simply recommend them their usual order as option, creating a more personalised experience as well as speeding up the order process.
Acrelec's QTimer 2.0 is another product designed to further streamline the drive-thru experience by helping businesses find out the duration of a customer order at different points – order, payment, and service. It also gives businesses data on the overall length of service, which Bisiaux says helps teams see what's happening in real time and identifies whether there are any bottlenecks.
"They can go back and look at analytics and see if in the evenings they are slower and find out how to speed up the process by adding more staff, or identify times when they are very efficient."
Coffee chain Costa is one company that is looking to harness the power of QTimer 2.0. Coffee Lovers, a franchise partner of Costa UK that operates 11 venues under licence, began using the technology at its new Coalville, Leicestershire, store in December and says it has been assisting with its customer throughput.
"When a car arrives there's tech in the ground outside that picks up that car, then it proceeds to the order screen where have dialogue, then payment and collection and then they drive off," says Ghanshyam Ramparia, Coffee Lovers director.
"There are only three of four pinch points but Acrelec's solution visualises that journey and gives us data on the back of this, such as how big the queue is and how long customers are waiting at each pinch point, to make that journey as quick and efficient as possible."
Ramparia says that QTimer 2.0 tells provides information on the customer journey which then allows staff to act correspondingly in terms of service.
"If there' a bottleneck and a lot of people who have already placed their order are waiting for their drinks, the person taking orders is directed to take more time with ordering customers and ask them more questions to buy some time," he says.
"Or if there is a big pile up of cars waiting to order and no one waiting to collect we might want to get customers off the speaker as quickly as possible. QTimer 2.0 visualises that."
QTimer 2.0 can also be linked to Acrelec's digital menu boards and content management systems for even greater functionality. "If the drive-thru is busy you can say you want to have a more simplified menu and recommend items that are quicker to prepare and guide customers to make a decision more quickly," says Bisiaux. "When it is emptier you can advertise the more premium products and have a wider selection."
Outdoor digital signage plays a major role in enticing customers as well as showcasing exactly what's available during the day part including the exclusion of any items that is unavailable.
Simplicity is key to keeping customers moving as well as making product selection easy, according to Farhaan Mohideen, product strategy and IoT spokesperson at Intel. "Intel provides the right hardware form factor and integrated graphics to enable media processing much richer supporting different media formats on digital signage," he says.
Intelligent Integration​
A drive-thru requires many different systems to be exchanging data to enhance the customer experience and Acrelec has developed an advanced solution that stitches together information from multiple sources and make decisions in near real time.
"We wanted something that was integrated, reliable and flexible," says Ramparia. "Acrelec has got a lot of technologies that can talk to other technologies; rather than have four or five vendors trying to work together we would rather have it all under one umbrella where it's proven that it all works together."
Mohideen says that Intel's technology plays a part in integration. "Intel has been advocating the use of Edge compute to drive workload consolidation and low latency edge inference that is able to act on the data produced by the various IoT devices and sensors.
"Designing a drive-thru system requires much consideration on not only what's happening as the customer drives in but capacity in the kitchen and availability of produce for meal preparation. Intel's compute, hardware acceleration, Intel® Distribution of OpenVINO™ toolkit and Intel vPro® technology are key foundational elements in modelling and consolidating the various workloads and eliciting key insights at the drive-thru and the kitchen."
Such insights are what Ramparia hopes to take advantage of at the Coalville Costa. "With an integrated solution we can react to day parts, the weather, the time of day, and customise offers and promotions on the back of it. If it's a sunny day we can promote cooler drinks, for example, using AI to customise the offer."
Ramparia also hopes to take advantage of technology that will enable number plate recognition or use Bluetooth to recognise returning customers and even to create local offers based on how much stock a particular site is holding. If there's a glut of cakes, for example, they can be automatically promoted to customers as an add-on.
"Using technology more creatively in the future we know that there's a lot more that can be done. A drive thru serving coffee seems a simple thing but there's a lot more that goes on behind the scenes."