CES 2022: Intel® Launches Revolutionary CPU Architecture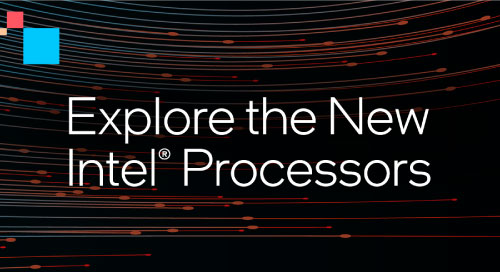 Intel® made big news at CES 2022 with the launch of their 12th Gen Intel® Core™ Desktop and Mobile processors, formerly known as "Alder Lake".
What makes these chipsets groundbreaking compared to previous-generation processors? First, increasing workload diversity—driven by the demands of IoT, AI, and visual edge computing—means we need enabling technologies that are more flexible. And this new reality calls for a brand-new approach to processing.
The 12th Gen Intel® Core™ processors introduce a hybrid core architecture across Desktop and Mobile SKUs for the first time in x86 history. Here's what you need to know:
New Hybrid Core Architecture: The Benefits Are in the Benchmarks
The new hybrid architecture is built with both Performance- and Efficient-cores, combined to deliver Intel's biggest desktop performance gains in more than a decade—without sacrificing additional power. Want proof? Check out these benchmarks in Figure 1.

The new processors give retail, healthcare, digital signage, industrial automation, and other edge system designers unprecedented platform control, allowing them to transition seamlessly between top-line productivity and resourceful task completion.
With as many as eight cores of each type—supporting multiple execution threads—developers can consolidate multiple workloads on a single device. For example, a modern POS system could analyze video and run price checks using object recognition algorithms on Performance-cores while the Efficient-cores simultaneously read barcode scans, tally receipts, and accept payment.
Check out this video highlighting all the goodness of the 12th Gen Intel Core processors, from performance to graphics—from media to AI.
Whether you're designing a video wall, test equipment, #medical imaging system, or a #MachineVision solution, 12th Gen Intel® Core™ #processors building blocks are now available from @IntelTech partners. via @insightdottech
Digital Signage Struts Its Stuff
Want more proof? A remarkable Intel IoT Video Wall Solution Demo consists of four ViewSonic VP3268A-4K LCD displays. Behind the scenes is a media player powered by a 12th Gen Intel® Core™ i9 Desktop Processor Reference Validation Platform (RVP).
In a demo at CES, the 12th Gen Intel Core Desktop processors' four video outputs are synchronized into a continuous large image of a video playlist that spans the four-screen display at 4K resolution. But there's a lot more going on beneath the surface. New IoT features like Genlock and Pipelock will be key components of the video wall designs of the future.
And although they're obviously tailored to digital signage, these features represent just a fraction of the capabilities introduced on 12th Gen Intel Core processors.
Available Now for the IoT Edge
Whether you're designing a video wall, test equipment, medical imaging system, or machine vision solution, off-the-shelf, long-lifecycle 12th Gen Intel Core processors building blocks are now available from Intel partners. These subsystems can jump-start your next design, but they aren't demo platforms. They're the real, production-ready deal.
For example, manufacturers are leveraging the new 12th Gen Intel Core Desktop processors in the ASRock Industrial iEPF-9010S to enable workload consolidation and data acceleration in automated optical inspection systems. Others are turning to the SECO CHPC-D80-CSA, a COM-HPC client module that integrates hardware security and time-sensitive networking (TSN) alongside the 12th Gen Intel Core processors high-performance graphics processing.
In semiconductor testing, the Advantech SOM-C350 COM-HPC Client module is setting new standards for data throughput with 12th Gen Intel processors that combine PCIe Gen 5 and DDR5 support. High-end sockets also benefit from devices based on the new chipsets, such as the Avnet Embedded C6B-ALP COM Express Type 6 module and BCM Advanced Research MX670QD Mini-ITX motherboard. These have found homes in robotic surgery and medical imaging, respectively.
Digital signage like the demo video wall can be built on solutions such as Shenzen Decenta Technology's new Mobile Series-based OPS Module. It sports Intel® Wi-Fi 6E and USB4 interfaces, plus local AI inferencing via the Vector Neural Network Instructions (VNNI). AI workloads on all 12th Gen Intel Core processors can also be accelerated by the Intel® OpenVINO™ Toolkit.
Any developer can use the Intel® oneAPI Toolkit to harness the hardware-accelerated features mentioned above from the friendly confines of their software stack. And it's easy to get these stacks initialized thanks to native support for robust software offerings, including the UEFI BIOS Slim Bootloader, hypervisors, multiple Linux distributions, and the Microsoft Windows 10 IoT Enterprise 2021 Long-Term Servicing Channel (LTSC).
It's all ready for you out of the box.
A New Era of Edge Computing Starts Now
As more, different types of objects leverage electronic intelligence, workloads are changing, and the emphasis is shifting from having the most processing to the right processing. Developers have been waiting for hardware that offers a path forward, and 12th Gen Intel Core processors deliver.
To learn more, check out the 12th Gen Intel Core Desktop processors and 12th Gen Intel Core Mobile processors product briefs.
Related Content
Read about advances in visual computing driven by the Intel OpenVINO Toolkit in Intel Innovation: The Event Designed by Developers for Developers.
2 Performance results are based on testing as of dates shown in configurations and may not reflect all publicly available updates. For more complete information about performance and benchmark results, visit intel.com/PerformanceIndex.