Must-See Tech at Hannover Messe Digital Edition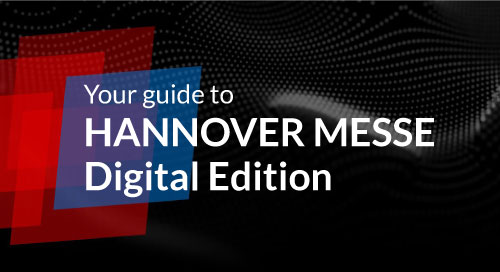 Hannover Messe is one of the world's largest events, attracting a diverse international audience, and this year it's going all digital. With more than 1,500 program items—covering the hottest trends in the industry, energy, and logistics segments—it's an ideal platform for networking and innovation in this era of industrial transformation.
Here's our roundup of must-see demos and sessions at this year's virtual event, HANNOVER MESSE Digital Edition, taking place April 12–16.
Explore New Opportunities
As digital transformation expands, innovators are exploring opportunities to apply new technologies in manufacturing and other industrial environments. Autonomous mobile robots take a big step toward Industry 5.0. You can see them in action at a virtual demo showcasing the first AMR powered by the latest Intel® Edge Controls for Industrial, in partnership with SYMG, ASUS, and IEI.
See how SMBs can use open-source IIoT solutions to build new business opportunities—don't miss Unleash the full potential of Industry 4.0, a livestream event hosted by Intel® in partnership with MicroStep. The session highlights IndustryFusion, an open-source IIoT connectivity solution for smart products and smart factories that enables SMBs to get involved in new business models like production sharing, pay-per-use machine usage, and CO₂-neutrality monitoring.
Check out the AI-driven factory of the future, a ThingTrax product demo that shows how any factory can become a smart manufacturing hub in less than 30 days. Cameras and sensors capture data on machines, people, and processes, while its AI platform converts it into actionable insights.
Also, take a look at AI and Real-Time Controller for Next-Gen Autonomous Industrial Control, a testbed demo environment that uses AI and real-time controls in the factory to help ensure safe working conditions. This tech is powered by Intel® Edge Insights for Industrial and Intel® Edge Controls for Industrial and developed in partnership with Hitachi Vantara.
Here's our roundup of must-see demos and sessions at this year's virtual event, @hannover_messe Digital Edition, taking place April 12–16.
Get Smart on the Factory Floor
Take a deep dive into why the edge is the key ingredient of any digital platform. See how TSN and OPC-UA run a smart factory on an edge controller with cloud connectivity—powered by Intel tech—enabling accelerated intelligent vision processing and control at the edge. Catch the livestream, presented with partner EXOR.
Smart Factories in Action
In the world of Industry 4.0, the emergence of open, tightly scheduled industrial communication is allowing smart factories to respond in real time, transforming manufacturing and boosting productivity. Join this Smart Factory demo to see how Intel® FPGAs help companies overcome key challenges in smart-factory implementation.
And one of the biggest challenges on the factory floor is quality control, an important step in manufacturing and factory pipelines. This defect inspection demo shows how the Corerain Intel FPGA-based AI accelerator can fast-track industrial video defect inspection. You'll see how a smart hardware solution can perform a complex, automated visual inspection in the manufacturing process.
Register here for Hannover Messe Digital Edition to check out these events and demos, along with many more. We look forward to (virtually) seeing you there!