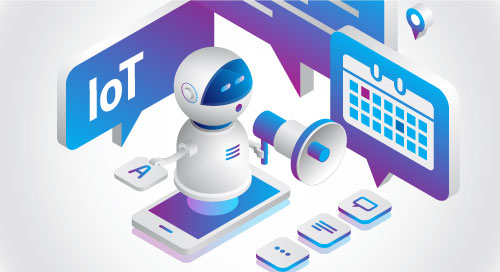 Every year, we release our definitive list of the biggest and best events to attend and follow in the IoT space. This year, we've expanded the list to include smaller events focused on specific verticals (like retail and industry).
Be sure to bookmark this page, as we'll be updating the list throughout the year as details emerge and plans fall into place.
Think we missed something? Tweet us @insightdottech.
JANUARY
CES (Consumer Electronics Show) | #CES2020
When: January 7-10, 2020
Where: Las Vegas, Nevada
What: CES is one of the world's biggest conferences, having outgrown its roots in consumer electronics to become an all-encompassing tech show. When it comes to IoT, expect a big focus this year on smart cities. Its smart cities showcase is set to fill three different halls, and encompass the entire connected ecosystem—5G included. See our top picks.
NRF 2020: Retail's Big Show | #NRF2020
When: January 12-14, 2020
Where: New York, New York
What: NRF is the world's largest retail conference and expo, naturally making its way onto our must-attend list. As we've seen in the past few years, retail tech is not only making massive strides into the IoT space, it's dominating. Our top picks for the show? The future of digital retail with Dell, and a look into the next wave of digital retail disruption with Intel.
Shameless plug: Want the inside scoop on NRF? For our January 8 #IoTDevChat, we're partnered with Hitachi Vantara to discuss future of retail tech—beyond the basics of digital signage and everything NRF. Sign up for a reminder.
Distributech | #DTECH2020
When: January 28-30, 2020
Where: San Antonio, Texas
What: Energy and IoT were huge in 2019, and in part it's thanks to Distributech. The expo is the largest of its kind for the transmission and distribution industry, customers included. Cybersecurity, data analytics, and distributed energy resources are all top-of-mind as leading tracks this year, but our favorite (naturally) is the smart cities and IoT track. Look for sessions on the growing GoT (grid of things), monetizing smart cities, and utility transformation. See full schedule.
FEBRUARY
MWC Barcelona | #MWC20
When: February 24-27, 2020
Where: Barcelona, Spain
What: While mobile connectivity is still the central focus of MWC Barcelona, the show is now the largest mobile event for everything from new innovations to inspiring talks from visionaries. Case in point, you won't Industry 4.0—or even 5.0—here, instead MWC is focused on Industry X. See the full Industry X schedule, and the Security & Privacy schedule.
embedded world | #ew20
When: February 25-27, 2020
Where: Nuremberg, Germany
Vertical: General IoT, Industry
What: This February, the future is now at embedded world. This is arguably one of the best showcases for IoT, industrial automation, and embedded technology. Check back for our sneak preview in early January!
MARCH
IoT Tech Expo Global | #iottechexpo
When: March 17-18, 2020
Where: Olympia London, England
Vertical: General IoT
What: This high-level IoT conference and event series is returning for its fifth year in the UK. Unlike most industry expos and conferences, IoT Tech Expo breaks up its 9,000+ attendees into niche tracks and five co-located events covering IoT, 5G, cybersecurity, cloud, blockchain, AI, and big data. See full agenda.
Shoptalk | #SHOPTALK2020
When: March 22-25, 2020
Where: Las Vegas, Nevada
Vertical: Retail
What: Another conference great for those deep in the retail space is ShopTalk 2020. The multi-day education conference centers around bringing the biggest players together to chat about the future of retail — with a new focus on vertically integrated technology (hello, digital signage). Also new for 2020: 100 percent of the speakers will be women. Top sessions include the transformation of retail with new technology, emerging trends in AI and customer experience, and how China is innovating retail. See full agenda.
HIMSS20 | #HIMSS20
When: March 9-13, 2020
Where: Orlando, Florida
Vertical: Healthcare
What: Known widely as the must-attend healthcare and health tech conference, HIMSS20 is the CES of healthcare. This year's theme is simple: Be the change. For IoT and connected health, find new products and announcements in the Healthcare of the Future exhibit area.
ISC West | #ISWCWest2020
When: March 17-20, 2020
Where: Las Vegas, Nevada
Vertical: Security
What: Think of this as THE converged security event. Big security-driven topics like smart homes, connected security, and (new for 2020) loss prevention and supply chain are all top-of-mind here. The event is focused heavily around security, and IT professionals and C-suites learning the newest trends in connected and embedded technology. See full exhibit list.
"Check out this list of the must-attend IoT events for 2020"
APRIL
Hannover Messe | #HM20
When: April 20-24, 2020
Where: Hannover, Germany
Vertical: Industry
What: Following shortly on the heels of embedded world, Hannover Messe is where attendees see the latest in industry 4.0 and industrial IoT. Big topics like industrial security, logistics 4.0, and the oncoming industry 5.0 look to be a focus for April's big showcase. Check back in April for our top picks and coverage.
World Retail Congress | #WRC2020
When: April 28-30, 2020
Where: Rome, Italy
Vertical: Retail
What: The World Retail Congress is the global meeting of the game changers and powerhouses of today's retail industry – from decades-old institutions to disrupting start-ups. The Congress' 10,000+ attendees this year will focus in on the relevancy factor for retailers. Session topics range across the entire retail space, but IoT-minded attendees can focus on sessions like Riding The Wave of AI.
MAY
ATA2020 | #ATA2020
When: May 3-5, 2020
Where: Phoenix, Arizona
Vertical: Healthcare
What: ATA is the premier networking and showcase event for those in telehealth innovation. Sessions range from introducing new virtual care technologies to better understanding patient data in the age of AI. More details coming soon.
Dell Technologies World | #DellTechWorld
When: May 4-7, 2020
Where: Las Vegas, Nevada
Vertical: General IoT
What: Dell's user and partner summit is focused on making the impossible real — and all the new ways to accelerate your growth accordingly. With 15,000+ IT professionals, decision-makers, and influencers, the event is billed as the event for networking, product announcements, and more. Top agenda picks coming soon. (P.S. Want to go but need approval? They can provide a custom letter for your boss.)
Cisco Live 2019 | #CLUS
When: May 31-June 4, 2020
Where: Las Vegas, Nevada
Vertical: General IoT
What: The center of Cisco's social event calendar, naturally. Cisco Live is the annual event for Cisco's customers and partners. While that might limit the audience, the show is famous as a breeding ground for best-in-class technology coming to market, and fresh ideas that'll become leading trends. For IoT and embedded, their thought-leadership talks and keynotes are a great starting point.
JUNE
Computex | #Computex2020
When: June 2-6, 2020
Where: Taipei, Taiwan
Vertical: General IoT
What: One of the oldest tech shows, COMPUTEX remains a must-attend event for manufacturing and supply chain organizations. Key themes? Consumer electronics, cross-field IoT solutions, and one-stop-shop platforms for international buyers. And mark your calendars: The event is consistently a hot spot for Asia-focused product announcements.
ICX Summit | #ICXsummit
When: June 3-5, 2020
Where: Columbus, Ohio
Vertical: Retail
What: For those solidly in the B2C space, the Interactive Customer Experience Summit intersects applied AI and machine learning with customer experience and retail. The event is attended by the biggest names in restaurants, retail, banks, and entertainment venues. Our top session picks include the chats around the current state of AI for sales, investment in emerging technologies, and digital transformation (sponsored by Intel).
SEPTEMBER
Smart Cities Week DC | #SmartCitiesWeek
When: September 2020
Where: Washington, D.C.
Vertical: Smart Cities
What: Smart Cities Week is a collection of three conferences locations—Silicon Valley, Washington, D.C., and (new!) Australia. At Smart Cities DC, leading companies come together to work toward advancing livability, workability, and sustainability. But for IoT, this event is a must-attend for new trends and summits around the impact of smart cities on consumers—and how its tech infrastructure is being funded, built, and maintained. 2020 agenda (and dates) coming soon.
OCTOBER
ITS World Congress | #ITSWC20
When: October 4-8, 2020
Where: Los Angeles, California
Vertical: Smart Cities, Transportation
What: Truly a not-to-miss event for everyone in the connected transportation space, the 27th ITS World Congress is focused on the new age of mobility. Technologies that make roads safer will also reduce congestion and greenhouse gas emissions, and move us closer to a future of seamless mobility.
HLTH | #HLTH2019
When: October 11-14, 2020
Where: Las Vegas, Nevada
Vertical: Healthcare
What: HLTH bills itself as a one-of-a-kind ecosystem for the health industry, dedicated to solving "the most pressing problems facing healthcare today and actualize the most promising opportunities to improve health." Its 2019 showcase included presentations from Intel SOLVE and talks around using AI to empower the healthcare workforce. Top agenda picks coming soon.
IoT Solutions World Congress | #IoTSWC20
When: October 27-29, 2020
Where: Barcelona, Spain
Vertical: General IoT
What: IoTSWC is the place for decision-makers, engineers, and everyone in between to connect on the current state of the internet of things. Top sessions from 2019 included security maturity, evolution of digital twins, and the transformation of AIoT (think: a true melding of AI and IoT). Full 2020 details coming soon.
NOVEMBER
CHINASHOP
When: November 19-21, 2020
Where: Qingdao, China
Vertical: Retail
What: Arguably the largest retail conference and expo in Asia, this is where the future of retail comes to exhibit. With more than 900 exhibitors within the retail space, you can expect to see the newest connected technology for the industry beyond pop-up displays and digital signage. For those looking to build their retail tech networks within China, this show is a must-attend.
Hitachi NEXT | #HitachiNEXT
When: November 16-18, 2020
Where: Las Vegas, Nevada
Vertical: Industrial, Retail
What: Hitachi NEXT is Hitachi Vantara's big show covering everything from cloud acceleration to DataOps. 2019's show included showcases on smart spaces, breakthroughs in data storage, and emerging data center innovations. Check back soon for a preview of 2020.
SPS | #sps_live
When: November 24-26, 2020
Where: Nuremberg, Germany
Vertical: Industry
What: The full spectrum of smart and digital automation "from simple sensors to intelligent solutions" is the focus of the smart production solutions conference. Billed toward those focusing more on practical solutions for niche business areas. 2020 presentations are coming soon, but 2019's sessions focused on the next iteration of Industry 4.0, the future of connected industries, and 5G for Industrial IoT.
Microsoft Ignite | #MSIgnite
When: November 2020
Where: United States
Vertical: General IoT
What: Those who attended #MSIgnite know the power of being a part of 25,000 enterprise developers, decision-makers, and IT folks at the conference. Our top picks from last year included the Memomi Memory Mirror showcase, and the ONNX x Intel OpenVINO exhibition. And while 2020 plans formalize, make sure to check out the recently launched Microsoft Ignite The Tour. It takes the famous conference on the road to cities across the globe for a more localized, intimate feel that still packs a punch in terms of its content.
About the Author

Follow on Twitter More Content by Phoebe McPherson