IoT Gateway Saves Time, Bandwidth by Boosting Analytics at the Edge
In recent months, Dell has begun appearing on Top 10 lists of notable Internet of Things (IoT) solution providers. The reasons behind this rise are many, including the technology giant's core business in cloud, big data, mobility and security—all key IoT-enabling technologies. That, combined with some clear business decisions within the company that push IoT to the forefront, will allow Dell to capitalize on what CEO Michael Dell calls a trillion dollar opportunity. Those decisions include a growing IoT product division, the launch of an IoT gateway product line, and additional investments in IoT analytics and an IoT consulting practice.
The potential of IoT has companies small and large trying to add Internet connectivity to sensors.This generates heaps of data to mine for business insights. As such, data analytics is crucial in the IoT realm, whether it's small data at the network's edge or big data on the cloud side. Dell's IT expertise enables it to apply its data engineering experience from the cloud or data center side to the edge of the IoT infrastructure.
Dell, a Premier member of the Intel® Internet of Things Solutions Alliance, followed up on its May announcement of its IoT ambitions with the launch in October of the Dell Edge Gateway, in collaboration with its decades-old semiconductor partner Intel. The Dell Edge Gateway 5000 Series exploits the headroom in analytics power offered by the Intel® Atom processor E3800 product family, which is the first system-on-chip (SoC) designed for intelligent systems such as the Edge Gateway. While operating in an extended range of thermal conditions, the Intel® Atom™ processor offers high performance at ultra-low power, which is especially important for industrial, factory and remote deployments of the intelligent gateways.
In addition to collecting sensor, device, and system data and sending it to the cloud or data center, edge gateways can also serve as a type of spam filter for the IoT network. By performing local analytics to aggregate and transfer only meaningful data, these gateways reduce the needed bandwidth as well as cloud costs. Furthermore, by providing near real-time response on data at the edge with the right analytics and middleware tools, these gateways can provide system managers with tighter operational controls.
Given the five-year lifecycle estimated for an IoT gateway in industrial environments, Dell is confident it can provide an end-to-end solution, including deployment services, basic hardware support, or Dell ProSupport, all throughout the product lifecycle.
The Dell IoT gateways announced in May and deployed in several successful proofs-of-concept projects came without an operating system so purchasers could choose their own. The new, purpose-built Dell Edge Gateways 5000 Series have multiple O/S options: Wind River Linux, Snappy Ubuntu, or Microsoft Windows Enterprise v10 IoT. Gateways can also support Dell Cloud Client Manager, third-party analytics, and systems from Dell's ecosystem of ISV partners for maximum flexibility and adaptability to specific use cases and business needs.
Partnerships play a critical role in Dell's go-to-market strategy. It takes a village to create a sophisticated and comprehensive IoT solution, so Dell is partnering with ISVs for scale and enablement of industry-specific needs. Dell is continuing its historical relationship with Intel into the IoT era by leveraging Intel hardware and software solutions. Intel endeavors to provide customers with the end-to-end connectivity, security, and manageability needed to realize an IoT vision. Intel's SOC approach fills a critical gap for high performance and low energy to make it easier for businesses to manage data and deploy real-time analytics at the edge (Figure 1).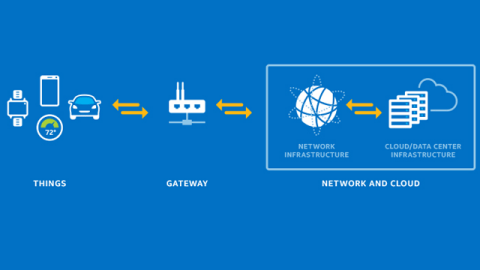 Figure 1. Dell's IoT gateways are a key component in an efficient and responsive distributed network. Dell's end-to-end offerings for IoT offer the connectivity, security, and manageability needed to help realize an IoT vision.
Dell's Edge Gateway 5000 Series includes features that make it appropriate for IoT applications in industrial automation and smart buildings. Industrial automation in particular is a key market for this platform, as processor scalability can be challenged by the large number of devices, data flow, and interconnectivity required to meet specific analytics needs.
The next IoT performance vector after data analytics is I/O handling. Dell's Edge Gateway supports both traditional operations connectors like serial/RS-232 ports and modern wireless protocols such as Bluetooth and mobile broadband. With the right middleware and I/O configuration, Dell's gateway accepts and normalizes data from virtually any network protocol for seamless inoperability.
Dell calls the third IoT performance vector the environmentals. Its Edge Gateway is built to survive and thrive in harsh industry environments and can operate 24×7 in expanded temperature ranges, and accept higher relative humidity ranges, electrical interference, and vibrations than typical PCs or servers, thus reducing down-time. Moreover, it has no fans or moving parts and can be mounted on walls or DIN rail or in other easily accessible areas of the building.
Dell's OEM Solutions division has a long history with IT system integrators, and these relationships, along with Dell's close relationship to Intel, go a long way in supporting Dell's commitment to the hardware, software, and services required to be a leader in the IoT value chain.
See the Solutions Directory for more products from Dell.