Fill form to unlock content
Error - something went wrong!
Get the latest updates on IoT for healthcare.
You are following this topic.
AI and CV Shape the Future of Medical Diagnostics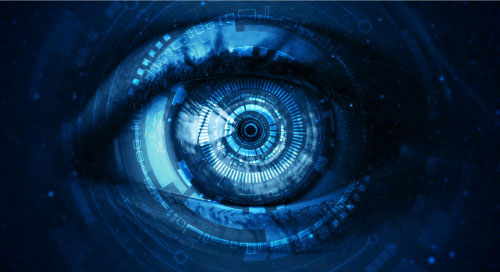 While human beings have always strived to advance as a species, today's technological innovations are allowing us to make unprecedented leaps—especially in the field of medicine.
The Italian expression "tali sono gli occhi, tale è il corpo" roughly translates into "such are the eyes, such is the body." But it was in ancient Greece where Hippocrates conducted early research on the human eye, as he believed that it offered a window into health and well-being.
To this day, scientists and physicians continue to refer to the Corpus Hippocraticum—which contains findings from more than 60 studies and serves as the backbone of the scientific method and medical ethics.
That same desire for discovery and progress has given way to digital health technologies that have dramatically improved our quality of life. Combining ancient wisdom with modern innovations, Jan Hlaváček—an engineer who has been passionate about medical software since he was 16 years old—understands how technology can be harnessed to improve life on a global scale. In fact, Hlaváček, as CEO, is leading Aireen, a provider of AI-based screening medical devices, based in the Czech Republic.
"It will be a big challenge to ensure the necessary level of healthcare," says Hlaváček. "As there is more and more work for healthcare professionals, there is an increasing need for more medical expertise. Healthcare should innovate itself. It's very important."
Developed hand in hand with the ophthalmology experts at Military University Hospital in Prague, Aireen's solution aims to facilitate diagnosis of diabetic retinopathy, age-related macular degeneration, glaucoma, and Alzheimer's disease.
AI and Computer Vision in Healthcare Applications
The company's foundation is built upon artificial intelligence, computer vision, and Intel® deep-learning technology, which enables users to analyze the fundus noninvasively, and painlessly screen patients based on digital scans of the retina. The image is then processed by proprietary algorithms that leverage the Intel® OpenVINO™ Toolkit.
From a patient's first interaction with the healthcare system—whether with a family physician or an optometrist— this platform serves as an invaluable diagnostic resource.
Aireen's solution, trained with more than 1.5 million fundus camera images, can provide over 99% sensitivity when analyzing a new retina image. This level of accuracy represents a substantial and compelling contribution to the diagnosis. Since it's being generated with mathematical rigor, it is free from the emotional conditioning typical of the process led by human beings.
Healthcare providers need only connect a fundus camera to the Aireen solution, which is available on the cloud or easily installed on-premises, to leverage the power of AI in their diagnoses.
The software respects the privacy of sensitive data, with encryption practices that ensure the inviolability of the data to a reasonable extent. And this is without the need to install other devices, apart from the fundus camera and a standard computer—or installed on-premises in larger medical facilities.
In the case of cloud services, you can upload the image coming from the camera using a simple, dedicated web interface and press the button to start the analysis. In a short time, the system generates a report that can be downloaded by the practitioner. That's all.
Aireen's solution, trained with more than 1.5 million fundus #camera images, can provide over 99% sensitivity when analyzing a new #retina image. via @insightdottech
Enhancing Medical Diagnostics
The DICOM standard guarantees interoperability between the local device and the solution. DICOM—Digital Imaging and Communications in Medicine—is the international standard for medical images and related information. It defines the formats for medical images that can be exchanged with the data and quality necessary for clinical use. At the end of the process, the system deletes the provided image to respect the privacy of sensitive data.
"The DICOM protocol is implemented directly in fundus scans," says Hlaváček. "It allows us to automatically receive data from the scans to our app. We can also send a report to the application, which subscribes to it. Plus you can create a request for examination, with a unique ID for all data, which is produced during the workflow."
To be clear, the goal is not to serve as a substitute or a replacement for medical expertise but rather to complement it. Aireen's solution enhances practitioners' diagnostic skills and frees their time to come up with treatment plans, respond to psychological challenges, and engage authentically and empathetically with their patients.
Digital Health Transformation: The Time Is Now
According to the latest research issued by the World Health Organization and other institutions, more than 500,000,000 people have been diagnosed with diabetes worldwide, and this alarming number is expected to grow by 50% over the next 15 years. Underscoring the significance of Hlaváček's innovation, diabetic retinopathy and age-related macular degeneration are the most frequent cause of blindness among European descendants.
Bearing that in mind, it is not only timely but also urgent to facilitate diagnosis on a broad scale. Aireen's solution, together with Intel® technology, holds tremendous promise. As a CE certified medical device, it is already in daily use among Czech Republic and Slovakia ophthalmology clinic customers.
And as the Aireen platform provides convenient access to early diagnosis, leading to treatment can help address the urgent shortage of ophthalmologists across the world.
If Hippocrates were alive today, he would, no doubt, be entranced by our medical advances and modern technologies, and would be eager to build upon the Corpus Hippocraticum for future generations.
This article was edited by Georganne Benesch, Associate Content Director for insight.tech.