Your Guide to Intel Industrial Summit 2020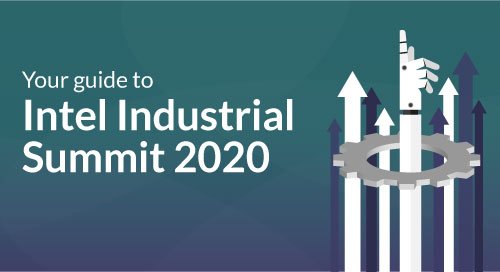 The Intel Industrial Summit is packed with the latest in Industry 4.0 technologies, tools, and trends. Join this free virtual event to gain insights, perspectives, and strategies from the manufacturing experts who are shaping a new era of industry.
Visit virtual booths to discover new solutions for AI, machine vision, 5G, and more. You'll discover hardware and software that can help your company solve problems, get to market faster, and make effective investments for the future.
And perhaps most exciting of all, Intel® unveiled two much atticipated hardware platforms: Elkhart Lake and Tiger Lake. Elkhart Lake (which includes the Intel® Atom® x6000E Series) is Intel's first platform specifically enhanced for IoT applications. Among other benefits, it delivers faster compute and better 3D graphics performance.
For all the details see the Intel Elkhart Lake site.
And Tiger Lake-UP3 aka 11th Gen Intel® Core™ processors, offer high performance CPU/GPU compute with integrated AI acceleration, high speed processing, computer vision, low latency computing, and lots more.
More than 60 Alliance partners participated in the launch, announcing their Elkhart Lake and Tiger Lake-UP3 offerings, with many on display at the event.
Day One: Hear From the Experts
This is your chance to interact with luminaries at the top of their game in this ever evolving market.
Get an inside look at what's driving industry transformations and the new opportunities they present, from top Intel executives, including Tom Lantzsch, senior VP and GM of the Internet of Things (IoT) Group, and Christine Boles, VP of the IoTG Industrial Solutions Division.
Must-see panels include an ecosystem of solutions builders—with executives from Emerson, Noodle.ai, GE, and Rockwell Automation—discussing how they're enabling solutions that meet the digitalization needs of industrial end users.
Hear firsthand accounts from leading enterprises that are using digital transformation to accelerate innovations within their organizations. Top decision-makers from Exxon Mobil; the City of Fort Collins, Colorado; and Georgia-Pacific will talk about infrastructure priorities, how to move them forward, and what's required from the industry ecosystem.
Discover how new tech can accelerate the move to Industry 4.0. Take this opportunity to learn about Intel's full stack of IoT solutions. Get a good look at the software tools that are critically important to building the modern factory—and bring real value for IoT developers. See how companies like Exor, Hitachi, TTTech, and others are using software tools like Intel Edge Control, Edge Insights for Industrial (EIS), and Functional Safety Solutions (FuSa).
Your guide to the (virtual) Intel Industrial Summit 2020
Day Two: Dive Deep
Get into the details with sessions that are most relevant to your interests and needs. Attend panels, visit virtual booths, and experience interactive demos in real time. Dive deep on a variety of hot topics, including:
Scaling AI In industrial markets
Industrial software architecture for the future of microservices
Provisioning, scaling, and securing IoT devices
IT concepts and convergence in OT environments
How the new normal driven by COVID-19 impacts the factory of today and the needs of tomorrow
Industry 4.0 foundational standards and open-source building blocks
See in action the latest in machine condition monitoring, logistics, asset and operations optimization, human wellness, energy monitoring/management, and much more in the Partner Showcase. Find out how industry leaders like Siemens, Seco, congatec—and many more—are gaining advantage with the latest Intel technologies.
The Intel Industrial Summit 2020 is the premier, must-attend event for any company that wants to remain relevant in this new industrial age of AI, autonomy, and optimization. Don't miss this exciting, thought-provoking event. Register today!
AMERICAS: September 23-24 Register here
EMEA: September 23-24 Register here
PRC: September 24-25 Register here
APAC: September 24-25 Register here
Japan: September 24-25 Register here