Must-See Tech at Intel Industrial Summit 2020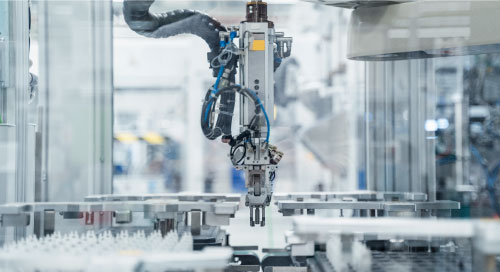 Want to see the latest IIoT technologies, tools, and solutions in action? Then be sure to check out the Intel Industrial Summit 2020. You'll get an inside look at transformational Industry 4.0 use cases—powered by the latest Intel IoT hardware and software—by visiting virtual booths and seeing live demos.
With more than 40 partners across North America, Europe, and Asia, you'll see the latest Industry 4.0 inventions, based on AI, machine vision, 5G, TSN, and more. The event is a great opportunity to discover how developers are taking advantage of software tools like Intel® Edge Controls for Industrial (Intel® ECS) and Intel® Edge Insights for Industrial (Intel® EIS) on the latest Intel® processors.
Don't miss this free virtual event, with four hours of great info over just two days—September 23 and 24.
Witness the Potential of 5G and TSN
With its low latency, high throughput, and QoS support, 5G is becoming a key factor in the IIoT. See how the combination of products from Siemens, TTTech, HiWin, Bosch, and others create industrial-grade private wireless TSNs with the help of Intel's 5G prototype systems.
In this demo, you'll get a first look at an end-to-end system that:
Guarantees TSN performance in a mixed traffic environment
Supports TSN synchronization with 1 µs accuracy over a 5G system
Integrates with endpoints running ECS and EIS stacks
Speaking of TSN, Kontron will show off its TSN extension solution—a starter kit that offers easy entry into Time Sensitive Networking. The HW/SW upgrade system works with existing PLCs, IPCs, gateways, and industrial servers—simplifying integration of endpoint devices into a TSN network.
Get an inside look at transformational Industry 4.0 use cases—powered by the latest Intel IoT hardware and software.
Discover the Potential of Industrial Tools
To find out how to get a leg up with your AI and ML development, take a look at the Axiomtek AI Starter Kit. You'll see how the company uses new features of the EIS Training Module with the Intel® OpenVINO™ Toolkit to accelerate industrial vision optimization at the edge.
For even more ideas on what you can do with EIS, IEI Integration Corp is showing a product inspection data flow model from EIS to the Splunk Enterprise analytics platform. You'll see how EIS ingests, processes, and stores the image data from camera input, and integrates AI-AOI with AI algorithms that leverage OpenVINO.
Now, imagine the possibilities for innovation that come with transitioning industrial control systems to software-defined solutions. You can see what Hitachi Industrial Products is up to with its software-defined robot control concept, using ECS and OpenVINO.
While we're talking about robots, find out how Advantech SoftPLC and SoftMotion software make it easier to control and manipulate the motion and speeds of machinery and robots. In one case, you'll see how a modular controller streamlines factory automation with motion and vision Integration. And check out the panel controller that helps machine builders translate 3D CAD/CAM files to motion process path control.
Find New Routes to Market
How do you get all these great innovations to market? One way is with Intel® IoT Market Ready Solutions. For example, take a look at the Noodle.ai solution that enables giants in the Steel Milling (and other) industries to integrate their full spectrum of OT and IT systems. Learn how the company's leading data science captures and centralizes data into a unified, time-and-space-aware system to detect anomalies and connect findings to machine learning algorithms.
You'll also want to see another Market Ready Solution in action: the ABB SSC600, a smart substation control and protection solution that runs on a single Intel-powered, ruggedized controller. Take a look at how the system supports a whole range of applications in a single box. What's more, it's cloud managed, meaning truck rolls are a thing of the past.
The Intel Industrial Summit 2020 is the premier, must-attend event for any company that wants to remain relevant in this new industrial age of AI, autonomy, and optimization. Don't miss this exciting, thought-provoking event. Register today!
AMERICAS: September 23-24 Register here
EMEA: September 23-24 Register here
PRC: September 24-25 Register here
APAC: September 24-25 Register here
Japan: September 24-25 Register here