ISC West 2023: Empowering Real-Time Intelligence at the Edge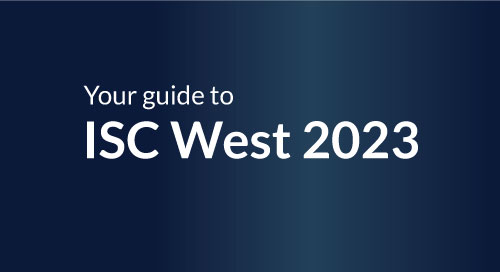 Computer vision and intelligent video solutions now have the potential to revolutionize industries, improve operations, and enhance the quality of life for citizens. And with recent advancements in artificial intelligence and machine learning, it's easier and more accessible for businesses to unleash these solutions and compete in today's fast-paced, data-driven world.
But developing and deploying computer vision and intelligent video applications at the edge requires strategic partnerships within the ecosystem. Intel systems integrators and IoT solution aggregators, for example, provide critical expertise and technologies necessary for success. You can see this for yourself at the International Security Conference & Exposition, ISC West, taking place March 28 to 31 at the Venetian Expo in Las Vegas. Dozens of Intel® Partners Alliance members will showcase the value of intelligent video at the edge and the partnerships making it happen.
For example:
In retail, computer vision is used to track inventory, analyze customer behavior and preferences, and improve the overall shopping experience.
In manufacturing, video analytics can be used to stop defects from making it into production and to improve worker safety.
And in smart cities, technology and partnerships power autonomous vehicles, traffic analysis, and vehicle predictive maintenance.
Systems Integrators Make Intelligent Video at the Edge Possible
What all these use cases have in common is that they generate massive amounts of data, and if your solution is not set up properly to handle this, it can result in poor quality or loss of data. This is extremely troublesome for mission-critical applications where you need accurate and real-time intelligence and insight into operations on the fly.
At ISC West, Seneca, an Arrow company focused on computer technology for video applications, will showcase its video compression solution designed to handle massive amounts of data while minimizing storage and bandwidth requirements. The Seneca xCompress Video Stream Optimizer can provide up to 90% compression per stream, enabling higher-resolution video without compromising quality or storage. It features Intel® Core™ i3, i5, or i7 processors with support for up to 16 cameras.
"At #ISCWest, we're discussing this transformation and how Intel is creating an ecosystem to provide customized #edge and #AI solutions" – Kasia Hanson, @intel via @insightdottech
Beyond mission-critical applications, Seneca also will showcase a new solution for small retail and convenience stores looking for an easy-to-install, cost-effective hardware solution for video monitoring. The new POE NVR is a simple out-of-the-box setup utility designed to reduce labor costs and provide a POE management interface. With 8, 16, and 24 ports, no configuration, and optimal power resources, users can easily connect to the cameras they need to get deeper insights into their business.
Elsewhere on the show floor, Wesco, a security distributor that works with Intel to deliver digital technology solutions from edge to cloud, will demonstrate how it can solve businesses' pressing security challenges with physical security solutions and consultancy services. The company offers intelligent and integrated solution services to provide access control, intrusion detection, storefront protection, and operation improvements.
For example, Wesco recently used its perimeter protection, energy solutions, and video intelligence to safeguard the infrastructure of a parking facility while also acquiring insights into parking allocation, occupancy, and management. The energy solutions served to minimize the parking facility's environmental impact by optimizing lighting in parking spaces to enhance safety and security.
TD SYNNEX, a leading distributor and IoT solution aggregator for the IT ecosystem, will demonstrate how it assists businesses in safeguarding their physical assets. The company's VisualSolv offering encompasses audiovisual, information technology, and consumer electronics technologies to help build the cross-functional solutions partners need. The solution includes access control features for improved security, IP cameras for data capture and analysis, and networking capabilities that ensure efficient and secure data transmission and storage.
Visit these partners at ISC West to see how they provide the expertise, customization, integration, support, and compliance necessary for a comprehensive and reliable, intelligent video solution. While you're at it, don't forget to explore the vast array of other Intel partners at the event, including Genetec, which enhances the realms of physical security and public safety with its software, hardware, and cloud-based services. Additionally, Axis Communications will showcase its extensive range of network, video, audio, access control, and analytics solutions.
And that's not all. There will be many other Intel partners that transform industries with their video intelligence solutions, including Megh Computing, Epic IO, Wait Time, NTT, and Paravision.
"The security market is currently experiencing an exciting phase as the shift from analog to digital has opened up new possibilities with AI and edge technologies," says Kasia Hanson, Global Director of Security Sales at Intel. "At ISC West, we're discussing this transformation and how Intel is creating an ecosystem to provide customized edge and AI solutions, complete with built-in security features for enhanced physical security deployments. Our vision at Intel is to empower the industry with our range of AI and edge-based technologies, enabling our partners to deliver cutting-edge and innovative solutions."
This article was edited by Georganne Benesch, Associate Editorial Director for insight.tech.