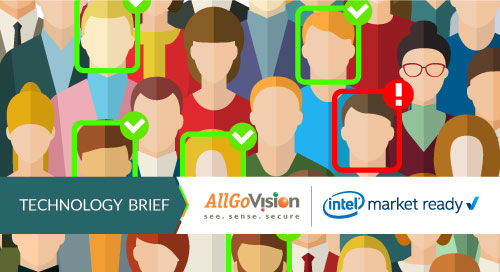 While video has grown to be a valuable security tool, it's only as effective as the people monitoring it.
A well-known Harvard study revealed that humans can experience "inattentional blindness." Focusing on one object can lead them to fail to see another—even in their line of sight. And when humans do detect incidents, it's usually too late to respond.
"Operator fatigue often happens because a person's attention span, especially when looking at a video or identifying patterns, is limited," said Aji Anirudhan, Chief Sales and Marketing Officer at AllGoVision. "I've seen statistics that say CCTV operators can experience 'video blindness' after only 20 minutes of active monitoring."
Artificial intelligence and machine learning address this challenge. Through AI-enabled applications like facial and object recognition, cities are improving security while reducing costs. And implementing analytics at the edge can enhance decision-making and enable faster response.
Facial recognition can distinguish known bad actors or validate entry into secure locations. License plate and vehicle identification can enhance parking and traffic management. And with object detection, operators can be notified of suspicious activities and packages.
Fast Decision-Making with AI and Deep Learning
The AI Video Analytics Solution from AllGoVision offers a comprehensive platform supporting a broad range of security, traffic, and people management applications.
The system's facial recognition capabilities are especially useful in situations that require high accuracy and noninvasive technology. It captures images from multiple angles to create 3D models with a face's most dominant features and creates a database. Subjects can be identified by comparing faces detected from live video against this database. This in turn triggers alarms based on certain criteria.
In one case, an investment bank was using smart card readers to validate entry into a secure building. It was difficult to detect unauthorized user attempts to use a stolen card. While security had a database of faces to match with card holders, manual review was a tiresome process.
Plus, it required up to four people to validate cards at the lobby's multiple access control terminals. "It was difficult to maintain effective security, driving the need to integrate automated face recognition technology into their existing system," Anirudhan said.
The AllGoVision software was trained to identify all people in the database. Facial images are verified at the same time a card is swiped. While positive matches are validated, mismatches alert personnel for further investigation.
The solution reduced the need for manual validation, improved security, and created a seamless two-factor authentication.
Edge-to-Cloud Analytics
Video analytics are the building blocks of the AllGoVision platform, with application-specific software modules that can be added as needed. "We have one application framework, which fits in multiple use cases," said Anirudhan. "We can easily plug in and plug out algorithms, but the user interface is standard."
The Analytics solution is an open platform that integrates with existing video management systems (VMS) and IP cameras. AI functions can operate at the edge and in the cloud—seamlessly connected with a management client. Inputs from other IoT devices can be integrated and analyzed along with video to make decisions in real time (Figure 1).
AllGoVision offers unique benefits when compared to traditional solution providers. One example is its comprehensive AI-based analytics, which run on premises-based servers, at the edge, and in the cloud. The solution continually enhances performance and accuracy with ongoing training of deep learning algorithms.
And its cloud-based SaaS (software-as-a-service) model provides real-time software updates to easily add or remove cameras and other devices.
Customers benefit from a comprehensive plan with one application framework for multiple use categories. "They can easily integrate existing VMS systems, add plug-and-play algorithms, and use APIs to add other devices and software," Anirudhan said. "Cities can reduce costs by using one system for multiple applications ranging from security and safety to traffic and people management."
The Alarm Center offers options to view, search, and report, all generated by AllGoVision analytics. The operator can click on the notification, see live video, and determine if further action is required (Figure 2).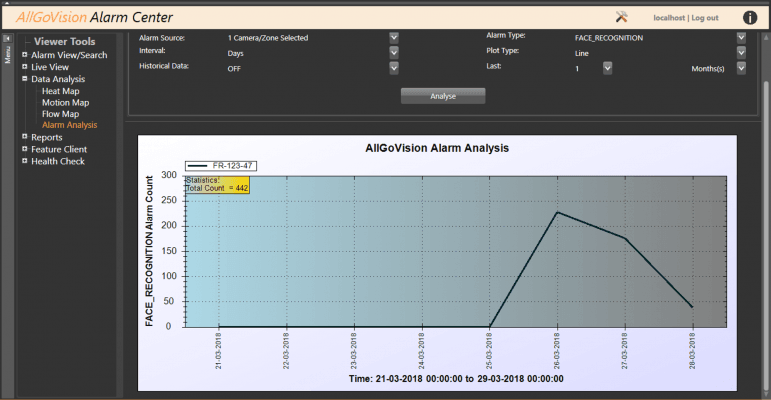 AllGoVision can assess a customer's requirements and, through its network of more than 100 partners, provide a customized solution.
Optimizing AI and Deep Learning with Intel®
Intel® technology is key to enhancing the overall solution. "Our Intel story is very strong, because when we started out, our solution worked on a CPU plus GPU architecture," Anirudhan said. "When it came with the Intel® Movidius™ VPU, we could offload lots of this processing to those hardware accelerators."
The solution also incorporates the Intel® OpenVINO™ Toolkit framework, which provides an efficient way of running deep learning algorithms across multiple Intel platforms. Ultimately, this significantly reduces the cost of implementation.
Anirudhan closed: "We can build an application, utilize deep learning-based algorithms, and add more use cases or train it to identify more objects, faces, or license plates."
About the Author

More Content by Craig Guillot