Fill form to unlock content
Error - something went wrong!
Stay up-to-date with the latest IoT news.
Smart Stores Are on the Path to Net Zero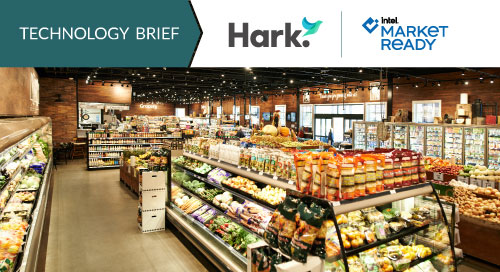 For businesses with large estates and many physical assets, managing energy use is a big deal. Letting assets go unrepaired, running heat when no one is in the building, and having lighting on a strict, unchangeable schedule not only hurts the bottom line—it also increases their environmental footprint.
Until recently, the best solutions for tracking and managing energy use produced reports that lagged by at least a day. To be fair, they looked pretty good compared with the next-best tool: paper forms.
But now, IIoT technology is evolving to let businesses with large properties easily connect to their assets to monitor—and even control—their energy expenditure. This helps them reduce waste and improve efficiency, with an eye toward eventually becoming exporters of energy.
#IIoT #technology is evolving to let businesses with large properties easily connect to their assets to monitor—and even control—their #energy expenditure. @harksys via @insightdottech
A Roundabout Path to Sustainable Buildings
The journey to sustainability is not always a straight line. Take Hark Systems, a provider of energy analytics and IIoT solutions. The company was originally founded as an IoT platform to monitor environmental conditions like temperature and humidity for pharmaceutical companies. "But then we were asked to do all sorts of crazy things," says Jordan Appleson, Hark's founder and CEO. "We were asked, 'Can you monitor radiation in uranium mines? Can you monitor air quality?'"
Because the platform they'd built could work with almost any kind of asset or sensor, Hark was able to expand beyond pharma into other industries.
Soon, grocery stores started approaching the company about their energy challenges. Supermarkets are packed with energy-hungry assets like refrigerators, generators, bakery ovens, and heating systems. "They were spending £10 or £12 million a year in additional fees when energy prices changed," says Appleson. "They wanted a way to monitor and react to that in real time." But Hark discovered these retailers weren't just worried about cost—they were also concerned about their environmental footprint.
Metallica Brings the Proof
The Hark Platform uses edge gateways powered by Intel®, running Hark software, and then connects the devices to energy meters, building management systems, and other physical assets (Figure 1).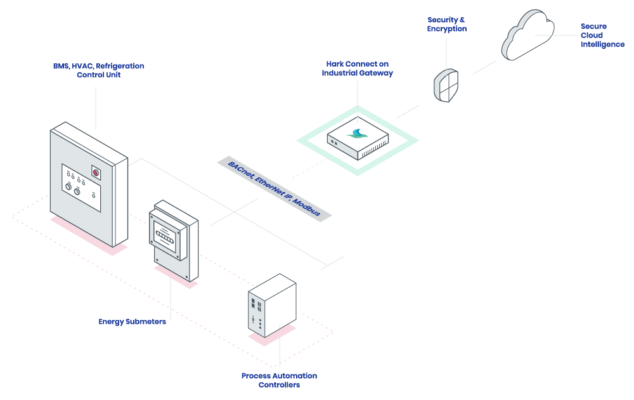 "Everything that we do today has been deployed on Intel at the edge in one capacity or another," says Appleson. "You've got all these devices that speak all these different protocols, and you're always going to need edge computing to cost-effectively bridge that gap. That's what Intel-powered gateways do for us."
Hark's solution uses a machine learning model to forecast energy usage or suggest ideal actions based on historic information. Other data, such as information from occupancy sensors and weather forecasts, can come into play as well. For example, rather than setting a schedule where the lights go on at 9 a.m. and off at 5 p.m., a retail store can automatically lower the lights when there are few people in the store and turn them back on as occupancy rises.
Customers are often skeptical about how quickly all this can be set up. "I like to say, 'Give us half an hour and a gateway, and we'll get you up and running,'" Appleson says. He proved this to one customer by almost instantly controlling the lights in a massive building to flash on and off to the beat of a Metallica song.
Smart Stores, Smaller Footprint
Sainsbury's is a big company with a big goal: It's the second-largest supermarket chain in the UK, and aims to reach Net Zero by 2040—meaning the total amount of energy it uses is zeroed out by the amount of renewable energy it generates on-site.
In 2018, Sainsbury's contacted Hark looking for a solution that would help them track, monitor, and control the energy their assets were using. An initial monitoring session revealed the assets that were guilty of consuming the most energy—including a broken piece of equipment that was drawing much more power than it should have. Sainsbury's signed on to have the company implement the Hark Platform solution on 20,000 assets in 40 asset groups, including lighting and refrigeration.
In the Sainsbury's implementation, Hark Gateways retrieve more than 2 million readings per day in each store, and stream the data in real time to a cloud-based dashboard. The platform can detect anomalies and send out alerts of potential issues with mission-critical assets; in fact, it's identified problems that have saved 4.5% of lighting costs so far.
The solution can control certain asset groups via the edge gateway. "When the store opening times change, our system automatically receives that information and deploys a new automated schedule to the edge based on preset profiles," says Appleson. "And when we have energy price spikes in the winter, within 60 seconds of an automated notification coming into our system from the utility provider, our system will orchestrate a profile change to reduce the load in the building."
Sainsbury's also needed to increase visibility into its assets. Before implementing the Hark solution, Sainsbury's asset groups and industrial depots were "completely disparate," says Appleson. Now the retailer can monitor and control everything from a central location.
Smart Buildings Will Have Power to Spare
Appleson suggests that in the future, businesses like Sainsbury's will be able to become microgrids. Being a truly sustainable building means being able to generate your own power and sell it back to the grid, effectively getting carbon-free power.
Much of the technology needed for this to happen—such as solar panels, energy storage units, and platforms like Hark that connect and monitor these things—already exists. The electric network in the UK isn't yet set up to track and bill for energy in this way—but when it is, Hark will be ready to lead the way to Net Zero for environmentally conscious businesses.
This article was edited by Georganne Benesch, Associate Editorial Director for insight.tech.